Roast Carrots With Honey And Fennel
Get the best out of your carrots this year!
This simple side dish works particularly well as a side for roast dinners over the festive period, whether lamb, pork or a vegetarian option.
Riverford's top tip - If you're a big fennel fan and you're serving this dish alongside roast pork, rub crushed fennel seeds into the scored pork skin (with the salt) to make fantastic aniseed crackling.
Variations
Add a few sprigs of thyme to the roasting tray.
Swap carrots for beetroot or celeriac – or use a combination of root veg.
Instead of fennel seeds, try cumin seeds or lightly bashed coriander seeds.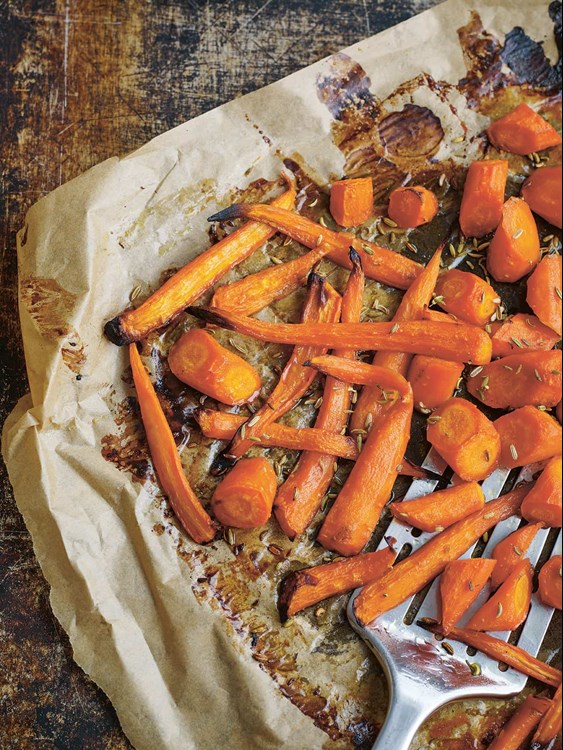 Ingredients:
1kg carrots, peeled
2–3 tbsp olive or rapeseed oil
1½ tsp fennel seeds
4 tbsp honey
a good pinch of salt
Method:
Heat the oven to 200°C/Gas 6. Cut the carrots into long wedges or roll-cut them into angular pieces. If they are small and slender, leave them whole or cut them in half lengthways.
Toss with the oil, fennel seeds, honey and salt.
Spread the carrots in a single layer over a roasting pan lined with baking paper.
Roast for around 30 minutes until cooked through and caramelising in places – check after 20 minutes and turn over to ensure even roasting.
Serve hot or warm.
Keen to learn more planet-friendly ways of cooking?