This traditional festive cake is one for the chocoholics!
Flour, eggs and butter are some of the easiest ingredients to switch to organic this Christmas - widely available and not much different in cost to their non-organic counterparts.
Cut to the recipe:
If you're pressed for time, the log can be made up to a few months in advance and frozen for the big day!
If you're freezing the filled cake, make sure you defrost and bring to room temperature before making the delicious topping.
Store in an airtight container for 3-4 days. This recipe comes from Doves Farm, millers of delicious organic flours!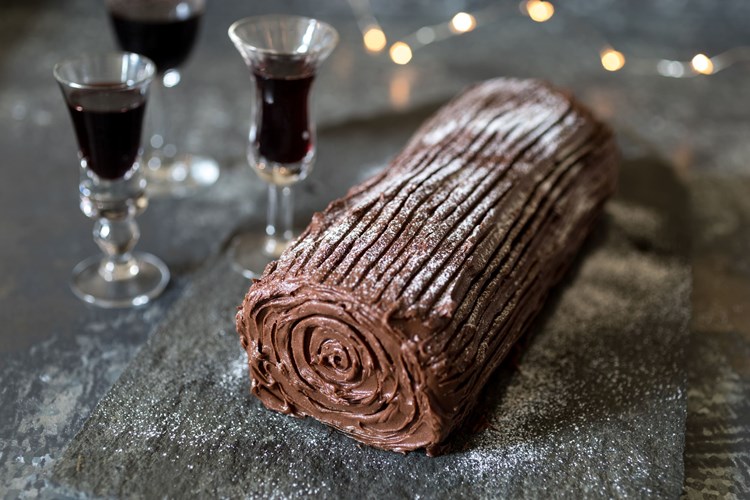 Ingredients

Cake 
3 eggs
75g caster sugar 1 tbsp cocoa
50g Doves Farm Organic Plain White Flour
Filling
50g butter
75g icing sugar 1 tbsp cocoa
Topping 
75g butter
75g icing sugar
75g plain chocolate
Method
Cake
Line a 23x32cm/9x13" Swiss roll tin with parchment and pre-heat the oven.
Separate the eggs into two bowls and beat the whites until stiff. Add the sugar to the yolks and beat until thickened.
Sieve the cocoa over the yolks and beat again, then gently fold the egg whites into the yolks with a metal spoon, using a cutting and turning action.
Sieve the flour into the bowl and gently combine by cutting and folding with the spoon.
Pour the mixture into the prepared tin, spreading it out to the edges, and bake for 10-12 minutes.
Slightly dampen a clean tea towel, then slide the hot cake, still on its parchment, onto the tea towel.
Roll up the sponge, on the parchment, in the tea towel and leave to cool.
Filling
Put the filling butter into a bowl and beat it until it is light and fluffy.
Sieve the icing sugar and cocoa into the bowl and beat until combined and soft.
Gently unroll the cold sponge and loosening it from the parchment paper. Spread over the inside of the sponge, then roll up the filled sponge.
Topping
Put the topping butter into a bowl and beat it until it is light and fluffy.
Sieve the icing sugar into the bowl and beat until combined.
Gently melt the chocolate and mix this into the bowl.
Spread the topping over the rolled-up sponge, then drag a fork through the icing to create the log texture!
Keen to learn more planet-friendly ways of cooking? 
Sign up for our email newsletter for top tips on sustainable living, and be the first to hear about our campaigns for nature-friendly food and farming.