Spiced Coconut Porridge With Banana
There's nothing quite like a bowl of porridge to wrap your hands around and warm your insides on a cold winter morning.
Find out how to make it this delicious porridge:
These creamy, coconutty oats from Niki Webster of Rebel Recipes, are simmered in spices and then topped with crispy caramelised banana - they make for a pretty special start to a slow weekend.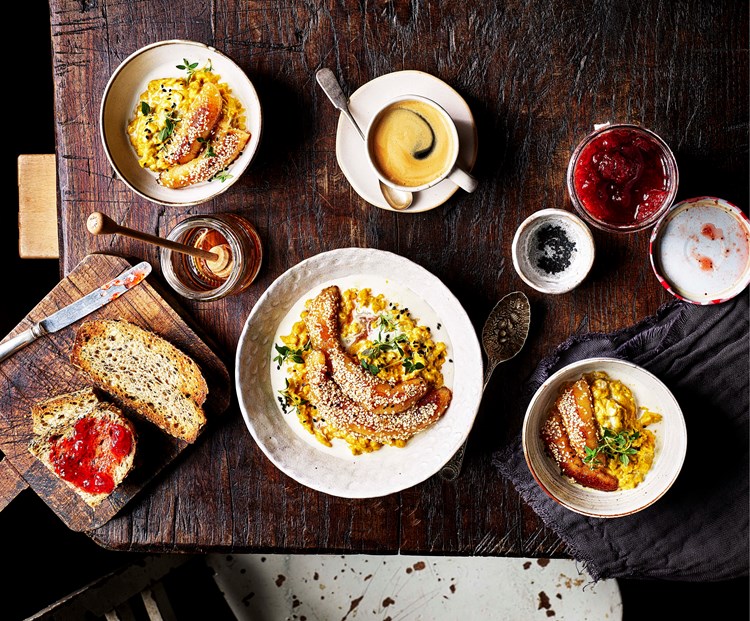 Ingredients:
Serves 1
50g jumbo oats
250ml milk or plant-based milk (plus extra if needed)
1 tsp ground ginger
1/2tsp ground turmeric
1/2tsp ground cinnamon
1tsp vanilla extract
1/4 tsp ground cardamom
2 tbsp coconut yoghurt
1 tsp maple syrup (optional)
Freshly ground black pepper
For the sticky sesame banana:
1 tbsp toasted sesame oil
1 tbsp maple syrup
1 banana peeled and sliced lengthways
2 tbsp sesame seeds
Method:
First, make the sticky sesame banana. Heat a non-stick frying pan over a medium heat. Pour in the sesame oil and maple syrup and swirl around the pan. 
Next, add the sliced banana, and fry on the one side for a few minutes, until starting to caramelise. Flip and repeat on the other side. Turn off the heat and sprinkle with the sesame seeds. Carefully flip again to coat the banana pieces all over with the seeds.
To make the porridge, add the pats, milk and spices to a small saucepan, and place over a low heat. Bring to a simmer and stir continuously for a few minutes, until the porridge has absorbed the milk but is not too dry.
Turn off the heat and stir in the coconut yoghurt and, if using, the maple syrup. Add a splash more milk if needed.
Spoon into a bowl and top with the banana and a small pinch of pepper.
Keen to learn more planet-friendly, zero waste ways of cooking?