Roast Cauliflower and Kale Carbonara
This is a recipe that showcases cauliflower to the full.
The roast cauliflower is blitzed to make a creamy sauce, stirred through pasta with crispy kale, and topped with more roast cauliflower for added texture.
The recipe comes from self-confessed cauliflower fanatic, Niki Webster, founder of Rebel Recipes.
She explains that "for such a traditional veg, it holds a special place in my heart. It's so versatile and delicious. I would go as far as to say I'm cauliflower obsessed!"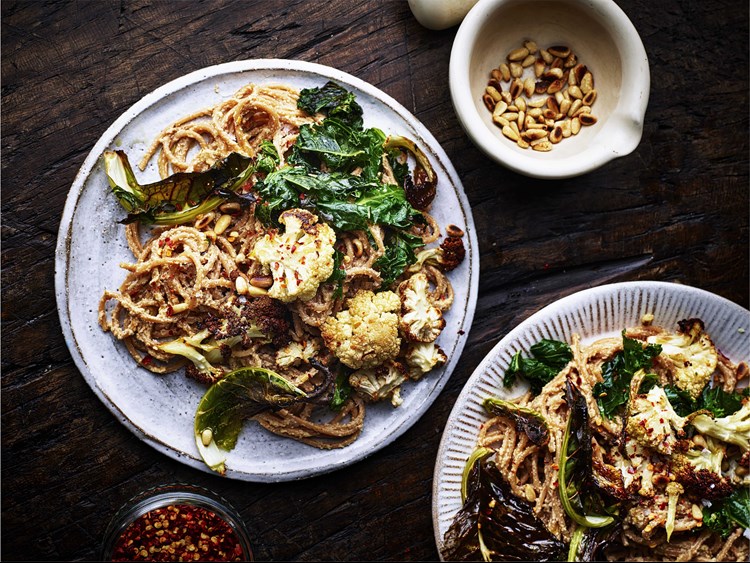 Ingredients:
Serves 4
1 medium cauliflower, leaves reserved, broken into florets
3 tbsp olive oil
1 tsp garlic powder
1 garlic head 
1 tsp rapeseed oil
125g kale, tough stalks removed
225g spaghetti
zest of 1 lemon, plus juice to taste
4 tbsp toasted pine nuts, to serve
sea salt flakes and freshly ground black pepper
For the sauce
3 tbsp pine nuts
juice of 1/2 lemon
200ml milk, or plant-based milk of choice
2 tbsp nutritional yeast flakes
1/2 tsp apple cider vinegar
1/2 tsp sea salt flakes
1/2 tsp ground white pepper
2 tbsp olive oil
*If you have a pine nut allergy or intolerance, you can swap the pine nuts for sunflower or pumpkin seeds.
Method:
Preheat the oven to 180°C/160°C Fan/Gas Mark 4
In a bowl, toss the cauliflower florets in 2 tablespoons of the olive oil, the garlic powder, and 1 tablespoon of salt, and spread on a non-stick roasting tray.
Roast for about 20 minutes, then turn. Continue to roast for another 10 minutes, or until tender and golden brown.
Remove and set aside.
Meanwhile, add the cauliflower leaves and garlic bulb to a separate roasting tray. Toss with the remaining tablespoon of oil and roast for 20 minutes. Check on the garlic - the bulb should be soft and oozing a little, and the cauliflower leaves tender and crispy at the edges. Remove and set aside.
Put the roast cauliflower florets (reserving a handful of florets to serve), pine nuts, lemon juice, milk, nutritional yeast flakes and apple cider vinegar into a food processor high-speed blender. Season with the salt and pepper and then squeeze out the roast garlic flesh into the food processor, and blitz until you get a smooth and creamy sauce. Stir through the olive oil and set aside.
Heat the rapeseed oil in a frying pan and saute the kale until crispy. Season with salt to taste. Set aside.
Cook the pasta in a pan of boiling water, following the packet instructions. Drain, then toss through the cauliflower sauce and kale. Grate in the lemon zest, and a squeeze of lemon juice to taste.
Serve the carbonara sprinkled with the roasted cauli leaves and reserved florets. Finish with the toasted pine nuts thrown on top.