Sweet potato. cauliflower & peanut stew
Inspired by Indian and African flavours, this stew is a wonderful combination of nourishing vegetables with a creamy, nutty sauce, topped with toasted peanuts for crunch.
Devised by Niki Webster of Rebel Recipes, she says "I first made it during winter, when all I wanted to eat was warm and comforting bowls of spicy steaming vegetables."
Eat is just as it is, or with quinoa or flatbreads.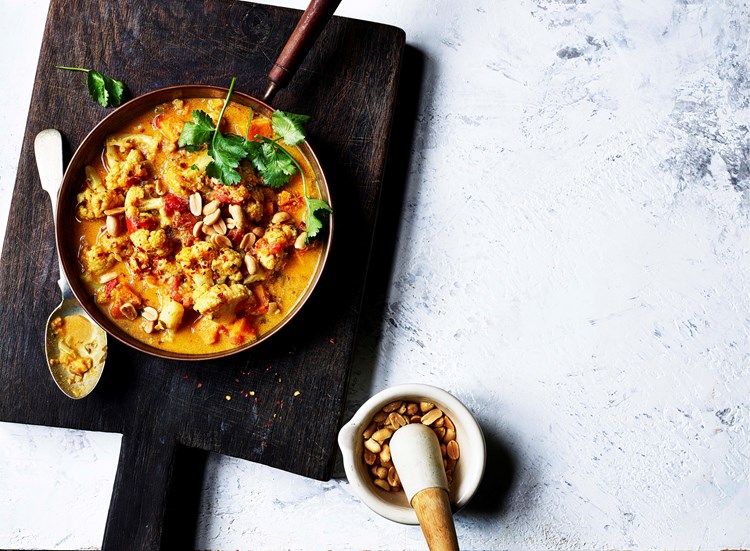 Ingredients:
Serves 4
1 tbsp olive oil
6 shallots, roughly chopped
4 garlic cloves, sliced
1 tsp cumin seeds
1 tsp ground turmeric
a small handful of coriander, roughly chopped (plus extra to serve)
6 tomatoes, chopped
400ml light coconut milk
1 sweet potato
1 small cauliflower, chopped into florets
2-3 tbsp crunchy peanut butter, to taste
juice of 1/2 lime
1 tsp tamari
1/4 tsp dried chilli flakes
a handful of roasted, unsalted peanuts, to serve
sea salt and freshly ground black pepper
Method
Firstly, add the olive oil to a large pan and place over a medium heat. Add the shallots and fry for 8-10 minutes, until beginning to soften and brown.
Next, add the garlic, cumin seeds, turmeric and coriander. Stir for 30 seconds or so. 
Stir through the tomatoes and cook for a further 5-6 minutes, then pour in the coconut milk and 250ml of water. Add the sweet potato and cauliflower, and stir. Simmer for 20 minutes, covered, until the sweet potato and cauliflower are tender.
Stir in the peanut butter, lime juice, tamari and chilli flakes, and season to taste with salt and pepper. 
Simmer for a further couple of minutes, then top with roasted peanuts and more fresh coriander to serve.