Pumpkin Fritters with Romesco
These tasty fritters from Riverford are simple to prepare and a great way to utilize your leftovers from Halloween.
The romesco is a delicious accompaniment, but can be substituted for a simple mayonnaise mixed with paprika and garlic. 
The romesco tastes great particularly great when made with a mixture of nuts, rather than just almonds. Cashews, for example, add a creamy taste to the sauce.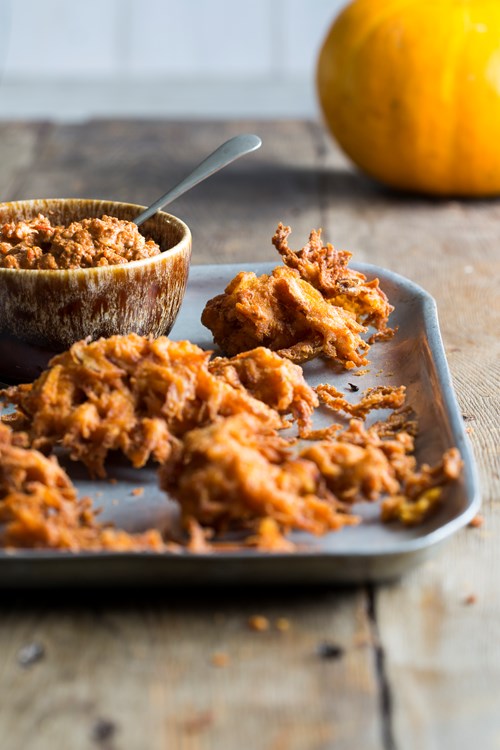 Ingredients
For the Romesco:
2 red peppers
2 garlic cloves, puréed
handful of walnuts, almonds & hazelnuts, toasted
2 tbsp red or sherry wine vinegar
2 tbsp olive oil
pinch of paprika
salt & black pepper, to taste
For the fritters:
150g potato
300g pumpkin flesh
1 red onion
1 tsp salt
2 eggs
½ tsp black pepper, ground
½ tsp garam masala
3 tbsp gram flour
1 tsp smoked paprika
bunch of parsley, chopped
½ tsp baking powder
vegetable oil, for frying
Method
First, make the romesco. Heat the oven to the hottest it will go, rub the peppers with oil, season with salt then roast until well browned.
Remove and place in a bowl, covering with cling film to steam the peppers and help the skins slip off.
Skin and de-seed.
Finally, pulse all the ingredients in a food processor. You can make a smooth or chunky sauce; I prefer the latter.
To make the fritters, start by grating the potato and pumpkin, then very finely slice the red onion and toss together with salt. Allow to sit for 20 mins.
Meanwhile, mix the rest of the ingredients to a batter.
Squeeze the salted veg in a clean tea towel and stir into the batter.
Heat the oil in a frying pan on a medium heat. Spoon dollops of the mix and fry on each side for around 4 - 5 mins until browned.
Make sure they are cooked through as you don't want the middle to be raw; bake in the oven if needs be.
Keen to learn more planet-friendly, zero waste ways of cooking?
 

Sign up for our email newsletter for top tips on sustainable living, and be the first to hear about our campaigns for nature-friendly food and farming.