How to Reduce Your Waste this Halloween
Autumn is an amazing time of year, and the pumpkin carving, spooky costumes and decorations at the end of October are a real highlight of the season.
However, one of the scariest things about Halloween is the amount of waste that's produced by our celebrations each year. 
Did you know, for example, that over 18,000 tonnes of pumpkin are thrown away in the UK each year over Halloween?
There are so many ways we can enjoy the celebrations without being haunted by waste and pollution each year. Here are some simple tricks (and treats!) to make your Halloween more environmentally-friendly:
1. Eat your pumpkins!
October is prime squash season, and farmers across the UK have been working really hard to produce these amazing veg, so one of the best, and tastiest ways to reduce the impact of your Halloween celebrations is simply to eat your pumpkins!
Sweet, nutty, and delicious, there's so many amazing recipes for using up all the different parts of your pumpkin once it's carved, from pumpkin pies to risottos and soups, or use the seeds for salads and snacks.
With a third of all food produced going to landfill, rethinking our food waste is a vital step to for us all to take if we are to start living in a more sustainable way.
Top tip: Don't forget to compost the leftovers where possible to use in your garden or house plants. Compost is great for soil health!

2. Opt for organic 
Making a switch to organic this Halloween is the best way to make sure your pumpkins come from nature-friendly farms.
Organic farms support more wildlife, promote healthier soils, and can help slow down climate change.
Farmers use:
fewer pesticides
no herbicides (weedkillers)
and grow their pumpkins without using fossil-fuel hungry artificial fertilisers.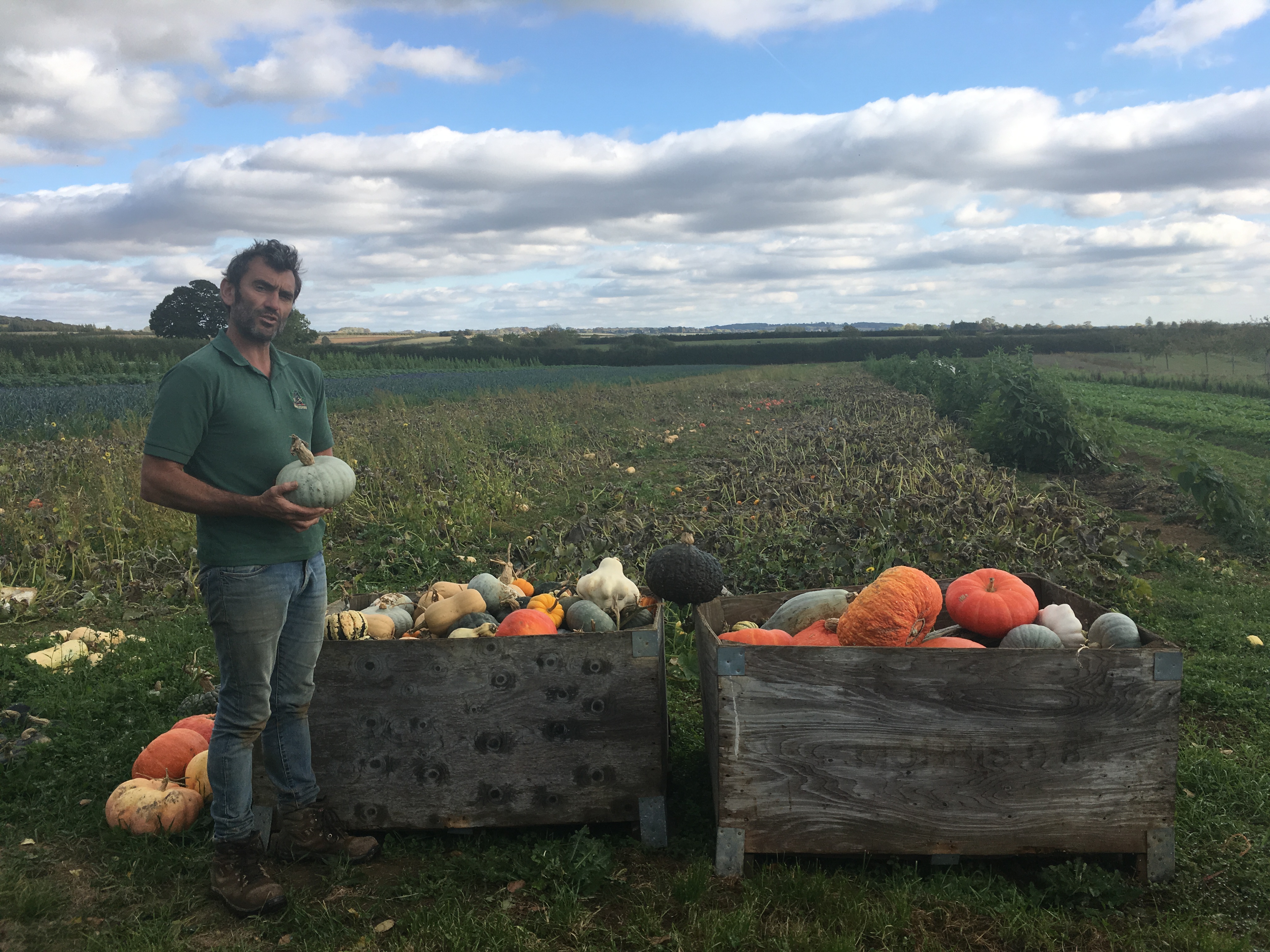 3. Take steps to start growing your own
Once you've finished carving your pumpkin, make a point of saving the seeds, and by next year, you could be enjoying your very own crop of spooky squash!
Or, if you'd like to grow a more unusual variety, check out your local garden centres to find seeds for some interesting heritage and heirloom squashes.
With a third of all food produced going to landfill, rethinking our food waste is a vital step to for us all to take if we are to start living in a more sustainable way.
4. Make some alternative decorations
Look to nature this autumn and use some crisp fallen leaves and conkers to decorate your home at Halloween.
Candles are a great way to set the spooky mood if you're looking to avoid battery-powered fairy lights too - look for brands that use certified organic ingredients or are made from organic beeswax.
Take a pledge for our planet

Will you make a pledge for our planet this Halloween? Join a community of individuals taking small steps each day to make positive changes for our planet

Take a pledge
5. Try carving a different squash
If you don't like the taste of pumpkin, why not try carving another variety of squash that you prefer the flavour of? From butternut to buttercup, and even the turban squash, there's an incredible variety of delicious winter squash on offer, and they look great carved too!

6. Get creative with your costume
Instead of purchasing a one-off synthetic costume, why not get inventive with what you already own? If you're low on ideas at home, charity shops are a great place to look for inspiration, and remember to donate your costumes for others to enjoy the following year, especially if they no longer fit growing children!
If you plan on using glitter for your costume, choose biodegradable; it's made from plant cellulose instead of the micro-plastics that pollute our waters and damage the environment. 
Top Tips from the Soilie Community!
We asked our Facebook community for some top tips when it comes to reducing the amount of waste during Halloween. And they didn't disappoint. Read some great hints from the Soilie community below:
Elle Calendula says: "Traditionally in Scotland we used Turnips for Halloween lanterns. Hard work craving out the turnip, usually provided by a local farm, and the turnip then added to dinner - Not a lot of waste!" 
Andrea Whitehouse recommends: "Squashes can also be dehydrated, powdered and used as a replacement for plain flour in savoury bakes."
Mike Pitt's tip: "We boil and toast the seeds off for a snack and either roast the pumpkin and have a risotto, or make soup. In fact I buy extra squash and pumpkin at this time of year and keep in the shed for later on in the year."
Sign up for our email newsletter

Register for our regular emails to stay informed about the best ways to live more sustainably. You'll also learn more about the benefits of organic farming for animals, nature and the planet, and news about how to get involved in our campaigning work

sign up