Why use a mix of species in your leys?
As part of Innovative Farmers, we regularly host See, Solve, Share events. The field labs often create debate, so we want to share what we've been learning through the network and ask other farmers to feed in their ideas and experience. Recently Ian and Cathy Boyd hosted a day at Whittington Lodge on herbal leys.
So why a day on herbal leys?
For the past decades grass farmers have been reseeding their meadows and pastures with a limited number of species – in recent times typically ryegrasses only in short term leys and a few clover species in longer term leys, and often getting adequate or even good results. So why sow your grassland with a more complex mixture of plants? That's what this day was all about.
We spent the morning indoors for talks and discussions. I kicked off the day with a background to the new Innovative Farmer's programme and how it can support farmer led groups interested in carrying out their own research.
There is a group in Wales getting impressive results using herbal leys for grazing sheep, but given the amount of interest in the topic we're open to new groups.
As specialists in herbal leys seed mixes we asked Ian Wilkinson of Cotswold Seeds to speak about their benefits. He gave us a thorough background to the advantages of many species, not only of grass but also legumes and herbs, in a sward and in particular to soil health.
He highlighted the benefits to soil structure, drought resistance (particularly important on the thin brash soils of the Cotswold area), nitrogen fixation, season round yield, and mineral and protein content. Many of these herbs and legumes in diverse leys have larger root systems so provide additional carbon capture deep down in the soil and help to break up soil compaction. Animal health is supported by the anti-worming nature of several herbaceous flowering plants included in these diverse leys and the enhanced mineral content of the forage found in deep rooting plants.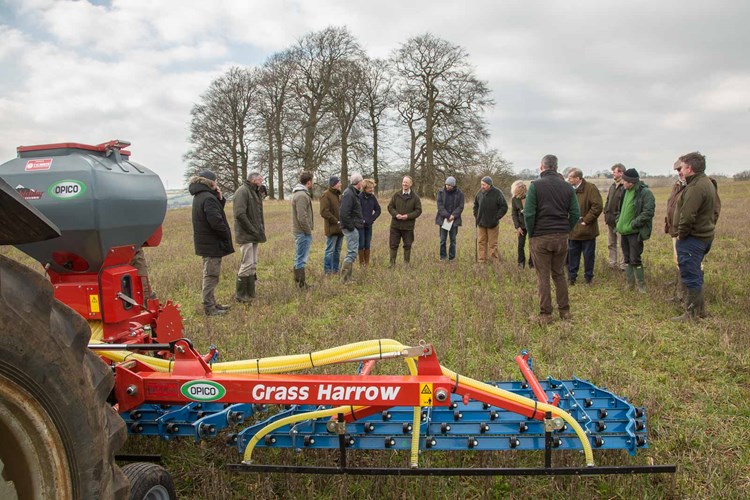 Caroline Corsie of Worcester Wildlife Trust qualified the importance of flowering plants found in herbal leys for insect pollinators for foraging, nesting and hibernation. Caroline talked about the flowering plants important for nectar and pollen and how much these have decreased in the countryside since the 1990s. She went on to describe how Countryside Stewardship options can be used to support pollinator-friendly plants particularly the Farm Wildlife and Wild Pollinator package and the facilitation fund. Case studies provided some very helpful guidance on the financial support available.
Lunch was delicious – Ian Boyd's home produced organic beef burgers from his Hereford Cattle. The afternoon was spent looking at Ian Boyd's own herbal leys used to graze the source of our lunch. This turned in to a helpful discussion on establishing and grazing herbal leys and even though it was mid-March the diverse mix of plants in the sward was obvious. Ian had kindly displayed the equipment he uses to reseed his pastures to show its simplicity and cost effectiveness.
For a full list of all Innovative Farmers events, including See, Solve, Share days please visit the website. In February we hosted an Innovative Farmers webinar with Ian of Cotswold Seeds. You can view his presentation here