How One Woman Changed Children's Food
Jeanette Orrey MBE is one of the key people behind the good children's food movement. Jeanette is the co-founder of our Food for Life programme and prompted Jamie Oliver to start talking about good food. Needless to say, Jeanette is one of our heroes and I jumped at the chance to find out why she thought children's food is so important.
I was lucky enough to grab half an hour with Jeanette while she was making a Shepherd's pie:
Carys: So, how did you get involved with children's food?
Jeanette: I sometimes ask myself that question. I was a Kitchen Assistant in the 80's because I wanted a job that fitted around my children. Working in the school canteen meant that I had the holidays off when they did.
I started as a Kitchen Assistant at the Mount Primary School in Newark eventually moving on to St Peter's Primary where I became Cook Supervisor, in 2000, the head teacher and I decided the school meals would be brought in-house. I had enough of packets and frozen food and we needed to go back to fresh produce and cook from scratch.
A lot of my friends are farmers, and the farming industry was not doing well at the time and I thought: "What can I do to help?" I decided to use as much local produce as I could so that I could tell parents exactly where their children's food was coming from.
Organic came later when I became more involved with the Soil Association, learning about organic principles.
We went from having 50-60% of children staying for lunch, to 85-90% every day. This sounds as though it was very easy to do but I can assure you that it wasn't 16 years ago. Very few schools had done this, but I had a great team who supported what we were trying to achieve. 
Carys: How did you encourage the children and parents to care?
Jeanette: We let the parents and children know exactly where their food came from and how it got to their plate. I also invited them in for lunch.
Our meat was reared 10 miles away, it travelled 10 miles to slaughter, and then came back to our kitchen. As did the milk and, where possible, the vegetables. We could tell the parents the exact provenance!
With the children I went into the classroom and spoke to them about how I wanted to change the school lunch, not for something they didn't recognise, but for better quality ingredients. For example, we used to have frozen sausages, so we asked the local farm shop butcher to make 6 different types of sausage and we let the children chose which they wanted – all made to my specifications.
The group of children who chose the sausages, I think they were year 5 and 6, were first in the queue, and told the other children: "This is our sausage!". That sausage is still on St Peter's menu 16 years later. The school also still use the same farm shop, as do the parents.
It is all about giving children a voice.
Carys: Why do you think children's food is important?
Jeanette: Children's food is important because children are the next generation. In my opinion we have lost 2 generations who don't know how to cook and these children need skills in the kitchen! They need to know how to grow and where their food comes from. They need to know how to cook and learn social skills around food. Many children don't sit around a table when they eat anymore. Being around other children, in the right school environment, gives children these skills.
Carys: So, it is about education as well as the food they eat?
Jeanette: Yes! It is also about sharing, food goes over every divide and everyone can relate to it.
There are more children in poverty and with health issues associated with bad diets, than ever. Therefore, I feel that we need to go back to the basics of what good food is!
Carys: What does children's food mean for the future?
Jeanette: Children now are the adults of the future. By changing children's relationships and attitudes to food we are ensuring they have this knowledge as adults.
Food for Life is about leaving a legacy, and this legacy is every child has  the right to good food.
Carys: How has school food changed over the years?
Jeanette: It is massive how it has changed. From heating up packaged food to cooking more and more from scratch. Virtually all schools are cooking from scratch now.
When we were cooking from packets we needed little skills but now we are seeing chefs coming into the school food industry. For me, this is amazing. I believe people now have a better understanding of how important school food is.
Carys: What part did Food For Life have to play in this change?
Jeanette: A massive part. I believe we led the way. At the beginning we were campaigning against all the odds.
We were speaking to the Department for Education, at Downing Street, all over the place. Everyone was saying "you're mad".
I don't think people realise how difficult it was in those days, that was 16 years ago now. We were campaigning hard.
The Food for Life report came out in 2003*, and boy did it hit the headlines. We had massive support from the Soil Association board, the trustees and the members. This led to Jamie Oliver coming on board in 2005. I won a Radio 4 Food and Farming Awards in 2003, for best public procurement. Jamie was presenting the award, that's how we met. He came to my school St Peters in 2004 twice. Thanks to funding from the Big Lottery Fund, we were able to grow this work into the award-winning programme it is today. 
Carys: What was your inspiration for starting the good children's food movement?
Jeanette: It was from seeing the lack of good food across the board. When I first went into school meals we cooked from scratch. Then CCT came in – that is compulsive competitive tendering – which was cooking for the cheapest price you could.  All of our equipment was taken out and our work hours disappeared, we didn't need the hours because the cooking didn't require any skills.
That is so demoralising for people who want to cook. We were given potatoes ready peeled and ready-peeled carrots: we didn't do anything. My job role went to using a pair of scissors and a jug, that was it!
I thought that someone had to do something. I was told at the time it won't work – you won't make it work - and we did.
Carys: What changes have you seen in Food for Life schools?
Jeanette: For me, when a school fully embraces Food for Life, cooking, growing and integrating the kitchen team into the school, children start to take it for granted. I have to tell to them, every so often, how lucky they are because not every school has Food for Life YET. It is fabulous when I go all over the country and you find out the affect that Food for Life is having on the school meals, the  staff and of course the children!  
Carys: Is there a story of a particular school or pupil, that stands out in your mind, that has been impacted by Food for Life?
Jeanette: No, because there are many, many stories. I have to say there are some that bring tears to my eyes. Some children are not academic, but they enjoy gardening, cooking or working with animals.
You hear from children, who have troubled lives that they are being helped by Food for Life. For a lot of children it can take their troubles away.
One boy took his troubles and he spoke to the chickens. He told the chickens all about it. He couldn't tell anyone else but he could tell the chickens. When I say it out loud it sounds silly, but it's not.
If you get children involved in food education is a skill that will last life time.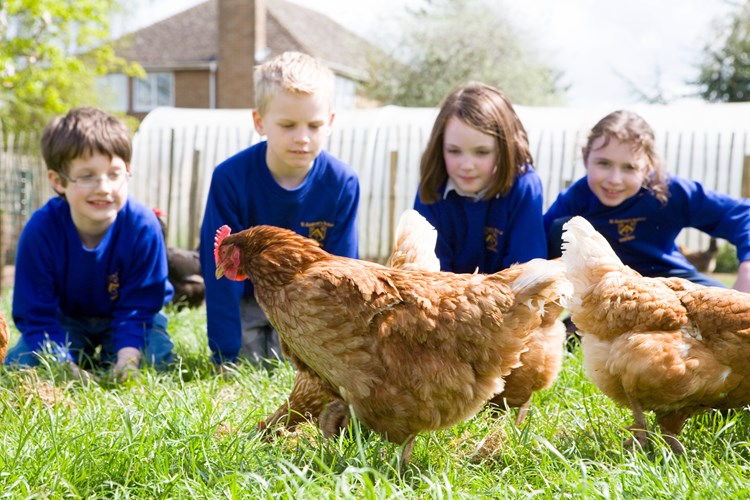 Carys: What do you think is needed next for Food for Life?
Jeanette: I think we have to get more head teachers, and the government, to realise how important food education is across the board. We need to have stability within the school meal industry, because it seems as though every time we get a new government they change their policy and food in school changes, and something else is a priority. But food is a priority.
We need more monitoring. Monitoring is essential in regards to children's food. We have the School Food Standards and, for me, this needs to be in every school with a food standards inspection team going around the country, like they do in Scotland.
We need long term research to evaluate the outcomes of teaching children about good food, as well as attainment, health impact and economic impact  Having said that, we don't seem to trust common sense anymore. It seems obvious and common sense tells us eating well and having a healthy diet is what we need to do.
Carys: And these are all things Food for Life is doing?
Jeanette: Yes our second impact report came out in 2016 you can find it on the Food for Life website.
Carys: How could the next steps for Food for Life affect our children?
Jeanette: I think it massively affects children, we haven't reached all schools yet but I'm sure we will. It gives them not only an understanding of food, but also an understanding of the world around them. It helps them to think about the fact that we only have one planet and we need to cherish that. And as adults we need to cherish the next generation. 
We could not have helped as many children as we have without your support, so thank you! Food for Life affects our children now and will continue to affect those children into adulthood. We would like to reach all children, shaping positive food values by teaching them where their food comes from and how it can keep them healthy. We would like to offer subsidies to schools in deprived areas, so that they can experience all the great things that Jeanette has told us about. Find out more about how you can get involved in improving children's food.
 * The Food for Life report, 2003