Maundy Thursday. In the Bristol office with the usual packed schedule. Usually from the time I get into the office until I'm back on the motorway, I wipe the farm from my mind, but today I'm so aware that the dairy cow Tb test will be finished by 5, and much hangs on it. At 5.15 the text arrives; 6 reactors, 4 inconclusives….so that's 14 in total, with last week's failures. It's not clear whether they will cull the inconclusives.
Good Friday. I start the day with a walk up the downs to see the new herd milking. It's a wonderful bright, cold morning, and it looks amazing up there. The cows have started to settle into their new routine, and Dai is milking 55 of them in less time than it took for 20 in the first couple of weeks. Sophie is there having done the lambing check, helping him finish off, and we begin the conversation that none of us want to have: can we/should we continue, or is it best now to re-amalgamate the herd into one? We have lost 32 cows in 10 weeks, and now could just about fit them all back into the Cues dairy. Costs would be lower, and Sophie and Dai are working so hard to get the unit established….but it's what they have been dreaming of doing for a long while, and in many ways it would be heartbreaking to stop. We agree to meet on Sunday morning to make the decision.
I've promised to take some hotel guests around the farm, so after an hour with Vicky, who runs our marketing ventures, and Hilda who oversees farm finances (how many businesses have all these staff who turn up on bank holidays?!) I rush to the pub. It's always fun showing people around, and a good chance to whizz round all the enterprises. This lovely couple are especially taken with the pigs, and enjoy a cuddle with the orphan lambs; I see them later in the day too, as they walked all the way back to the top of the farm to see the animals again.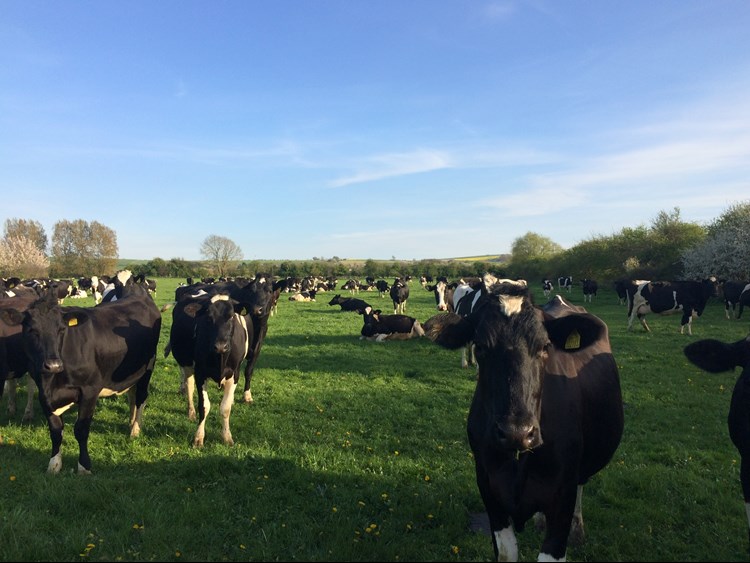 At 5pm it's back to the pub once more, this time to meet with the woman from the Telegraph, who, despite Tim's attempts to put her off – 'we're not ready yet!' – is determined to review the place before the paint is dry. She is staying the night, meeting friends for supper, so having shown her round and offered her a selection of rooms, we have another whistle stop tour of the farm. Like so many people, she is blown away by the countryside here. Most people fly down the motorway on their way to the Cotswolds or wherever, little realising the joy of these open landscapes, the ancient tranquillity of the downland. I think it makes a change for her to see a real working farm, with so much opportunity to walk, cycle, run or ride…or just to sit under a hedge and muse. Let's see if this comes through in the review, or whether the teething problems, scaffolding and builder rubble in the garden overwhelm the farming joys.
Saturday. A day to get some thinking done and numbers crunched before our meeting tomorrow, plus prep for the big Soil Association meetings that are coming up next week. Starting to worry a bit about the lack of rain; the fields are astonishingly dry for the time of year, and grass growth has slowed. It's a good chance to start clearing the winter pig fields though, and Daz has been making manure mountains, and cultivating the tracks on Lower Whitehill, in preparation for turnip planting.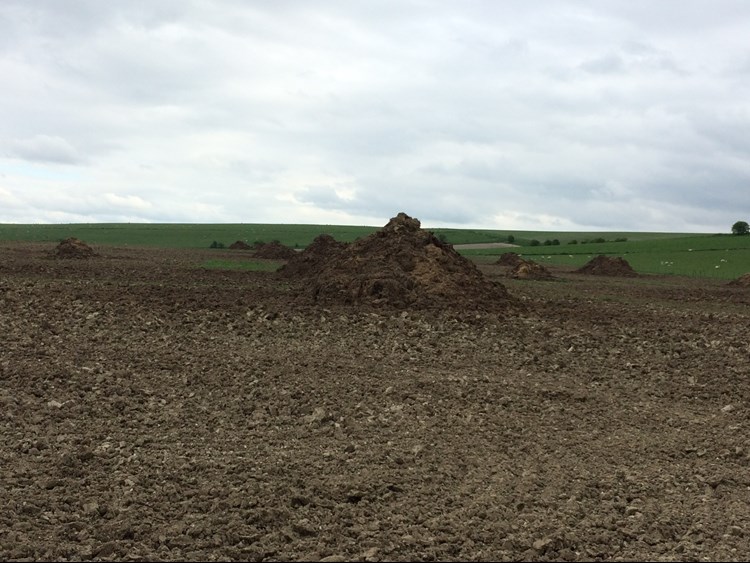 Last week I had a rant about the council road repairs at the bottom end of the farm, with daft lay-bys, with kerbs like some city street. Well, I'm vindicated! We haven't had an accident on this road in 20 years, but three days after it reopens, a car rips two tyres off while passing another.
Easter Sunday. Easter egg hunt time. Tim and I (helped by Dog, of course) hide 200 eggs in the woodland, trying to work out how to make sure all the kids find some. Andy is on trailer duty, ferrying people to and from, and so many turn up that my job for an hour is entertaining kids while they wait, giving the safety briefings (it's your fault if you get stung! Any nut allergies? Children must sit down while the trailers moving. Wash your hands before lunch!), while worrying whether there will be any eggs left for the latecomers.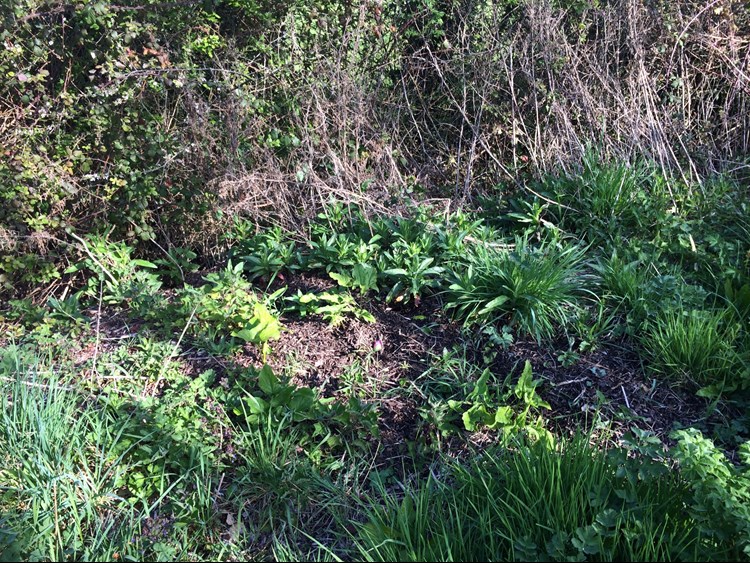 (A hidden Easter egg, if you can spot it!)
Then its 11am, and time for that meeting. Emotions are high, and for a while we go round in circles a bit. The big unknowable unknown is how many more cows we will lose to Tb in the next months and years. I've worked on the assumption of 30 a year. With this uncertainty, it's certainly not the right time to invest in the new 'proper' parlour and a barn, so carrying on in the mobile is not just a stepping stone, but a commitment for the next few years. Ultimately, it's got to be Dai and Sophie's decision, and we will do our best to get the rest of the farm to stack up financially if they decide to continue. It is a very difficult morning. By the end of it, we are veering towards carrying on….but they will sleep on it. They haven't had enough sleep recently.
Early evening, and an email from Dai. The decision is to stop. It's probably the right decision, but it feels heartbreaking.
Easter Monday. I need to talk with Teo, the herdsman at the Cues dairy. He gave up his spring calvers to start the new herd, now we are asking him to take them back again. It will disrupt all his grazing and work plans. Ever calm and rational, he suggests some alternatives. It's a day of shuttle diplomacy trying to make sure that this will work for everyone, and to think through all the implications. By the end of the day we have an outline plan: we will re-amalgamate the herd on Wednesday, and have a rough idea of how to reorganise the grazing. Late afternoon, I take a hike up to see the new herd, and they look fantastic. Two new calves have been born today, one with some trauma….but with mum eating hay and the calf submerged in it, you would never know.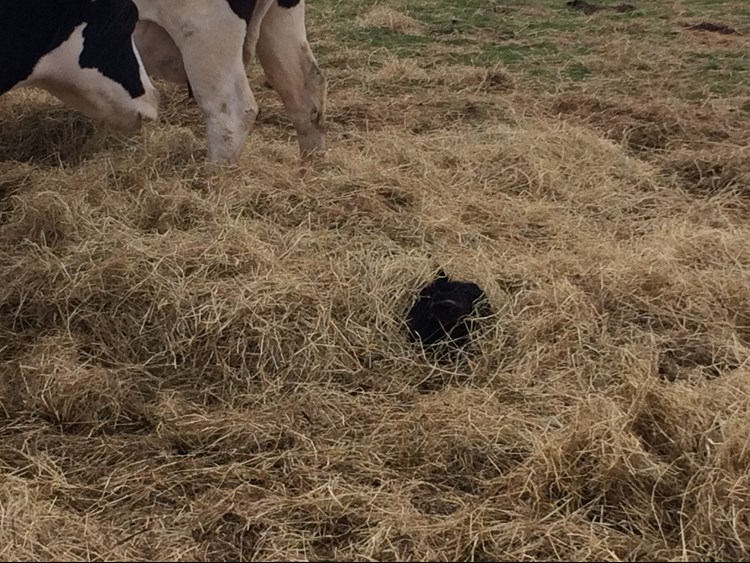 After all this, we have the whole family coming to view the new rooms and pub developments, and have a big feast. With twelve of us, it's quite a party. They love what we have achieved and it's brilliant to let our hair down together at the end of a rather traumatic Easter weekend.