Jonny speaks about his experience
Future Growers is all about upskilling the next generation of organic growers. The group take field trips across the country, to some of the most forward-thinking and progressive growers in the organic sector. The programme allows participants the opportunity to explore the inner workings of businesses, engage with the reality of organic growing, learn from tried and tested techniques and be part of an aspiring community, that encourages peer-to-peer learning.
Last year, places on the Future Growers programme quickly filled up, with eager growers keen to learn about triumphs and pitfalls of innovative organic growing. Having now completed Future Growers, Jonny Landon was keen to discuss his memorable highlights: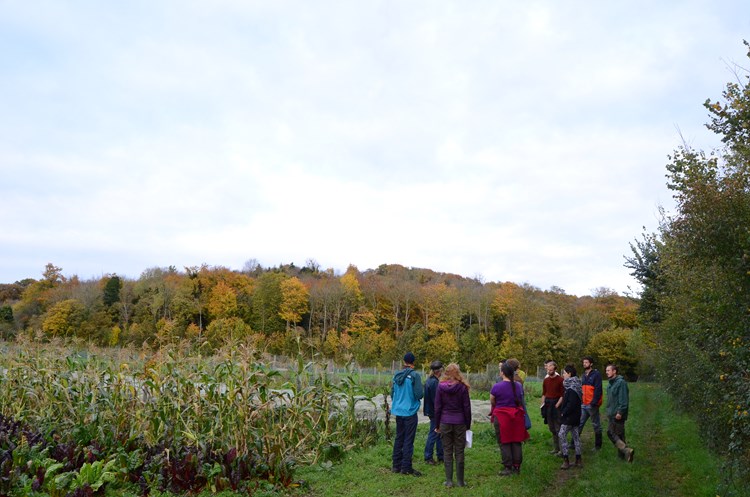 Jonny Landon
Jonny got involved with Future Growers after working at Heeley City Farm in Sheffield. Originally employed as a youth worker, Jonny became interested in horticulture via a voluntary placement at a local community run enterprise. He started the Future Growers programme hoping to pick up ideas and suggestions from larger organic farms and introduce them into his work at Heeley. 
Is it useful having a community of Future Growers?
"A likeminded community is useful now, but going forwards it's going to be incredibly useful. I've already used it, when I sent out an idea I had of making a little bio-mulch roller and other graduates helped give me advice on the project."
What does the course teach you?
"I don't think you have to be experienced but it helps to have a baseline horticultural knowledge. Having that baseline allows you to get really focused on some of the key ideas and encourages you to raise specific questions relating to improvements you can make on your own farm."
Were there any farms that you found particularly relevant?
"Farms that had minimal inputs were very useful and relevant. I picked up some really cool lessons on no-dig, rotations, and composting.
It was nice to see how open all the growers were in terms of sharing their ideas. People weren't guarding their secrets, and that was really helpful."
Did it give you an idea of what challenges are facing organic growers?
"There were a few farms where people were putting a lot of work in and were quite honest about how hard it is. It definitely highlighted the kind of things to look out for in terms of making your organic business successful, rather than allowing it to become a difficult struggle."
Applications are now open for 2018. If you're thinking of applying have a look at our Future Grower's hub for more detail.