It's far from pretty, but there is currently no legal standard in place to protect the term organic or natural for beauty products.
With certification, you can guarantee that the product you choose has gone through a diligent process to be given the green tick of approval. There are many independent recognised standards such as ICEA, Ecocert, and of course, the Soil Association. However, not all certification bodies have the same standards - this is where COSMOS comes in. You may have noticed the COSMOS logo on certified products. Read on to find out more about the standard.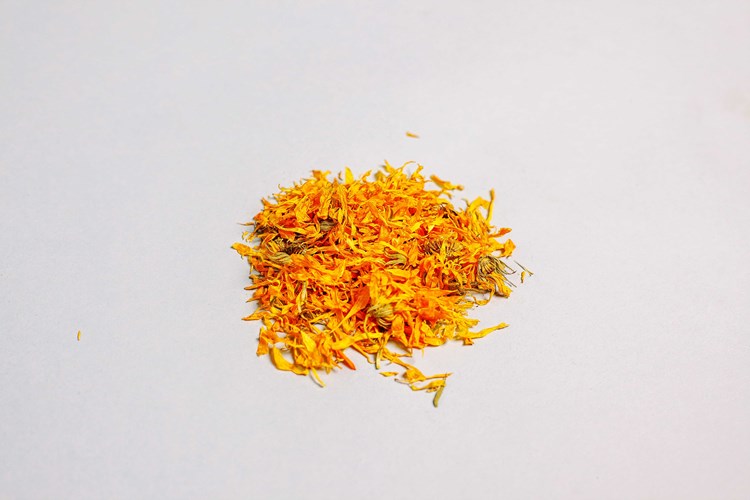 What is COSMOS?
COSMOS is a globally harmonised standard for organic and natural cosmetics. The Soil Association is a founding partner of COSMOS – we helped to set it up because we recognise that the international cosmetics industry needs a global standard. A certified organic cosmetic meets a recognised, independent standard, such as COSMOS. Products are expertly checked with an audit each year which looks at the factory, ingredients, supply chain and packaging. With exotic ingredients from further afield, such as Argan oil or Shea butter increasing in popularity, COSMOS certification guarantees that ingredients and products meet the same organic and natural standards wherever they come from.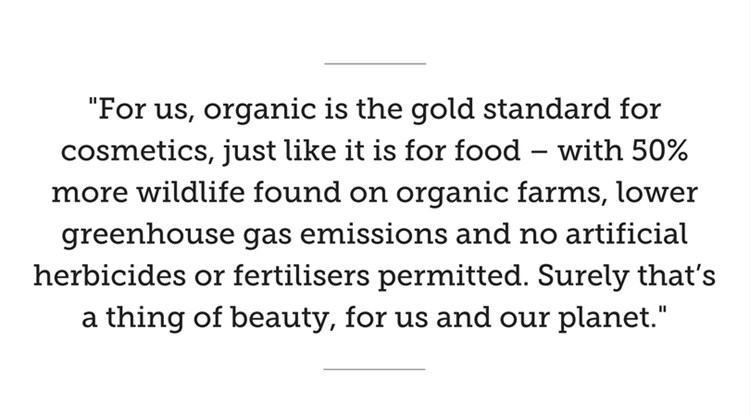 What is COSMOS Organic & Natural?
Looking and feeling good shouldn't mean making ugly compromises and for us, organic is the gold standard. When you see our logo accompanied by the COSMOS organic logo on a product, you know it's sourced and manufactured using sustainable ingredients, not tested on animals, free from harsh chemicals, nano particles, parabens, synthetic dyes and artificial fragrances. This criteria also applies to COSMOS natural products.
To provide some certainty for consumers in the unregulated natural cosmetics marketplace, we offer certification to COSMOS Natural as well as COSMOS Organic. The principles of the COSMOS Natural standard are very similar to the COSMOS Organic standard, with one clear difference: in the Natural standard there is no minimum requirement for organic ingredients. Lots of certified natural products do use organic ingredients, but not always in a high enough quantity to meet certified organic standards.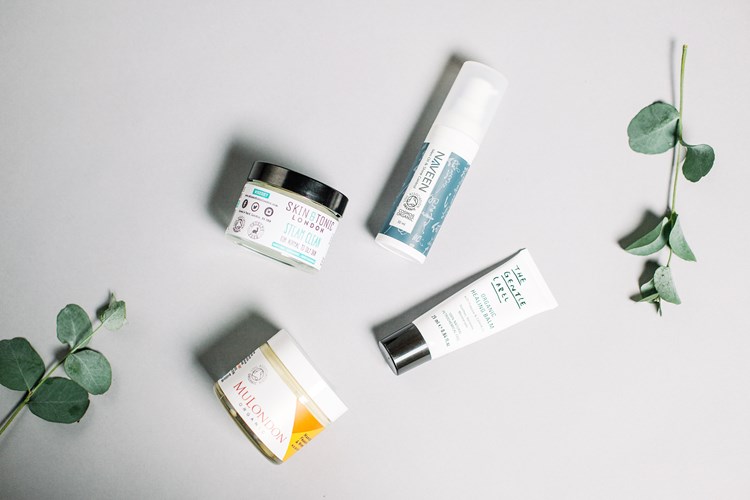 The COSMOS natural standard is ideal for products which contain a large proportion of things that can't be organic because they're not a product of farming, such as clay or salt.
Side Note: Next time you choose a face mask or bath salts, think about opting for a product with COSMOS Natural certification to guarantee its quality and integrity.
Just like with certified organic products, manufacturers of certified COSMOS natural products are inspected each year. No product may be tested on animals and there are standards for packaging, as well as the ingredients and manufacturing processes that can be used. The chart below shows how COSMOS organic and COSMOS natural compare: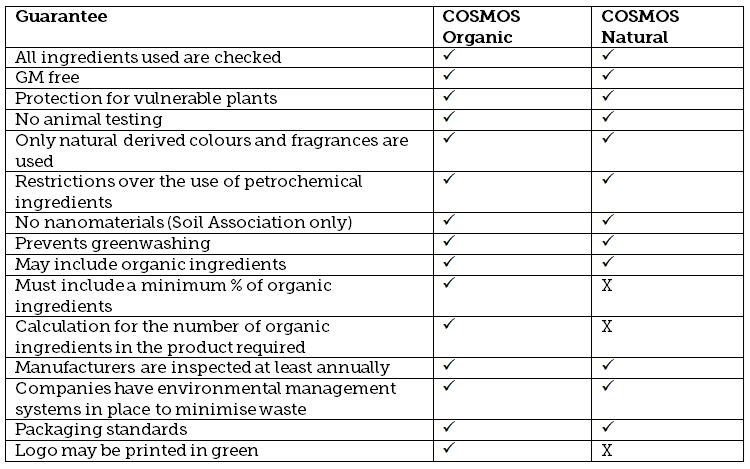 Certified natural is a good alternative for beauty products when organic isn't available but you still want to make a more environmentally sustainable choice.
Let's face it, certification isn't sexy. However, certification is essential. It provides an independent guarantee that the manufacturer's claims about ingredient sourcing and product sustainability are genuine. With a certified product, you know the whole process of making it has been checked, from field to lab.  For us, organic is the gold standard for cosmetics, just like it is for food – with 50% more wildlife found on organic farms, lower greenhouse gas emissions and no artificial herbicides or fertilisers permitted. Surely that's a thing of beauty, for us and our planet.