As the seasons change, so does our diets and the clothes we wear and skin is no exception! We speak to Lou Dartford to find out how we can best look after our skin for the harsh winter weather...
I don't know about you but this winter weather is playing havoc with my skin; and with this December and January apparently set to be the coldest for seven years, it's only going to get worse.
The plummeting temperatures outside, teamed with the heating getting cranked up inside, is not a good combination for our poor old complexions. Both extremes deplete essential moisture. Hydrating water often takes a back seat too, with hot tea and coffee taking its place. Factor in festive shenanigans as well and you've got a recipe for lack lustre, confused skin.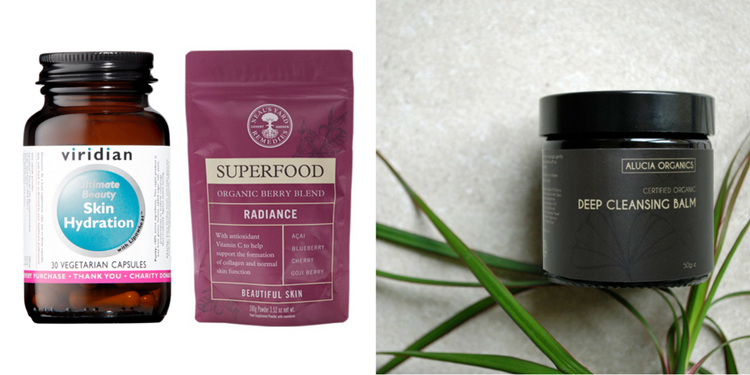 Image: Viridian Nutrition, Neal's Yard Remedies & Alucia Organics
So what can we do to get the sparkle back? Hydrating from the inside is essential. Keep sipping on water throughout the day to top up levels. If you're struggling to get your daily quota, Viridian's Ultimate Beauty Skin Hydration could help through the winter months. Make sure you're feeding your skin too with plenty of healthy fats and antioxidants. Neal's Yard Remedies' have a super food mix to encourage radiant skin – rich in Vitamin C, the Organic Berry Blend could help counterbalance burning the candle at both ends – no promises but worth a try!

Externally, there is a lot we can do to help our weather worn skin. Nourish it right from the start of your routine by using an oil-based cleanser to remove makeup and cleanse your face.  Even oily skins can benefit from these types of cleansers; all skins can become dehydrated. Alucia Organics' Deep Cleansing Balm is lovely and rich and leaves skin feeling cleansed and comfortable. Remove with a soft flannel or muslin for gentle daily exfoliation, which will help with skin radiance and make other products work better too.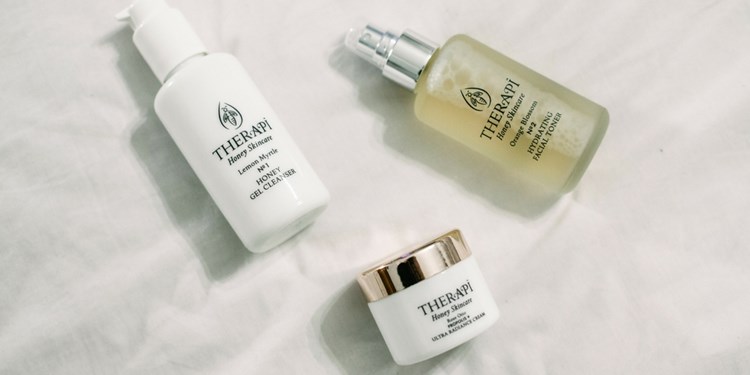 We layer up our clothes so try layering up your skincare - a hydrating serum or oil underneath a moisturiser can be just the boost skin needs. Nourish Skincare's Protect Replenishing Peptide Serum is a real treat for thirsty skin. Skin and Tonic's Brit Beauty Oil is a simple but effective mix of nourishing oils, use directly onto skin or try supercharging your moisturiser with it. Therapi Honey Skincare's Ultra Radiance Cream is a favourite for my weather worn skin, apply at night and wake with better skin for sure.
It isn't just our faces that we need to look after. My hands are a great reflection of the weather and a good indicator of my hydration levels. Nourish Skincare's Kale Hand Cream is targeted to hydrate and soothe but also refine skin texture which is welcome in this troublesome area. Whatever your chosen cream, keep one by every sink and always apply after washing hands.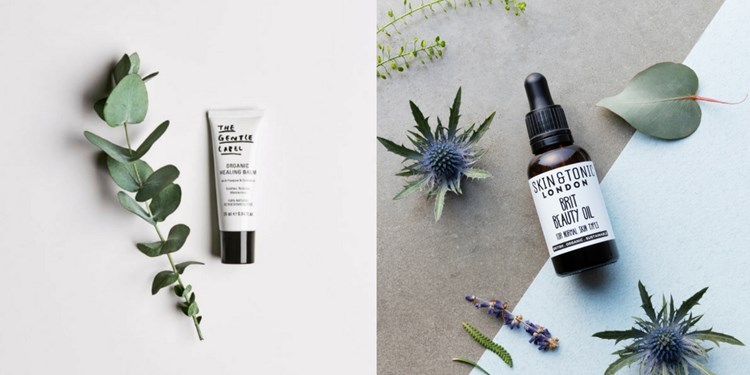 Image: The Gentle Label & Skin & Tonic
Another essential for every pocket is a good balm. The Gentle Label's Organic Healing Balm is brilliant to soothe chapped skin – basically put it anywhere that needs it. Herbfarmacy's Lip Nurse is wonderful to keep your pout in tip-top condition, apply whenever you need it.
We might not be able to control the weather, but we can certainly enjoy the skincare!
Lou x