Why Organic is really Better Chicken
We are pleased to see that the Better Chicken Initiative is supporting caterers in their work to promote high welfare chicken.
We are proud of our organic standards for poultry and are confident that they are best in class for the quality of life they provide the birds. Soil Association organic standards ensure that chickens are truly free range and live in small flocks, which guarantees every bird gets the individual attention it needs.
So it is frustrating to see that the Better Chicken score for Soil Association organic has been affected by confusion over a technicality: a point was docked because we do not have a specific standard banning the use of faster growing breeds. We are in strong agreement that faster-growing breeds have no place in organic farming.  But while faster growing breeds are technically not prohibited under EU organic legislation, other rules have been deliberately designed to prevent them being used in practice. Organic standards stipulate that faster-growing breeds must be reared until they are at least 81 days old and must not have their feed restricted to slow their growth – this means they would be too large for processing units, and they are therefore not a viable choice for organic.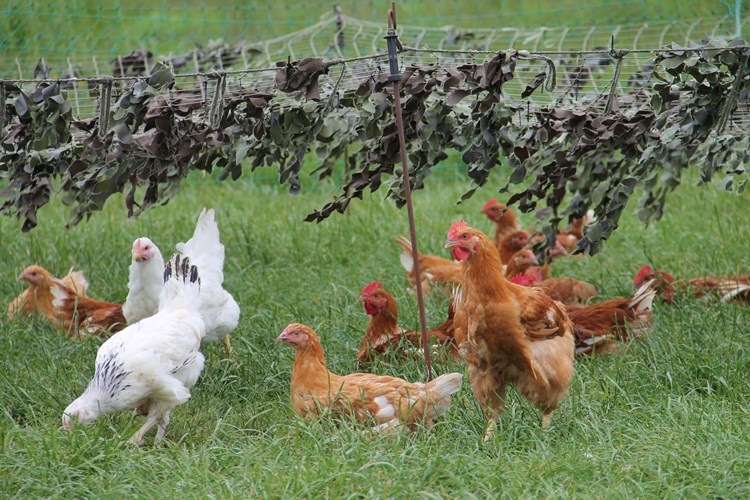 In addition, our standards give birds access to a large, well-managed pasture from a young age which encourages them to explore, forage and roam freely with confidence. Chickens' ancestors were forest dwellers so the requirement to provide natural shelter, such as trees, and plenty of interesting vegetation to peck, encourages birds to range further from their housing by giving the birds the security of overhead protection. Encouraging the birds to be active and perform these natural foraging behaviours outdoors helps to avoid common welfare problems with leg strength and foot health that you may see in indoor housed systems. 
Organic chickens must also have ample indoor space with natural light and loose, dry litter for dustbathing and foraging. We tightly control the use of artificial lighting to ensure the birds get the natural rest they need and can synchronise their behaviour. Lighting may be used to prolong the day length in the darker months, but the birds must be given an eight hour nocturnal rest with a dimmed period to emulate natural dusk and give them a chance to settle down for the night. 
Overall then, Soil Association standards provide the highest welfare potential of any system, despite not 'banning' faster growing breeds; there has been no need to, as they are simply not suitable for a truly free range system where they live for at least 81 days. We do hope that the Better Chicken scoring system will recognise and correct this and that people will continue to support the Soil Association standard at every opportunity.   
Standard

Max no. of birds per flock

Indoor area

Outdoor area m2 per bird

Minimum nocturnal rest period (hours)

No. birds per m2 floor space  

Liveweight kg/m2 floor space          

Soil Association

1000

10*

 

21**

 

4***

 

8

RSPCA free range

15,000 recommended

13

27.5

1

6

RSPCA indoor

30,000 recommended

19

30

0

6

Red Tractor free range

No maximum

-

27.5

1

6

Red Tractor indoor

No maximum

-

38

0

4

European Chicken Commitment

No maximum

-

30

0

-

* or 16 if house is smaller than 150m2 (240 birds) and is regularly moved to fresh pasture

** or 30 if house is smaller than 150m2 (240 birds) and is regularly moved to fresh pasture

*** or 2.5 if house is smaller than 150m2 and is regularly moved to fresh pasture

Caterers can find out more about our Food For Life Served Here standards and award scheme here.