Organic Cotton for Business

Choosing Organic Cotton for Business
Choosing organic cotton for business
Organic textiles aren't only good for the environment and the workers along the supply chain, they're also good for business as sales of organic textiles, and land in conversion to organic, are increasing. Our Organic Textile Market report highlights the rapid growth of organic cotton by Soil Association Certification licensee businesses.
Meeting expectations
As people's expectations of authenticity and transparency grow, businesses recognise that organic textile certifications such as the Global Organic Textile Standard (GOTS) and Organic Content Standard (OCS) play a valuable role in ensuring integrity for retailers and consumers. The number of GOTS certified facilities grew by 14.6% in 2018, with growth almost doubling from the previous year. This signifies increased supplier commitment to organic production, which increases feasibility for retailers to offer organic garments.
Growing Demand
This is good news against a backdrop of growing demand. A 2018 study by Fashion Revolution, surveying consumers from the UK, Germany, France, Italy and Spain found that 61% of interviewed consumers want to know about how retailers are minimising their impacts on the environment, and the actions being taken to protect their workers' human rights and 37% of consumers said they consider environmental impacts when buying clothes. 
There is a real incentive for brands to tell their sustainability story through their products, showcasing commitments to current and future sustainable development. Organic certified textiles can play a vital role in communicating these stories, particularly GOTS, which covers the whole supply chain and also addresses social conditions in factories.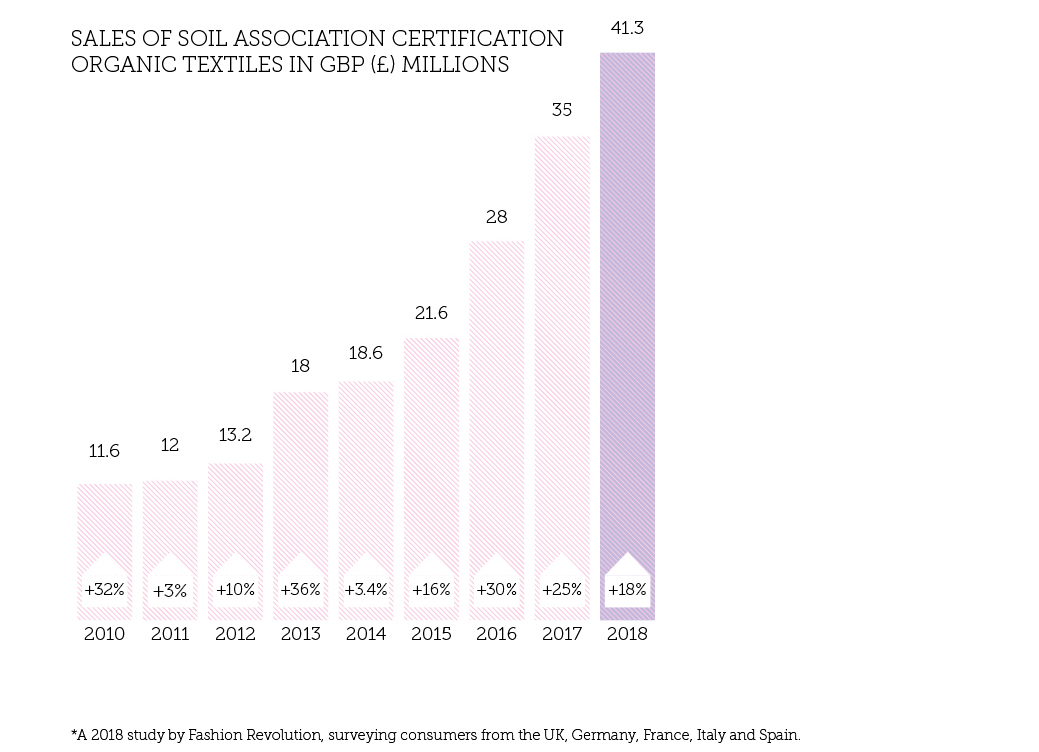 The Organic Textile Market Report

The organic textile market is now worth £41.3m, this report provides an overview of both the broader ethical fashion market, and of organic cotton in particular.
Industry commitments
Progressive commitments are being made to support a new wave of thinking in the industry. 38 brands have signed the Sustainable Cotton Initiative, spearheaded by The Prince of Wales's Sustainability Unit, Marks & Spencer and the Soil Association, making a commitment to use 100% sustainably sourced cotton by 2025. Organic is part of this and currently 13% of all cotton used by the brands is organic.
The Sustainability Benefits of Organic Cotton

Organically farmed and produced textiles have many social and environmental benefits, find out how they contribute towards fulfilling the UN's Sustainable Development Goals

Find Out More
In this section...
Related