Using the Organic Symbol
Using the Soil Association organic symbol
The Soil Association organic symbol is the most widely recognised in the UK and appears on over 70% of all organic food & drink products on sale in the UK. A "shortcut" to reassurance and trust within a crowded market, the symbol demonstrates your commitment to working with nature, not against it, for the benefit of wildlife, people and planet. We believe that organic certification is something to celebrate, and a key benefit of certification is being able to display the symbol with pride on-pack and across your wider marketing activities to show your brand values and to tell your own organic story.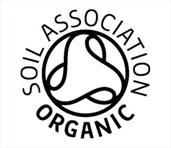 The symbol is a registered certification mark (®) of Soil Association Limited. You may only use the symbol on your products if you hold a valid certificate of registration from us. It can only be used for organic products identified on your trading schedule.
Use of our symbol is controlled through specific guidelines provided in chapter two of our organic standards and you will find a comprehensive summary of these below. All usage of the symbol must be approved by your Certification Officer. The Soil Association organic symbol is a registered trademark - unauthorised use may result in legal action.
In this section...
Related
Related
Organic September - get involved
Join us to celebrate the UK's largest month-long campaign to grow the organic market. Materials, campaign action pack and much more - get involved today.
Get involved