Organic Fashion & Textiles
Organic fashion and textiles
Organic delivers proven benefits for people and the environment. When it comes to sustainability claims you can trust, nothing beats it.
You've probably noticed that shops and brands are starting to use more 'sustainable fibres' in the clothing and homewares they sell. This is because the climate impact of the fashion industry is growing at an alarming rate.
Did you know, people in the UK buy around 10kg more clothes per person in the UK than the next European country? That's around five times what we bought in the 1980s. The fashion industry is the second-biggest consumer of water and is responsible for 8-10% of global carbon emissions - more than all international flights and maritime shipping combined.
Organic textiles, especially organic cotton, provide solutions to many of the challenges that are related to the increasing consumption of fashion and fabrics. As a fibre, cotton comprises a huge proportion of the raw materials used in the fashion industry, equating to roughly 40% of global textile production, and more than half the garments sold in the UK are made from cotton, but its production and processing is highly polluting.
Organic cotton offers a more sustainable alternative to conventionally grown cotton, which protects people and the planet.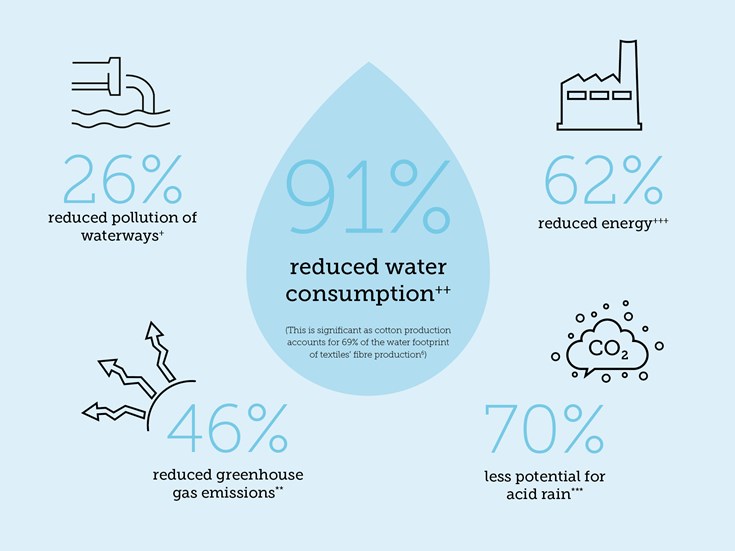 What is organic fashion and textiles?
Organic fashion and textiles certified by the Soil Association are made from organically produced fibres such as cotton, linen and wool. Certified organic textiles are kinder, cleaner and better for our environment.
Organic cotton helps to combat climate change, uses less water, no hazardous synthetic pesticides are used and only low impact dyes are allowed. It is also better for farmers and factory workers and GM is banned.
Watch our video with Hubbub Investigates, which explores what organic cotton is, and why it matters
Hubbub Investiagtes, talks to our Standards Development Manager, Sarah Compson, to investigate current cotton production and the benefits of making the switch to organic. 
Five reasons to choose organic cotton
Combat climate change: Organic farmers are doing their bit to combat climate change. By relying on natural methods rather than using manufactured nitrogen fertilisers, organic cotton results in a 94% reduction in greenhouse gas emissions. By maintaining their health, organic practices turn soils into a carbon 'sink', removing CO2 from the atmosphere.
Save water: By eliminating the use of hazardous synthetic pesticides and artificial fertilisers, organic cotton keeps waterways and drinking water safe and clean. Organic uses 91% less water than non-organic production. Organic farming promotes naturally healthy soils which are more resilient in drought conditions.
Reduce toxic chemicals: Toxic chemicals from artificial fertilisers and pesticides used in conventional farming – many of which are classed as hazardous by the World Health Organisation can– not only poison wildlife and rivers, they kill an estimated 16,000 people each year. Organic textiles are made without hazardous synthetic pesticides.
Transform workers' lives: Using toxic and expensive pesticides, fertilisers and textile processing chemicals can cause health problems for farmers and factory workers, which can lead to early death. The burden of debt from expensive inputs, often linked to failing GM crops, has resulted in thousands of suicides in India, the world's largest cotton producer. There are no hazardous synthetic pesticides used in producing organic fibres and GOTS-certified textiles are only made using low impact dyes and inks, with proper protection provided to workers.
Workers in GOTS factories also enjoy decent minimum wages, good working conditions and are protected from inhumane treatment, with no child labour allowed.
No GM: Organic fibre production never uses GM seed. The small-scale farmers who produce the majority of our fibres need reliability, not high risks. Using locally available inputs such as seeds and manure, organic farming allows farmers to work with the environment, in a sustainable way with a long term future. Organic puts choices in the farmers' hands.
Where to find organic fashion and textiles
You can find organic fashion and textiles across the high street and many big brands are starting to source organic cotton as part of their ranges.  We're proud to work with some fantastic brands that have helped pioneer the use of organic textiles and see it as a fundamental part of what they do. To be sure you are buying genuine organic textiles, always look for the Soil Association or the GOTS logo.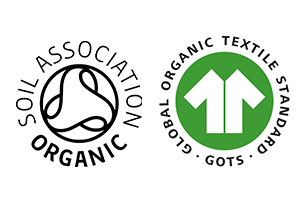 If you'd like to delve a little deeper in to individual brands sustainability credentials, GoodOnYou is the world's leading source for fashion brand ratings, giving brands a score based on their ethical and sustainable credentials.
Browse Certified Brands

When it comes to organic fashion and textiles, look for the logo to be sure of the quality, integrity and transparency of the products you're buying.

Find a brand