Yes, a burger can involve coffee! Organic coffee producer CRU Kafe have come up with this surprising but amazing recipe.
"If you're looking to combine your love of coffee with your love of food then we have the perfect recipe for you. This one is slightly more complex than our usual recipes but it's definitely worth the effort, and just in case you feel overwhelmed our co-founder John is on hand to walk you through it step-by-step."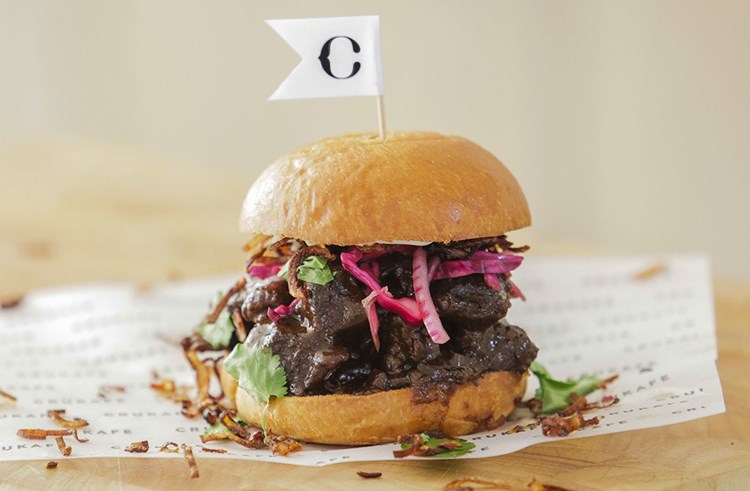 Ingredients – Serves 4
250g organic beef cheek diced
75g organic streaky bacon sliced into strips
2 organic shallots sliced
50g organic plain flour
25g organic English mustard powder
50ml organic olive oil
300ml CRU Kafe Dark Roast espresso
2 tbsp organic garlic puree
1 tbsp organic tomato puree
2 tbsp organic chipotle puree paste
2 tbsp organic muscovado sugar
4 x organic brioche burger buns
Garnish
1/4 organic red cabbage
1/2 organic red onion
250ml organic red wine vinegar
Organic coriander
Organic crispy fried shallots
Squeeze of organic mayo
Method
Pour over 2-3 tbsp of olive oil into a large earthenware dish, place on stove and bring to a medium/high temperature.
Meanwhile dust the beef cheek in the flour and mustard powder, season with salt and pepper.
When the oil is hot, brown the meat off in batches; making sure not to overfill the pan.
Once all the meat is done, fry the bacon and shallots. Cook until it caramelises.
Next add in the garlic puree, tomato puree, chipotle puree and cook for a further 2 minutes.
Finally, add the coffee and sugar. It will thicken to form a jam-like mixture.
Once that is done add the beef back into the pot, place a lid on it and reduce the heat to a bubble. Cook low and slow for 2 1/2 hours.
In the meantime, slice the cabbage and red onion thinly, pour over the vinegar and leave to pickle.
Once the meat is cooked, so it falls apart on the fork, turn the heat off and allow it to cool slightly.
Toast the brioche burger buns - a griddle pan is best to get the core marks. Pick some leaves of coriander and drain the red onion and red cabbage pickle.
To serve, spoon the beef cheek mixture into the burger bun, slightly straining excess coffee gravy first. Then place the pickle on top and scatter with coriander leaves. Crumble the crispy shallots on top and then dress with mayo before sticking the top bun on.
CRU Kafe was founded in 2013 by three friends who wanted to get the best possible coffee out of their Nespresso® machines. Not happy with what was available on the market, we decided to make our own – and after a successful Kick Starter campaign, CRU Kafe was born.
Find more about CRU Kafe here: crukafe.com