Mediterranean Chicken and Chia Burgers
Cook chicken thighs or use leftover chicken roast to create these great burgers with chia seeds:
"An easy recipe for chicken burgers with added superfoods, quinoa and chia, flavoured with basil and sun dried tomatoes"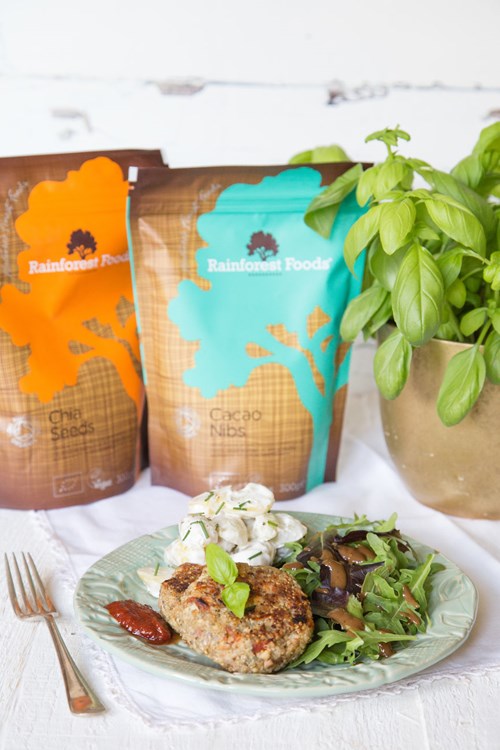 Ingredients
Serves 4 / makes 8 burgers
4 (about 240g) cooked chicken thighs or leftover roast chicken – skinned and boned
100g quinoa -cooked as per packet instructions and well drained (250g cooked weight)
1 large egg – beaten
2 tbs Rainforest Foods Chia Seed
1 tbs fresh basil – chopped
1 tbs sun dried tomatoes – chopped
1 tbs plain flour
Salt & pepper
1 tbs light olive oil
Method
Put the chicken into a food processor or chopper and whizz until shredded. Place in a bowl and add all the other ingredients apart from the flour and mix well. Add enough flour so the mixture will stick together and season to taste.
Divide the mixture into 8, and shape into round patties, each about 2cm thick, place on a plate cover with cling film and pop into the fridge for a few hours to firm up.
Fry over a medium in the olive oil for about five minutes each side until golden brown and hot all the way through.
Serve with salad, or in a burger bun.
Recipe and photography Helen Best-Shaw - www.fussfreeflavours.com
@FussFreeHelen on twitter