Try Rachel de Thample's super seasonal and waste free carrot top salsa verde - the perfect way to use up the leftovers from your carrots.
"They need a good wash and you don't want to eat them by the bucket load but carrot tops are utterly charming. I can't bare to just lob them off and toss them into the compost bin. I typically use them in a stock as they add a golden hue (the Victorians used carrot tops to dye things yellow), but this recipe is another brilliant way to put these nutritious greens to good use".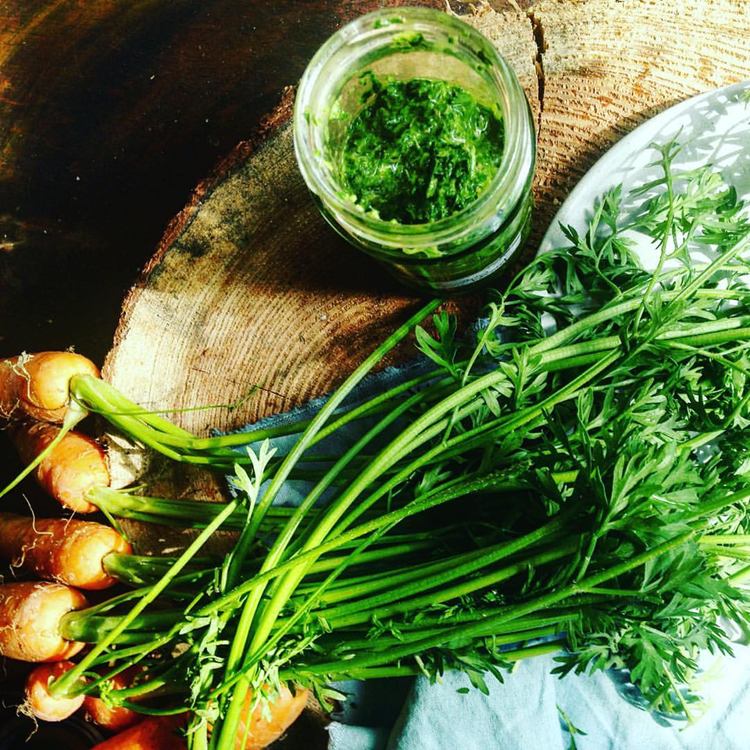 Prep: 10 mins
Cook: nil
Serves 4
100g carrot tops
25g anchovies or green pitted olives
2 tsp capers
½ garlic clove
1 lemon, zest (and juice,
optional)
A hint of chilli (optional)
1–3 tbsp olive oil
Give the carrots tops a really good wash. Pat dry. Pile into a food processor or on a chopping board along with the anchovies (or olives), capers, garlic and lemon zest. Pulse or finely chop with a large knife until it's the consistency of finely chopped parsley.
Add enough olive oil (and a little water or lemon juice) till as thick or as thin as you like.
Gorgeous tossed with cooked spelt grains and roasted carrots. Also ace with fish or roast lamb.
Rachel has worked in the kitchens of Marco Pierre White, Heston Blumenthal and Peter Gordon. She is commissioning editor for Locavore magazine and teaches the preserve courses at River Cottage HQ in Devon. Rachel is the author of Less Meat, More Veg and FIVE, and has served as Commissioning Editor of Waitrose Food Illustrated and Head of Food for the pioneering organic box scheme Abel & Cole. She lives in Crystal Palace, London, where she has helped set up numerous local food initiatives, including the award-winning Crystal Palace Food Market.
Find out more about what Rachel is up to or visit her upcoming supper club, a vegetarian 4-course dinner inspired by market produce. This time the focus will be on eating every part of a vegetable from root to shoot. Don't miss out get your ticket here.