Skordalia is a Greek side dish of potatoes and garlic whipped into a dip, thickened with stale bread or nuts, and spiked with lemon. This parsnip version is good warm with lamb or mushrooms, or at room temperature as a dip for pitta bread. Parsnips are less likely to go gluey than potatoes when blended. The pungency of raw garlic is all part of the appeal in the original dish, but we recommend you add it a little at a time, to taste.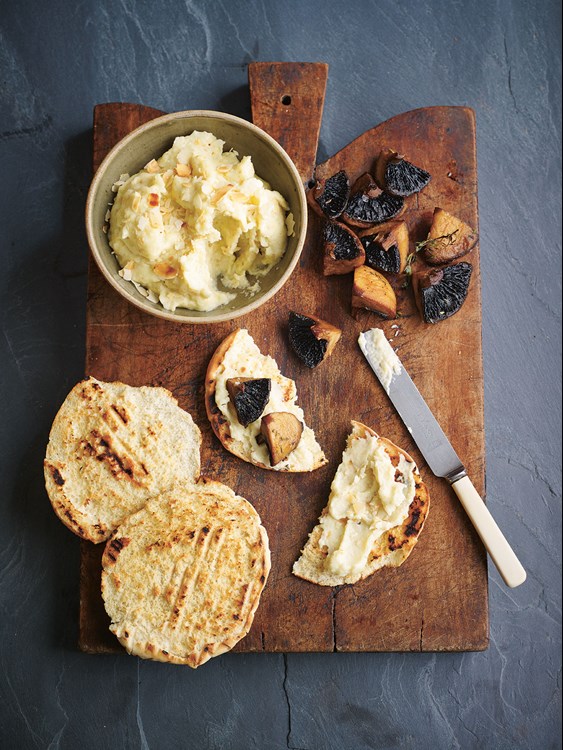 Ingredients (serves 4-6 as a side or dip)
1kg parsnips, peeled and chopped into even sized chunks
1 bay leaf
400ml milk
60g fresh breadcrumbs
80g flaked almonds, lightly toasted
3–4 garlic cloves, crushed
80ml good olive oil
Juice of 1 lemon
Salt
Method
Put the parsnips into a pan with the bay leaf and cover with the milk. Bring gently to the boil and simmer for 15–20 minutes until very soft. Strain the parsnips, reserving the milk. Put the parsnips into a food processor with a dash of the milk and blend until smooth. Add the breadcrumbs, almonds and half the garlic, and blend while adding the olive oil in a steady stream. Add half the lemon juice and a good pinch of salt. Check the seasoning and add more garlic, lemon juice and salt as you wish. If the mix is stiffer than you want, add a little more of the warm milk to loosen it.
Variations
* This dish can be warmed up with a little bit of spice: a clove or two added to the milk when you cook the parsnips works well (remove before you blend), as does a teaspoon of freshly ground cumin
* If the punch of raw garlic is too much for you, take the edge off by adding the peeled garlic cloves to the milk and simmering them with the parsnips
* Replace the almonds with toasted and skinned hazelnuts