Festive Fennel with Roasted Roots
Gill Meller's roasted roots recipe is a real showcase for seasonal veg.
Seasoned with a selection of warming herbs and spices, it makes a great accompaniment to meat dishes or a festive veggie nut roast.
Ingredients
4 small beetroots – roughly golf ball size
1 medium-sized celeriac
2 bulbs of fennel
2 medium red onions
1 bulb of garlic, cloves separated with skin on
A generous handful of sage leaves
4–5 sprigs of rosemary
2 tsp fennel seeds
About 4 tbsp extra virgin olive oil
2 tbsp pumpkin seeds
Lemon juice
Sea salt and freshly ground black pepper
For the labneh
500ml plain yoghurt or milk
1 tsp fine sea salt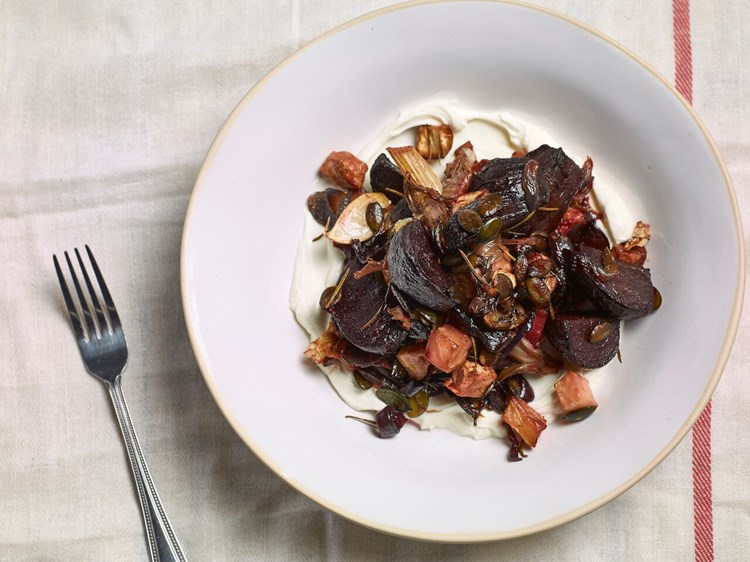 Method
For the labneh:
This should be done at least 8 hours before you want to eat the dish but you can actually start it several days in advance.
Place the yoghurt or milk in a bowl, add the salt and stir it in thoroughly. Line a large sieve with a square of clean muslin, cheesecloth or even a very thin cotton tea towel. Spoon the salted yoghurt into the cloth then gather up the sides.
Tie the cloth at the top so it encloses the yoghurt. You can suspend the ball of yoghurt over a bowl so it can drain, or leave it sitting in its sieve over a bowl. Transfer it to the fridge and leave it for 6-8 hours or overnight.
The labneh is ready when a significant amount of liquid has drained into the bowl and the yoghurt has the texture of thick crème fraiche. Transfer the labneh from the cloth into a bowl, cover and refrigerate.