Organic Cardamom Chocolate Tart
Native to Kerala and the forests of Southwestern India, cardamom holds a complex flavour. Warming, aromatic and citrusy, it can be used to add a festive spice to your desserts this Christmas.
One of our favourite cardamom recipes comes from a true spice savant, Chetna Makan. Semi-finalist of 2014's Great British Bake-off and author of the Cardamom Trail, Chetna's specialty lies in combining traditional Western baking with aromatic Indian ingredients.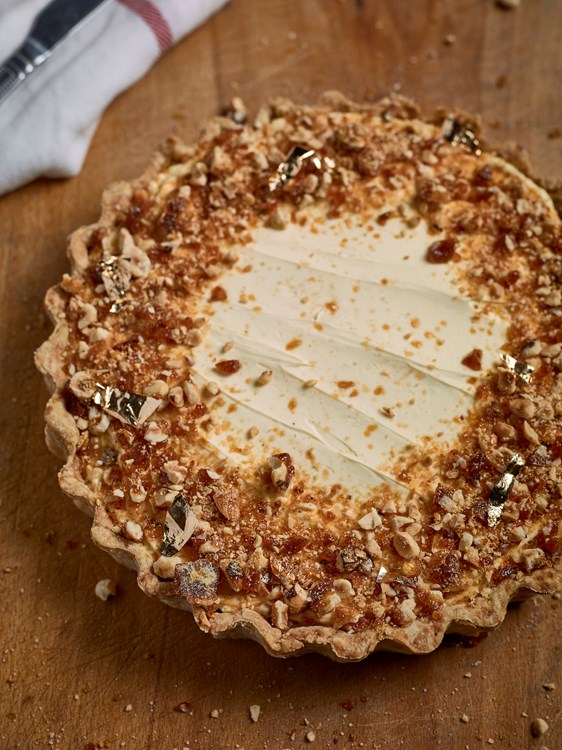 Ingredients
For the pastry
200g plain flour
20g golden caster sugar
100g unsalted butter in small cubes
1 large egg
1 tsp of lemon juice
For the dark chocolate layer
300g double cream
Seeds from 10-12 cardamom pods or 1 tsp
cardamom powder
250g dark chocolate, roughly chopped
40g unsalted softened butter
For the cream topping
150ml double cream
150ml mascarpone
2 tbsp caster sugar
To finish
Handful of toasted chopped hazelnuts
Cocoa powder
Shards of chopped hazelnuts brittle
Edible golden sheets
Method
To make the pastry, mix the flour and sugar in a large bowl. Add the butter and coat it with the flour. Use your fingertips to rub the butter into the flour until the mixture looks like breadcrumbs.
Mix the egg and lemon juice together and pour in just enough of the liquid to bring the dough together. You might not need all the liquid. Gently knead the dough on a lightly floured surface for a few seconds then shape it into a ball. Wrap in cling film and leave to rest in the fridge for 10-15 minutes.
Preheat the oven to 180°C. On a floured surface, roll the pastry to the thickness of a pound coin. Line a 23cm loose-bottom tart tin with the pastry, leaving the excess hanging over the edge, and prick the base all over with a fork.
Line the tart case with baking parchment, fill with baking beans and bake for 20 minutes. Remove the paper and beans and continue baking for a further 20 minutes or until the pastry looks dry and crisp.
Use a small sharp knife to trim the excess pastry from the rim and leave the tart case to cool in the tin for 15 minutes.
To make the chocolate ganache, heat the cream in a pan and add the crushed cardamom seeds. When it is about to start boiling, pour this cream over roughly chopped chocolate.
Stir the mix and let the heat melt the chocolate. When done, add the butter and let it melt. Pour the ganache into the cool tart case. Put it back in the fridge to set. This might take up to 2 hours.
In a bowl, whisk the cream, mascarpone and sugar into soft peaks. Spread this over the set chocolate ganache and leave it in the fridge until ready to serve.
To serve, sprinkle some cocoa powder and hazelnuts, then place a piece of brittle on each portion and a tiny little piece of the gold leaf.