Sweet garlic and Celeriac Pie
Soil Association ambassador Anna Jones has created an incredibly homely, garlic and celeriac pie.
With a popped bean top, this delicious festive main course is a perfect vegetarian alternative for the big day.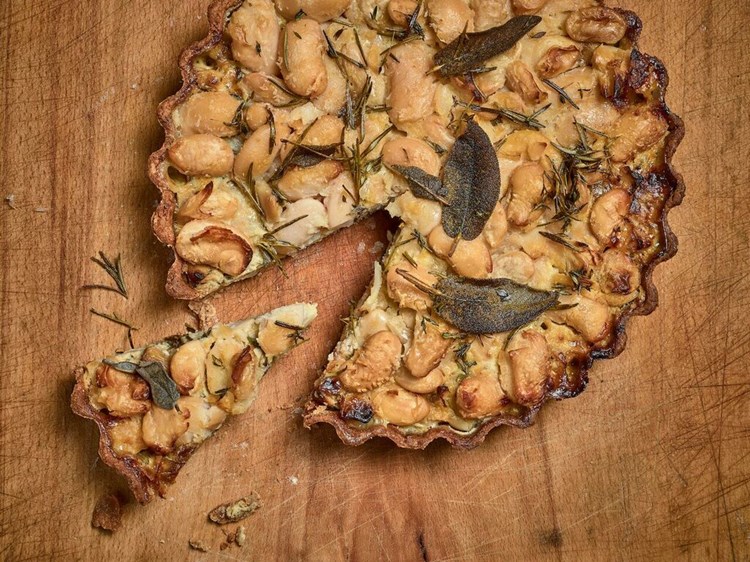 Ingredients
For the pastry
250g of wheat and/or pea flour, plus little extra
125g cold unsalted butter, cubed
½ tsp fine sea salt
A few sprigs each of rosemary, thyme and sage
Zest of 1 unwaxed lemon
25g good cheddar, grated
1 medium egg yolk
50–70ml cold water
For the filling
3 heads of garlic, separated and peeled
Olive oil
1 tsp balsamic vinegar
2 sprigs each of rosemary, thyme and sage
1 tbsp runny honey
700g celeriac
220g good cheddar cheese, crumbled
150g crème fraîche
Juice of ½ a lemon
1 tbsp wholegrain mustard
Bunch of parsley, quite finely chopped
Worcester sauce
2 eggs, beaten
For the topping
500g of cooked white beans, drained
1 lemon
Olive oil
Method
Put the flour into a mixing bowl. Add the butter and salt. Rub gently with your fingertips until the mixture is like fine breadcrumbs. Stir through the herbs, lemon zest and cheddar.
Beat the egg yolk with 1 tbsp of cold water. Add to the flour and mix until it forms a dough. Add more water, a teaspoon at a time, until it comes together into a smooth dough. Wrap in cling film and chill in the fridge while you make the filling.
For the filling, put the cloves of garlic into a saucepan, cover with cold water and bring to a gentle simmer. Cook for 2-3 minutes, then drain.
Wipe the saucepan dry. Add the garlic and 1 tablespoon of olive oil and fry on a high heat for 2 minutes. Add the balsamic vinegar and 100ml water, bring to the boil and simmer gently for 10 minutes. Add the honey, most of the rosemary and thyme (reserving the rest, with the sage) and a good pinch of salt. Continue to cook on a medium heat for a further 5 minutes, or until most of the liquid has evaporated and the garlic cloves are coated in a dark syrup.
Meanwhile, peel the celeriac, cut it into quarters and slice it into 2cm-thick bite sized pieces. Put them into a saucepan, cover with hot water and boil for 7–10 minutes, until they are soft and have turned slightly translucent. Drain and tip into a big mixing bowl. Add the cheese, crème fraîche, lemon juice, mustard, parsley, a splash of Worcester sauce and eggs. Add a good pinch of salt and grind of pepper and gently fold in the garlic cloves.
Preheat the oven to 180°C. Sprinkle flour onto a work surface and roll out the pastry to 3–4mm thick. Line a 20cm-diameter cake tin with the pastry, ensuring a little spills over the edges. Pour the filling into the pastry case. Pat the drained beans dry on some kitchen paper then dress with a little olive oil, the zest of the lemon and a good pinch of salt and scatter over the celeriac filling. Finish with the reserved rosemary and thyme, all the sage, and a drizzle of olive oil. Bake for 45 minutes or until the tart filling has set and the beans have popped and are crisp and light brown.
Remove from the oven, leave to cool a little, then take it out of the tin. Lay a few herbs on top and serve warm.