Organic Farming is Better for Wildlife

Organic Farming is Better for Wildlife
Bee friendly farming and food
What makes organic farming so vital for the protection of our wildlife? Life's not easy for some of our most loved species. Our bees and other pollinators have lost much of their natural habitat in the past 60 years, including 98 per cent of wildflower meadows.
Over half of Britain's wildlife species have declined since 1970, and more than one in ten are currently facing extinction. Intensive farming practices have been identified as the primary drivers of these declines. 75% of UK butterfly species have declined in the past decade and eight of our 25 bumblebee species are threatened, with two already extinct!
In 2015, over 17,800 tonnes of pesticides were used on British farms to kill weeds, insects and control crop diseases and there is growing scientific evidence that certain harmful pesticides, especially neonicotinoid insecticides, play a key part in the declines in honeybees and other pollinators worldwide. 
But it's not all bad news.
Because of the complete absence of manufactured herbicides and the severely restricted use of pesticides, organic farms are havens for wildlife and provide homes for bees, birds and butterflies. Research suggests that if all farming in England and Wales was organic, pesticide use would drop by 98%! 
Organic farmers are helping to look after our wildlife by managing and maintaining habitats, which is a vital part of a successful organic farm. On average, plant, insect and bird life is 50% more abundant on organic farms. Organic farms are also home to 30% more species on average.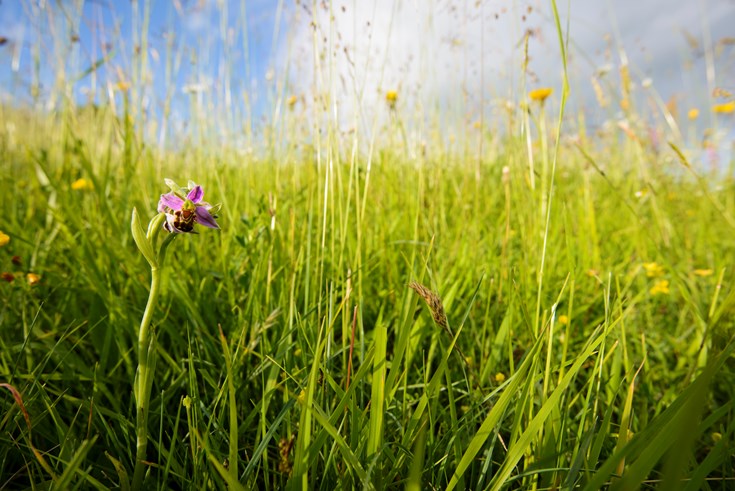 So what makes organic farms different?
Organic farmers work hard to maintain and look after areas such as banks, ponds and grassland, and habitat links, such as hedges and field margins.
Hedgerows, important for hedgehogs and other small mammals, tend to be bigger and more diverse on organic farms than on non-organic farms.
Organic farmers don't cut their hedges between March and August to allow wildlife to thrive within them during the growing and breeding season.
What can you do? 
Choose organic food which has been grown without the use of harmful pesticides
Sign up for a veg box and support your local organic farmer
Stop using pesticides in your garden
Become a member and keep our countryside thriving
Join us

Together we can fight for a safer, pesticide–free countryside to keep our wildlife thriving. Donate today to help birds, bees and other wildlife flourish. With you behind us we can make bold, ambitious steps towards real change.
References
Soil Association commissioned research.  Jones, P., Crane, R., & Centre for Agricultural Strategy University of Reading. (2009). England and Wales under organic agriculture: how much food could be produced? CAS Report 18.
[Source: Fera Science Ltd, Pesticide Usage Statistics https://secure.fera.defra.gov.uk/pusstats/myresults.cfm
Hayhow DB, et al (2016) 'State of Nature 2016' The State of Nature partnership, available online from
Soil Association Organic Standards 4.10
Bengtsson, J., Ahnström, J., & Weibull, A. C. (2005 'The effects of organic agriculture on biodiversity and abundance: A meta-analysis' Journal of Applied Ecology, 42(2), 261–269. http://doi.org/10.1111/j.1365-2664.2005.01005.x
Tuck, S. L., et al (2014) 'Land-use intensity and the effects of organic farming on biodiversity: a hierarchical meta-analysis', The Journal of Applied Ecology, 51(3), 746–755. http://doi.org/10.1111/1365-2664.12219
Look for the logo. Organic farming protects and supports our wildlife.
Why organic
"It is clear that bees living on farmland are chronically exposed to cocktails of agrochemicals, but we have a poor understanding of how this affects them - something we are studying at the moment. In the meantime, reducing bees' exposure to pesticides should be a priority. The Soil Association are doing a fantastic job in raising awareness of these issues."

Dave Goulson

Professor of Biology at Sussex University
Get Involved!