Ben Mackinnon - e5 Bakehouse

Ben MacKinnon - e5 Bakehouse
Meet Ben MacKinnon - The Baker 
e5 Bakehouse is a funky little bakery tucked under the railway arches beneath London Fields station in Hackney. The bakehouse was started by Ben MacKinnon who was fed up of his office job and decided he wanted to be baker. after a one week course at the school of Artisan Food, he jumped in and started delivering bread to his neighbours, and started planning to build his own wood fired oven.
Completed in June 2011 the wafts of wood smoke and baking sourdough were too much. Customers found their way and aspiring bakers joined the crew helping shape the bakehouse to what it is today. The journey has been a great ride.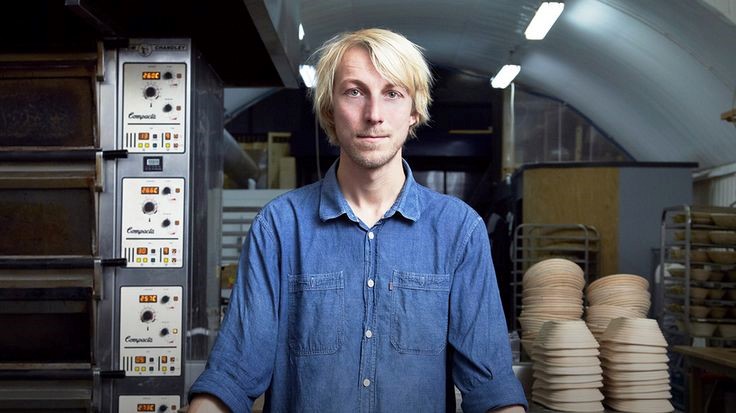 Tell us about you – who are you, what's your mission and how did you get started? 
I'm a seeker and a doer.  While hitching through British Columbia in the late 90's I heard a lot about the destruction of the old growth forests, and the impact of farmed salmon on native diversity.  I came back and began a degree in Conservation Biology which led to a job with the EU monitoring fish stocks in the North West Atlantic.  Such adventures over with I trained in Advanced Energy and Environmental studies at the Centre for Alternative Technology in mid-Wales and after an internship in India with Down to Earth magazine I began working as a sustainability consultant for a big engineering firm in London.
I wanted to do something more creative and after a short course in the essentials of sourdough baking at the school of artisan food, I opened e5 Bakehouse in Hackney. Using a wood fired oven fueled by off cuts from joiners on Mentmore Terrace, we delivered our bread by bike and sourced all of our flour organically. In recent years the bakehouse has expanded to occupy 3 railway arches, we are growing our own wheat and milling over a ton of grain on a French stone mill here in London.
What is your biggest achievement to date?
Learning to bake good bread.
What do you think are the biggest issues facing our food systems?
The cheap price of food has distorted the food system. I believe in a small is beautiful approach. More people physically involved in growing food in organic, permaculture systems could bring a wealth of benefits, to the environment, and also to the communities involved in production.
The challenge is that food produced like this costs more money, so we need to be prepared to spend more of our income supporting this. It is a serious issue that people are not aware of the impact their choices have, and I would hope that with more understanding of the positive and negative impacts our food choices have on our environment and community we would see everyone aligning in their food choices.
"We should all pause for thought and consider what we can do to make a more sustainable future for people on this planet. Food production has a gigantic impact on our ecosystem and organic is a step towards integrating ourselves into an agro-ecological food system which all species inherently belong to."
Why is organic so important to you?
Intensive farming is unsustainable, synthetic chemicals which rely on finite sources are used to keep at bay weeds and pests and to provide nutrition to plants. This type of production has external impacts we are still yet to fully realise or pay for. To produce food using sustainable, closed loop agricultural and horticultural systems is complex and must be invested in.  As well as certifying food produced like this we need organisations to help share the knowledge around to different parties.  In my opinion if human kind is to have a future on Earth then we need to embrace a holistic approach to agriculture which is in harmony with nature. 
If you could only switch to one organic item what would it be and why?
Bread of course.  It's been the staple human civilisation has depended upon since the first agricultural revolution 12,000 years ago in the fertile crescent. I celebrate the diversity of bread, drawing on the grains and pulses produced in sustainable rotations and mixed farming.
Who inspires you?
I glean inspiration from many people that I meet, especially people in Hackney but also further afield. 
Best advice you've ever been given?
"To know what you prefer instead of humbly saying Amen to what the world tells you you ought to prefer, is to have kept your soul alive."
― Robert Louis Stevenson, An Inland Voyage 
Inspired to do more?
You can help change the way we farm and eat for good. For just £3.50 a month you can become a member of the Soil Association.
Join today