Suranga Herath - English Tea Shop

Suranga Herath - English Tea Shop
Meet Suranga Herath - Founder of English Tea Shop
Tell us about you – who are you, what's your mission and how did you get started? 
My name is Suranga Herath, CEO of English Tea Shop, a leading independent speciality tea company. We launched in 2010 with the mission to bring amazing quality, ethically-sourced organic tea to tea lovers both in the UK and overseas. We now have 130+ varieties of teas and herbal teas which are enjoyed all over the world.
What is your biggest achievement to date?
As a business, we like to think English Tea Shop is a little different. We work with a team of dedicated professionals, all committed to providing the best quality organic tea possible through a sustainable business model. We only ever source tea from small scale organic tea farmers and we invest heavily in them, helping to increase their earnings, which helps better planning for their future. It's because of the hard work of the team behind the scenes, which enables us to keep growing the business.  I think this is an often-overlooked benefit of organic production.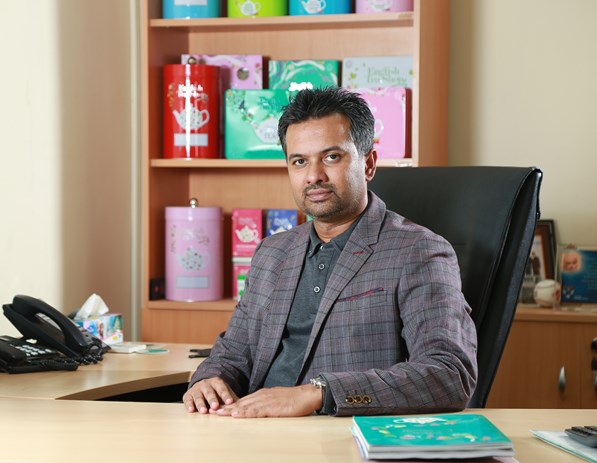 What are you working on at the moment and what are your ambitions for the future?
Our ambition is to take our organic tea to an even wider audience. Demand for organic produce is soaring at the moment and we want to bring the benefits that organic offers to as many people as possible.
What do you think are the biggest issues facing our food systems?
On an environmental level, pesticides can do real harm which is why we're so keen to support Organic September. On a social level, I think we all have a responsibility to pay a fair price to the people who grow our crops. Often, these communities struggle in the face of fluctuating market conditions and a lack of certainty about the future and we think it is up to businesses to do all they can to share value throughout the supply chain.
"By only sourcing organic tea, we are helping our farmers to increase their earnings and live a better life."
Why is organic so important to you and why did you want to be certified by the Soil Association?
For us, there are many benefits of being Soil Association certified. Of course, it's a great and trusted accreditation for us to have as a business, but it represents so much more than that. I am Sri Lankan and have seen first-hand how harmful intensive farming practices can be on the environment. Secondly, we believe that organic tea simply tastes better. Thirdly, by only sourcing organic tea, we are helping our farmers to increase their earnings and live a better life.
What's next for you and your business?
Our aim is to build on the success we've already had, by building up our farming communities and reaching new global audiences by introducing new and innovative flavours of organic tea to the market.
Who inspires you?
One inspiration is Harvard professor Michael E. Porter who came up with the idea of Creating Shared Value. This is the principle on which we run our business. In essence, this means that by being an ethically-minded business, we not only help improve the world around us but also help our business to grow sustainably. Which is why we work closely with the farmers who grow our organic tea, they provide constant inspiration as we see the challenges they face on a daily basis. Their hard work and dedication makes us strive for success, because as we succeed, they succeed.  
Best advice you've ever been given?
Undoubtedly: "Shared value is not social responsibility, philanthropy, or sustainability, but a new way for companies to achieve economic success." Michael E. Porter 
Inspired to do more?
You can help change the way we farm and eat for good. For just £3.50 a month you can become a member of the Soil Association.
Join today