Minted Lamb Kebabs with Herb Yogurt Dip
Here's a delicious recipe from Yeo Valley for barbecue lamb skewers with a herby yoghurt dip:
"Skewered minced lamb makes wonderful finger food at barbecues. They are quick and easy to cook, avoiding the worry of undercooked larger pieces of meat. Lamb is an excellent source of iron and a protein. Serve these tasty koftas with this refreshing herb yogurt dip and accompany with salad and warm pitta breads."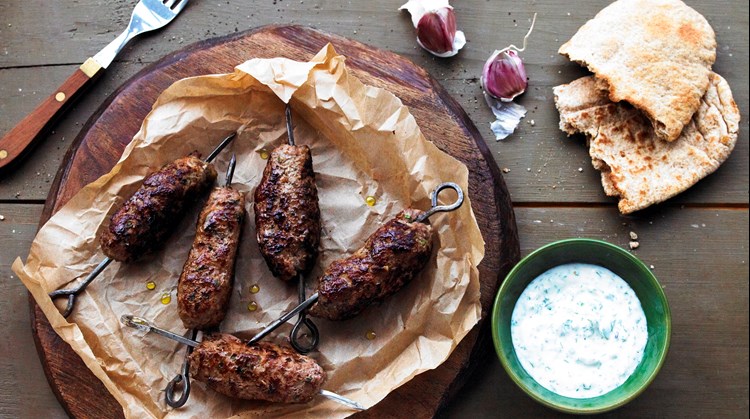 Ingredients:
Makes 10 skewers
900g (2lb) minced lamb
2 onions, grated
2 garlic cloves, crushed
2tsp mint sauce
½tsp allspice
1tbsp chopped fresh parsley
salt and freshly ground black pepper
Olive oil for brushing
10-12 wooden skewers 
Herb Yogurt Sauce:
200g (7oz) Yeo Valley Natural Yogurt
2tbsp chopped fresh mint leaves
2tbsp chopped fresh basil leaves
salt and freshly ground black pepper
Method:
Soak 10 wooden skewers in cold water for 30 minutes.
Make the yogurt sauce: mix the yogurt with the herbs and season with a little salt and freshly ground black pepper. Chill until required.
Place the minced lamb in a bowl with the onion, garlic, mint sauce, allspice and parsley. Season and mix with your hands until it binds together.
Refrigerate for an hour to allow the flavours to develop. Divide the kofta mixture into 10 sausage shapes and press around or thread on to skewers.
Brush with oil and oil the barbecue grate to prevent them sticking.  Barbecue or grill them for 10-12 minutes turning frequently.
Serve immediately with the herb yogurt dressing.