We're always looking for new ways to reduce our food waste.
And with so many of us now getting fresh, organic veg boxes delivered, the oft-overlooked carrot tops are a great place for us to start!
Rachel de Thample's carrot top salsa verde - the perfect way to use up the leftover leaves from your carrots:
"They need a really good wash and you don't want to eat them by the bucket, load but carrot tops are utterly charming. I can't bear to just lob them off and toss them into the compost bin.
I typically use them in a stock as they add a golden hue (the Victorians used carrot tops to dye things yellow), but this recipe is another way to put these nutritious greens to good use".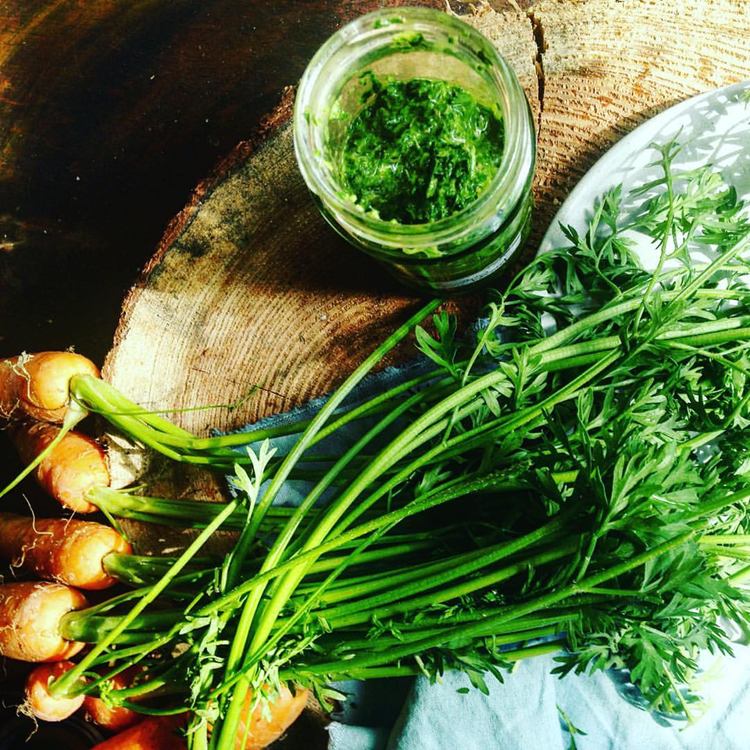 Ingredients:
Prep: 10 mins
Serves 4
100g carrot tops
25g anchovies or green pitted olives
2 tsp capers
½ garlic clove
1 lemon, zest (and juice, optional)
A hint of chilli (optional)
1–3 tbsp olive oil
Method:
Give the carrots tops a really good wash. Pat dry. Pile into a food processor or on a chopping board along with the anchovies (or olives), capers, garlic and lemon zest.
Pulse or finely chop with a large knife until it's the consistency of finely chopped parsley.
Add enough olive oil (and a little water or lemon juice) till as thick or as thin as you like.
Gorgeous tossed with cooked spelt grains and roasted carrots, as well as for fish or roast lamb.