Poached Egg on Toast, Feta and Sweetcorn
Organic eggs come from truly free-range animals, raised to the highest welfare standards.
Abel & Cole's brunch recipes make for a great twist on classic poached eggs.
Alfalfa sprouts are fresh, crunchy and nutritious, and work really well in salads too.
=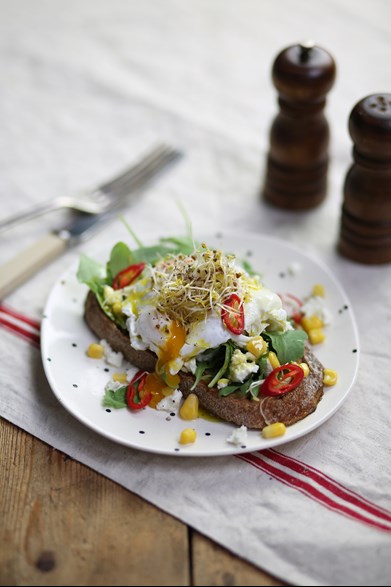 Ingredients - Serves 1
Takes: 15 min
1 tbsp organic fresh corn sliced off the cob
1 organic egg
1 tbsp organic white wine vinegar
1 slice of organic sourdough
A drizzle of organic avocado oil
A handful of organic rocket
25g organic feta
A couple of pinches of organic alfalfa sprouts
A few slices of organic chilli
Organic sea salt
Organic freshly ground pepper
Method
Place a pan of water on the hob and bring to a bubble. While the water heats, toast the corn in a dry frying pan for a couple of mins till a little browned, then set aside.
Toast your sourdough. Drizzle over a little avocado oil.
Crack an egg into a small dish. Pour the vinegar into the pan of bubbling water. Carefully pour the egg into the bubbling water. Cook for 2 mins for a runny egg or a little longer for a more set yolk.
Place the toast on a plate. Top with the rocket. Crumble over the feta. Add a pinch of alfalfa sprouts. Scatter over the toasted corn.
Lift the egg out of the pan with a slotted spoon and place it on top of the toast. Top with a few more alfalfa sprouts. Scatter over the chilli slices. Drizzle over a little more rich avocado oil. Finish with a good scattering of sea salt and a crack of pepper.