Daylesford's Venison Casserole
This rich and satisfying winter warmer is perfect for feeding family and friends on a cold winter weekend, serving up to 6.
The recipe comes from Daylesford, an organic farm in the heart of Gloucestershire. The tender, melt in the mouth venison is complemented by with seasonal winter greens, and a lovely fragrance from the nutmeg and bay leaves. If you're finding venison tricky to get hold of, you can always replace with beef.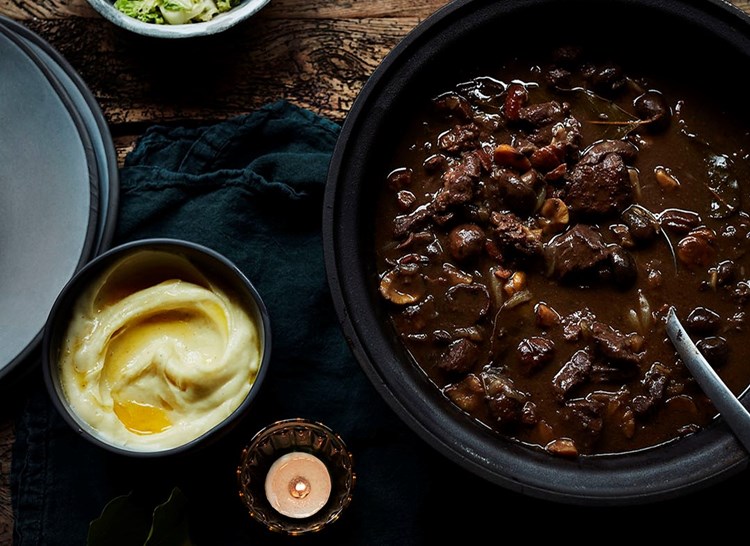 Ingredients:
Serves 6
For the casserole
1kg venison haunch, diced
400ml port
2 sprigs fresh thyme
4 bay leaves
50g butter
100g streaky bacon, sliced
2 sticks celery, chopped
1 clove garlic
300g shallots, peeled
1 tbsp flour
600ml beef stock
200g button mushrooms
250g pack of cooked chestnuts
1 tsp English mustard
For the parsnip purée
750g parsnips, peeled and chopped
500ml milk
1 bay leaf
4 peppercorns
50g butter
A pinch of nutmeg
Squeeze of lemon
Salt and pepper
For the greens
30g butter
1 small savoy cabbage, shredded
Method:
Preheat the oven to 160°C / 140°C fan. Heat a little oil in a frying pan and brown the venison in batches, removing to a large casserole pan.
De-glaze the frying pan over a medium heat, pouring in the port, bay leaves and thyme. Bring to the boil, scraping all of the solids from the bottom of the pan and simmering for 2 minutes. Pour everything into the casserole pan.
Heat the frying pan and add the butter, bacon, celery, garlic and shallots. Fry for 10 minutes, until the bacon is golden and slightly crispy and the vegetables have softened. Add the flour and stir over heat for a minute. Stir in the stock; once simmering pour into the casserole pan with the venison.
Add salt and pepper, bring to the boil and place in the oven for 1 hour. After 1 hour add the button mushrooms, chestnuts and mustard and return to the oven for a further hour. In the meantime, make the parsnip purée by placing the chopped parsnips in a saucepan with the milk, bay leaf and peppercorns, bringing it to the boil.
Simmer very gently for 12 minutes until the parsnip easily breaks under the back of a fork. Drain the saucepan, reserving the milk.
Place the cooked parsnip in a blender with the butter, nutmeg, lemon and a little of the milk. Whizz until you have a very smooth puree, adding more of the warm milk if needed. For the greens, heat the butter in a large frying pan and add the shredded cabbage along with 100ml water.
Fry for 5 minutes until wilted but still bright green. Add a little fresh horseradish, salt and pepper. Once the casserole is ready, remove the bay leaves and thyme sprigs and serve.