4 Steps for Zero-Waste Gift Wrapping
Kate Arnell (zero-waste expert and Soil Association ambassador) shares her top tips on how to reduce waste this Christmas. Find out how to reduce your waste when it comes to wrapping your presents in this second instalment...
The amount of wrapping paper used and then discarded for gifts in the UK at Christmas is enough to wrap around the equator 9 times! Zero Waste gift-wrapping might sound impossible, but a few simple swaps can reduce the amount waste.
The Reveal
A little unconventional, but it's as effective as wrapping. Get your loved one to close their eyes and open once you've strategically placed their gift. Ta daaa!
Upcycle Your Wrapping
Upcycle a piece of cloth you own or use an organic muslin cloth. Look to the Japanese art of wrapping (Furoshiki) for inspiration. Use an organic cotton tote bag as gift wrap, it is both functional and aesthetic. It may also inspire someone to make more conscious decisions too.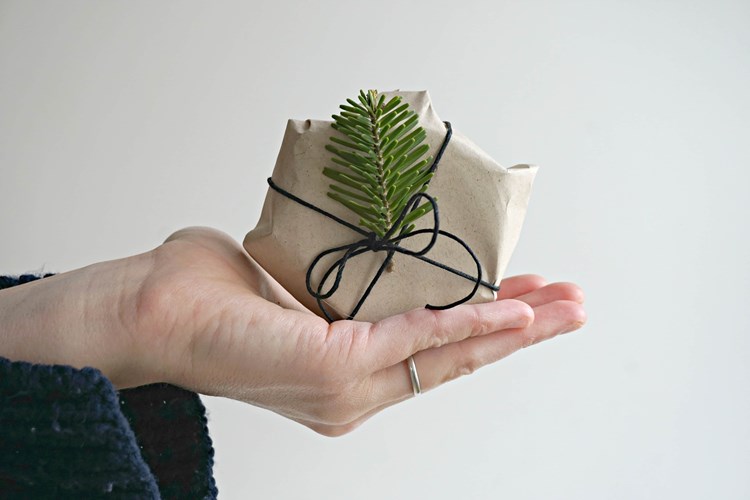 Making Headlines
Reuse newspapers or magazines to wrap your presents. Choose the headline carefully. My mum wrapped my gift in newspaper once and the headline read "I'd rather have £250 than spend Christmas with the family". Use pieces of repurposed ribbon or twine to make it look more festive.
DIY Wrapping Paper
Use brown parcel paper to wrap your presents. The paper is recyclable and looks festively rustic. Use second-hand Christmas stamps to decorate the paper. This will add a personal touch to your present.
Top Tip: Swap plastic sticky tape for twine, washi tape (it's biodegradable) or recyclable brown paper tape. I use foliage I've picked to add a festive touch! These small touches can make a big difference to waste.
There you have it, 4 simple steps to reducing your waste this Christmas. Read my other instalments to find out how to decorate the tree without costing the earth and my top zero-waste gift swaps.