Beyond Bling: Getting Naturally Festive
Christmas is filled with magic. The streets are filled with the hustle and bustle of frenzied shoppers and evenings are taken over by the buzz and laughter of loved ones. The streets and houses are adorned with twinkling lights and intricate decor. Christmas is the perfect time to bring nature into the home and to get a little creative ourselves! Lead UK certified organic florists, Organic Blooms, teaches us how to create our own festive wreath in time for Christmas!...
It's easy to get swept up in an all-plastic sparkletastic festive decoration frenzy, but what if you want a more ethical alternative?
Flower-free it may be, but the run-up to Christmas is still a favourite time of year for the Organic Blooms team. We prefer our decorations natural – the eye-catching gorgeousness of nature and its positive effect on our mental wellbeing is what we're all about and at this time of year it's foliage that takes centre-stage in our wreaths, garlands and table decorations.
A stunning natural wreath, finished with a festive bow, can transform your front door into a scene worthy of a Christmas card. We will of course be delighted to make a wreath for you if you order through our website, but crafting them is therapeutic so if you fancy having a go at making your own, here's how.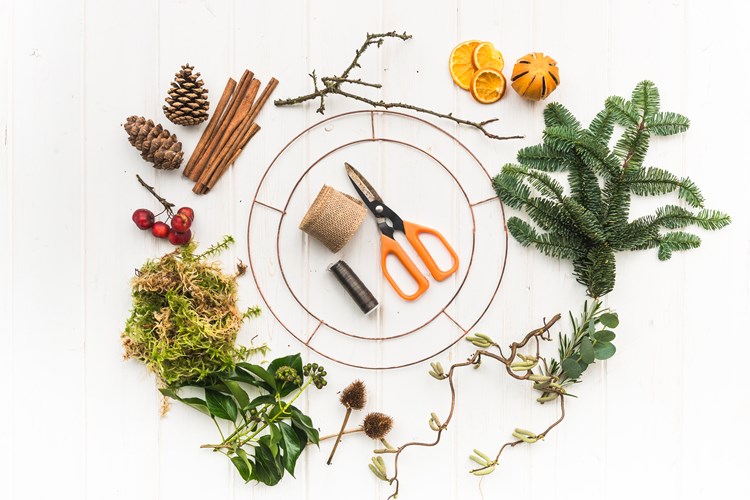 First you need a reel of wire and a wreath base (10 inch diameter is a good size). There are several types available from floristry and craft suppliers: for natural wreaths that last well we supply a mossed copper wire base along with reel wire, wired decorations and a bow as part of our wreath kit, available from our online shop.
Next raid your garden for plenty of evergreen foliage that is hardy, healthy and hydrated. Medium and small leaved shrubs in a variety of textures and colours work best: try blue spruce, yew, box, holly, garrya, holm oak, euonymous, hebe, mature ivy with berries and bay. Cut 12-15cm lengths, stripping the leaves from the bottom 2cm.
Gather your foliage in bundles of three stems. It could be three pieces of one type of foliage, or three different types. Lay your first bundle on your base with one stem angled to the left, one central to the base, and one slightly to the right. Bind the bundle to the base by winding the wire around a couple of times, pulling it tight to hold in place. Leave the wire attached ready to wrap around your next bundle. 
Continue adding more bundles of foliage, wrapping the wire around each time. Overlap each new bundle with the cut ends of the previous one – this will hide them nicely and aiming for an overlap of at least a third of each bundle creates a nice full look. Repeating patterns of bundles gives a very pleasing effect.
Once your base is completely covered, tie off the wire, then add natural decorations on wire including cinnamon sticks, dried orange slices, pine cones and red crab apples. Choose three or five of each and place in groups around the wreath, pushing the wire through the base and wrapping around to secure.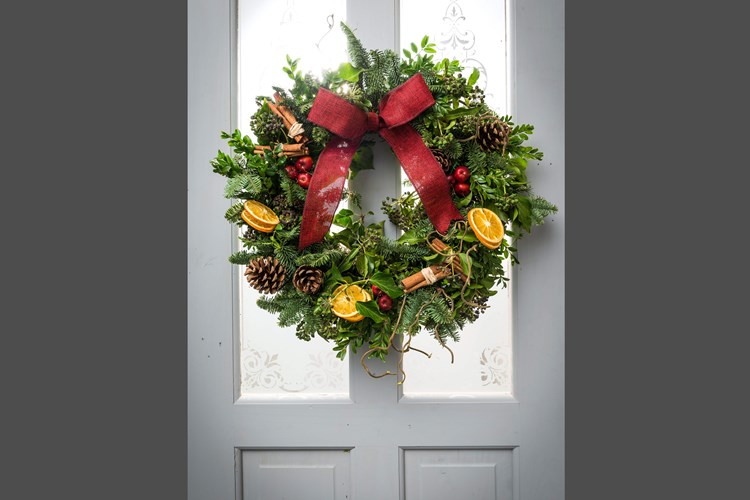 Decide which is the top of your wreath and fix a wire loop on the back to hang – then finish with a festive coloured rustic bow of traditional or hessian ribbon, fixed to the top or bottom of your wreath with wire.
Give your wreath an occasional water spray to keep it fresh and afterwards take it apart and compost it, saving the ring and wire for next year.
And if you still need some bling? Well, just between you and us, there'd be no harm in adding a few glass baubles or droplets – We won't tell if you won't…