The Time is Now: Sign the declaration for a healthier, greener, fairer future
This year, we are coming together with our partners at The Climate Coalition to sign a declaration to the Prime Minister for a healthier, greener, fairer future.
What Is the Climate Coalition?
The Climate Coalition are the UK's largest group of people dedicated to action against climate change. Including the Soil Association, the coalition comprises over 140 organisations — including the National Trust, Women's Institute, Oxfam, and RSPB — with a combined voice of 22 million voices.
We are reaching across the UK to show our love for all the things we want to protect from climate change, and to ask politicians to put aside their differences and commit to doing everything necessary to protect them.
Together we've already achieved so much, including the campaign that led to the UK becoming the first major economy to set a legally binding net zero target following the biggest ever mass lobby for climate, nature and people in June 2019.
What Is 'The Time Is Now'?
In June 2020, we took part in The Time Is Now - the first-ever virtual mass lobby for climate nature and health.
We're now asking politicians to listen once more to our recommendations and seize the moment to make sure that the UK puts a green recovery at the heart of our plans to leave the EU, at the heart of our trade deals and at the heart of our economic recovery from the health crisis.
As we set our path for the next 10 years to achieve a sustainable climate, the recovery of nature and a healthy population, we must take action now to lay the foundations for change: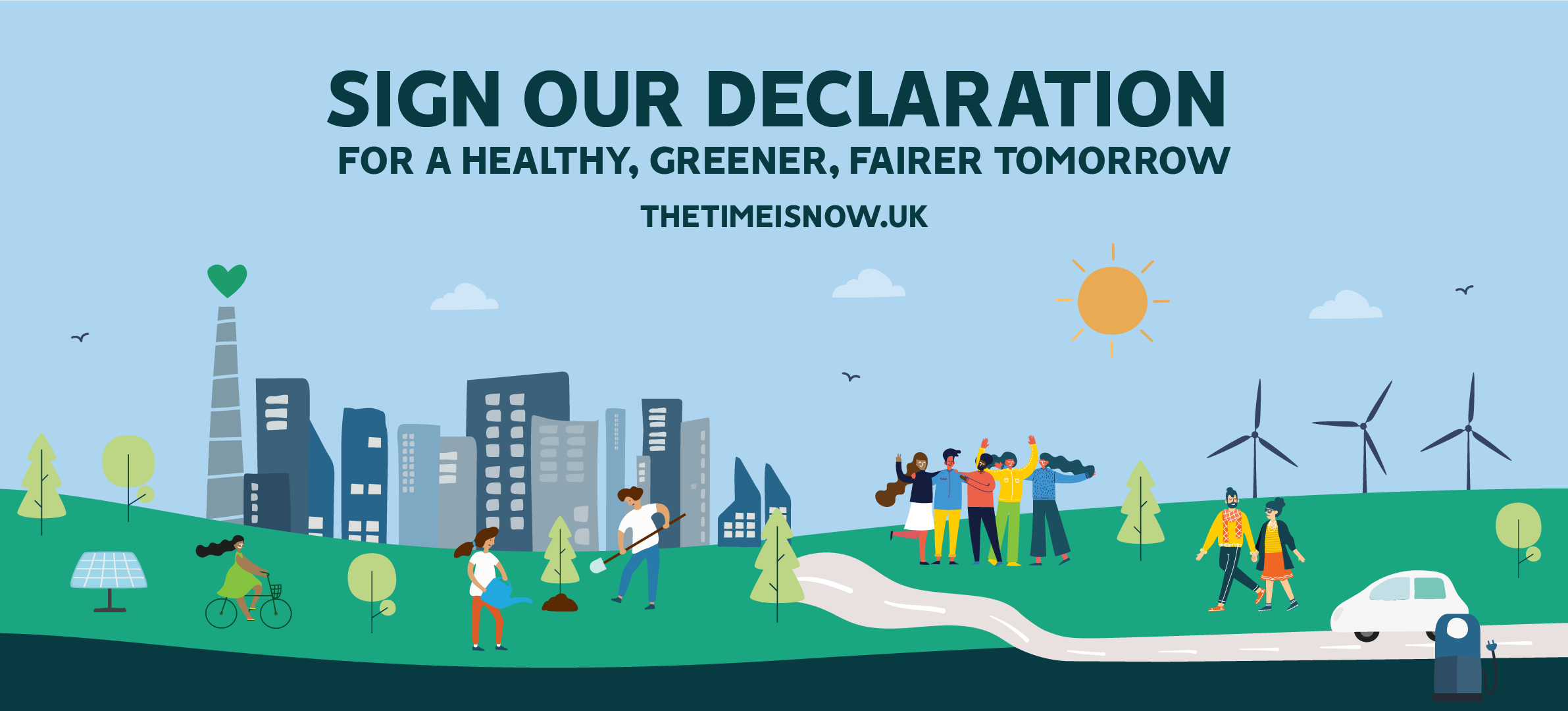 Our Declaration 
Dear Prime Minister, 
The time is now to lead the UK towards a healthier, greener, fairer future. Ahead of hosting the United Nations climate summit in Glasgow in 2021, we can build back better together if we:
Unleash a clean energy revolution that boosts jobs across the UK, making our transport, power and housing fit for the future
Protect, restore and expand our green and wild spaces; allowing nature to thrive, taking carbon from the air and boosting the nation's health
Leave no one behind by increasing support to those most vulnerable to the impacts of climate change at home and abroad
The UK must lead the world by ensuring our recovery gets us on track to net-zero emissions and limits the rise in global temperature to 1.5 degrees C. Our best chance of building a resilient economy goes hand in hand with tackling climate change. 
We are ready to play our part, and we call on you to join us.
What does food and farming have to do with climate and nature?
Almost 75% of land in the UK is farmed, so making sure farming and land use systems support wildlife and help combat climate change is essential.
We must transition to food systems that deliver for nature and the climate. Systems that create Nature Recovery Networks, restore ecosystems and rapidly increase forest cover to help soak up carbon emissions.
The UK must also develop a new agriculture strategy to help UK farms achieve net-zero emissions as soon as possible. And together we must seek solutions to help restore nature, health and a safe climate.
How is the Soil Association is tackling these issues?
At the Soil Association, we work to unite farmers, citizens and policymakers around lasting solutions.
We know that there is a way forward that will provide a healthy diet for a growing population and allow nature, health and climate to recover. Alongside our supporters, we lobby government to support sustainable farming systems that work with nature, like agroecology and agroforestry.
It's vital that everyone plays their part to achieve this transition. So, we also work directly with:
Farmers on the ground - to support a transition to a more balanced farming system that restores biodiversity, protects natural resources and doesn't rely on inputs like pesticides.
Citizens, to create change – sharing ideas for ways to make choices that support nature and climate and reconnecting our children with where their food comes from.  
We are ready to play our part, and we call on you to join us.
Become a Member

Join the community of thousands fighting to transform food and farming - we must act now to protect our health, our natural world, and our climate.

Join us
In this section...
Want to do more?
Become a member
Together we make a world of difference. Join the fight to transform the future of food and farming today.
Join us