Apply for organic certification

Apply for organic certification
Applying for Organic Certification 
Soil Association Certification certifies over 70% of organic food & drink products in the UK. This coupled with our years of experience in organic certification, means we are able to offer an unrivalled, high-quality and straightforward service to our licensees.
What happens after Brexit?
From 1st January 2021 there will be changes to importing, exporting and labelling of organic products. For more detailed guidance and information on how these changes might affect your business please visit our Brexit homepage.
Find out how you can prepare for Brexit
Please note due to changes in regulation we have received an increased number of applications for Food and Drink licences which is increasing our application process times.
We want your application process to run as smoothly as possible and for you to achieve organic certification with us in a timely manner. Therefore, please ensure you have read our standards and taken a look at our preparing my business for certification and certification resources pages on our website if you haven't already done so prior to applying.
Any questions? Please feel free to contact us if you need help completing the form. 
What happens next?
Once you've completed your application form, signed your contract and paid your application fee, we will help you review your products and enterprises (the activities we will certify e.g. production, storage trading), and ensure you are prepared for your first inspection.
How long will it take to become certified?
We estimate that the application process from the date we receive your application to your licence being issued will take 10-12 weeks. This is dependent on many factors and how prepared you are when applying.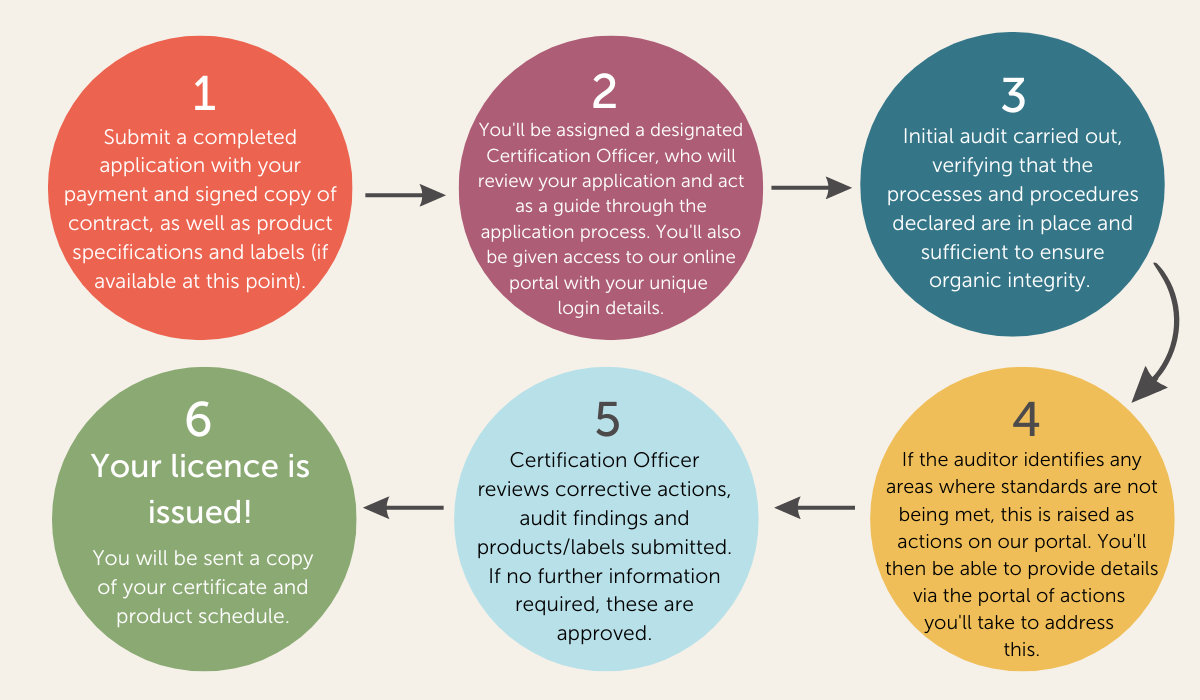 The certification process
Submit a completed application with your payment and signed copy of contract, as well as product specifications and labels (if available at this point). 


You'll be assigned a designated Certification Officer (CO), who will review your application and act as a guide through the application process.


Initial audit carried out, verifying that the processes and procedures declared are in place and sufficient to ensure organic integrity. 


If the auditor identifies any areas where the standards are not being met, this is raised via an action summary form. Use this to provide details of the actions you will take and provide supporting evidence. 


Certification Officer reviews corrective actions, audit findings and products/labels submitted. If no further information required, these are approved.


Your licence is issued! You will be sent a copy of your certificate and product schedule. 
Ready to start the application process?
Please complete the application form and contract and send them to goorganic@soilassociation.org.
Please note that if you require a new licence due to changes in regulation, we will endeavour to help you achieve this as quickly as possible. However, we are currently experiencing significant demand for certification services at present increasing our application process times.
Interested in transferring your licence?
We offer a discounted fee for businesses transferring from other certification bodies for the first year. We can help you to easily transfer your UK organic certificate to Soil Association certification – get in touch to find out how to start this process.