FSC® Controlled Wood
FSC controlled wood
FSC controlled wood is material from acceptable sources (areas covered by the FSC system) that can be mixed with FSC-certified material in products that carry the FSC Mix label.
It mitigates the risk of forest products originating from unacceptable sources:
Illegally harvested wood 
Wood harvested in violation of traditional and human rights (i.e. forced or child labour) 
Wood harvested in forests in which management activities threaten high conservation values  
Wood harvested in forests being converted to plantations or non-forest use 
Wood from forests in which genetically modified trees are planted.
FSC controlled wood is a first step to improve forest management, as it imposes a first restriction on the supply of non-certified wood.
The related guidelines FSC has developed to define controlled wood lower the risk to include materials from unacceptable sources into FSC Mix Label products.
This helps to address significant problems like illegal logging, human and traditional rights violation, and deforestation.  
To reduce the likelihood of sourcing material from unacceptable sources, organizations that use controlled wood must also use risk assessments.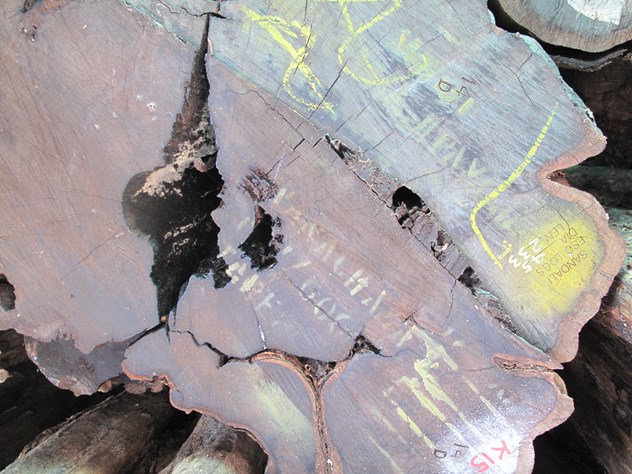 FSC controlled wood evaluation
The evaluation includes an element of stakeholder consultation, which supports that what is being declared is clear and true.
The evaluation includes:
Definition of scope – legal status of company, area, species, specifications, volumes.
Documented system – a review of company documented policy and systems.
Verification of Origin and Legal Tenure.
Civil and traditional rights – evaluation of systems to identify local communities, any traditional rights, consultation, procedures for dispute resolution.
High Conservation Value Forest (HCVF) – evaluation of systems to identify HCVF values, and related consultation and impact assessment
Genetically Modified (GM) trees - evaluation to demonstrate no use of GM trees.
Consultation - with local organisations and regulatory authorities to confirm that the company considers the categories above in its management
Convention on International Trade in Endangered Species of Wild Fauna and Flora (CITES) – an evaluation to ensure that CITES requirements or licences are met or held as appropriate.