Trademark portal login | Forestry
Welcome to the Soil Association Certification Forestry client portal.

Certificate holders can use the portal to submit and manage trademark approval requests.

Use the portal to:
Submit new approvals online
Respond to amends
Keep a history of all requests
Use as your trademark records area for auditing purposes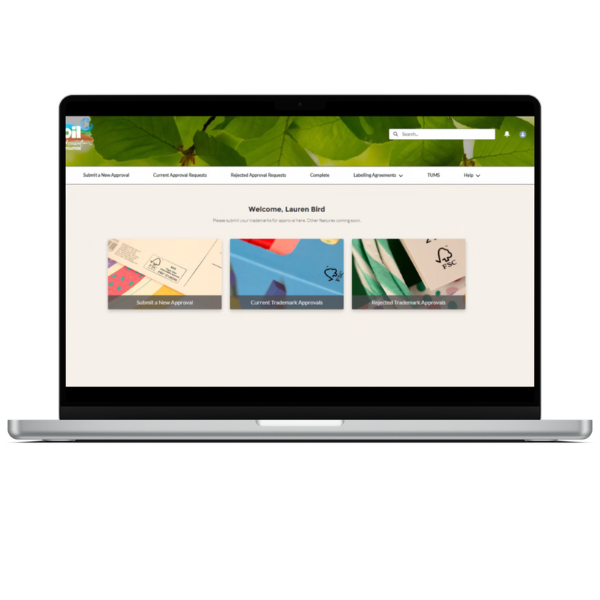 We are encouraging all clients to register for the portal ahead of 30th September to take advantage of an easier way to manage your trademark approval requests. After this date we will no longer accept trademark approvals via our trademark email; all approvals will be managed via the portal.
How to use the portal 
Please contact forestryportals@soilassociation.org

 

to request log in details to access the portal. We require a name and email. This can be a person or a team email such as printing@abc123.com.  
You will be provided with a username (your email) and password. Your username and password will be sent in an email from forestry@soilassociation.org. Your email system may label it as junk mail or spam. 
Log in to the portal and submit your username and password. You will prompted to select a new password when you first log in.
Instructions and support
For instructions on using the trademark portal, please see this trademark portal instruction guide or watch this video guide: 
Why is there a new certification portal?  
The certification portal is an easy way for you to interact with the trademark team at Soil Association Certification. We have developed the portal in response to feedback from certification clients and have included many of the features you told us you wanted to see.  
This is the first phase in developing our digital offering to improve the certification experience for our customers.
Further help
If you can't find the answer to your question in the above instructions or video, please do not hesitate to contact the team at forestryportals@soilassociation.org or call us on +44 (0) 117 914 2435.
Log in to the portal
Once you have you received your log in details, log in to the portal here
Find out more