Livestock Price Data
Organic Livestock Prices 
September/October 2022
 
 £ / kg
 Data courtesy of OLMC
Beef - Finished
(under 30 months)
 £5.00
 (R4L Base)
Cull Cow
(OTM in spec)
 £4.30
 (R4L)
Beef - Stores
 See store cattle report below
Lambs - Finished OSL
(R3L Base) 
Lambs - Finished NSL 
£6.20
 (R3L Base)

N.B. Prices serve as a guide only and are averaged from information collected from key producers and traders.
Market Summaries
Courtesy of OLMC. For further information on the marketing of finished stock, please call: 01763 250313 / 07850 366404 www.olmc.co.uk
Please note prices accurate when report was written but due to the volatility currently prices may alter.
Prime Cattle
The cattle turned out early stood still for a while and have since moved on positively as the grass grew. Where grazed on ley mixtures and legume mixtures, cattle still seem to be doing well. Many have taken reasonable cuts of forage with the hope of favorable weather helping with some regrowth. But as we turn to hot and dry conditions, cattle grazers will undoubtedly be challenged by shortage of grass as it burns off. Prices remain fairly static, numbers coming on the market are increasing. Abattoir demand looks to be patchy over the summer holidays which could cause some hold up in getting stock away.
Cull cow
The cull cow price continues to be at higher levels than we have previously experienced. Swift demand for processing meat continues, fueling cull cow prices in both the conventional and organic sector. We could see it ease off in the next few weeks if demand slows. But numbers still remain tight which would likely put the brakes on the price sliding back too much.
Lamb
The New season lambs were slow to start due to an initial slow growth in grass for the ewes. Rain and a warm spell pushed things on a pace to a point of overwhelming amounts of grass for some producers. Lambs have done well since with weights and grades on the whole being very good.
We look to be heading for a period of little rainfall and grass is burning off in many areas. This will inevitably slow lamb growth and flow of lamb supplies coming forward should this weather pattern be sustained.
(25th July)

Store Cattle Report

Courtesy of Peter Jones (working in conjunction with OLMC). For further information on the marketing of organic store cattle, please contact Peter Jones or Rachel Cooke: 01829 730580 / 07720 892922 www.peterjoneslivestock.com
We have experienced three droughts in the last five years in most parts of the UK. Producers seem to have come to terms with managing drought conditions, although that isn't to say that dealing with low feed stocks is ever straight forward. The droughts have shown us that while it's very dry in mid summer, we tend to have wet and good grass-growing autumns with the ground still warm and the nutrients still in the soil, after the dormant grass growth. Let's hope that trend continues this year.
The wheat and barley harvest in most areas is completed with producers reporting good yields of grain and straw. The turmoil in the world has led to high feed costs and this will impact on finishers returns.
Organic store cattle prices have remained surprisingly strong during the summer, reflecting the high demand for finished cattle. The trend is likely to continue, although small store cattle prices are likely to be under pressure with feed availability limited and costly.
Store lambs have come onto the market early this year, and in a lot of cases, too early for drought-stricken finishers to be ready to take them in. Demand is now increasing and we are looking for more supplies, particularly of quality lambs.
Please do not hesitate to contact us if you have stock available and want to discuss your marketing options.
OLMC office:     01829 730580
Peter Jones:      07720892922
David Bostock: 07734808050
(15th September)
Scotland
Market information can be found at:
http://farmstock.org.uk/market-report/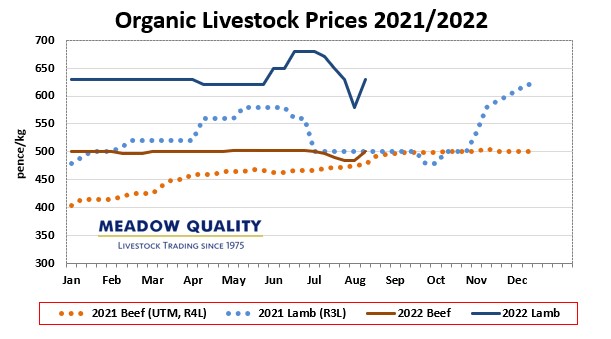 Planning a strong future as a beef or sheep farmer
Herbal leys and forage crops