Livestock Price Data
Organic Livestock Prices 
May/June 2021
 
 £ / kg
 Data courtesy of OLMC
Beef - Finished
(under 30 months)
 £4.60
 (R4L Base)
Cull Cow
(OTM in spec)
 £3.25
 (R4L)
Beef - Stores
 See store cattle report below
Lambs - Finished OSL
£6.60
Lambs - Finished NSL 
 £7.00
 (R3L Base)

N.B. Prices serve as a guide only and are averaged from information collected from key producers and traders.
Market Summaries
(May 21)
Courtesy of OLMC. For further information on the marketing of finished stock, please call: 01763 250313 / 07850 366404 www.olmc.co.uk
Please note prices accurate when report was written but due to the volatility currently prices may alter.
Organic Prime Beef Cattle
A strong trade for all cattle has continued with good prices attained for quality in specification stock. The effect of gradual unlocking and the road map to lifting restrictions will be causing headaches in the supply chain. Abattoirs have been keen to ensure that they have product to supply, while at the same time uncertain of customer demand as we progress through the unlocking. Until now supplies have just about met current demand but will undoubtedly be challenged as we go into the summer. The weather has disrupted early finishing of cattle from grass, a factor which could well bring about supply shortage and stronger prices. If we see a similar situation as last summer of family "staycation" and good summer weather, all meat sales could rise sharply.
Organic Cull Cows
The cow trade is reflective of the prime job. Good demand with good prices, there seems little reason to see that the trade will change too much with shorter supply probably helping maintain a strong trade.
Finished Lambs
A record period of lamb trade has seen producers achieve some of the highest returns they have probably ever had. The longer term picture will probably see an easing in prices as more lambs come on to the market. In most cases lambs are slower to come forward with such a cold, slow grass growing spring and early summer causing issues for graziers.
Store Cattle Report

(March 31st).
Courtesy of Peter Jones (working in conjunction with OLMC). For further information on the marketing of organic store cattle, please contact Peter Jones or Rachel Cooke: 01829 730580 / 07720 892922 www.peterjoneslivestock.com
With the country still in lock down the strong demand for beef and lamb to eat at home continues, demand for Organic beef and lamb has risen as consumers look increasingly towards the Organic quality end of the market.
Lamb and beef prices have exceeded producers' expectations and this trend looks likely to continue at least until we see a flush of cattle in the Autumn.
For most of the country feed and forage is still in good supply with one or two exceptions in the South and East of the Country.  Store cattle prices are very buoyant with finishers and grazers hungry for cattle as numbers of cattle are below seasonably what we would expect.  Demand for organic dairy cattle also remains strong with us having demand that far exceeds supply.  Cattle are being turned out now in a number of areas and let's hope we have better rainfall than we experienced last Spring.  The future of lockdown and overseas holidays is as yet unpredictable but it is likely that far fewer of us will be holidaying abroad.
The future in the medium term looks good although feed prices will remain high.
If you have store cattle for sale or if you have lambs or dairy stock available please do not hesitate to contact us for an initial no obligation chat:
For Store Cattle: Peter Jones: 01829 730 580 / 07720 892 922
For Dairy Cattle: David Bostock: 01829 730 580 / 07734 808 050
For Sheep & Lambs: Iain Turner: 01829 730 580 / 07970 197 619
Peter Jones 01829 730 580 / 07720 892 922
See also: OLMC Organic Market Trends During Covid
Scotland
Market information can be found at:
http://farmstock.org.uk/market-report/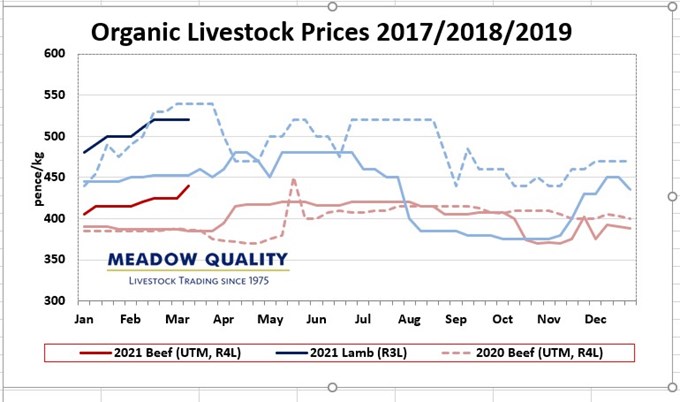 Planning a strong future as a beef or sheep farmer
Herbal leys and forage crops