Livestock Price Data
Organic Livestock Prices 
May/June 2022
 
 £ / kg
 Data courtesy of OLMC
Beef - Finished
(under 30 months)
 £5.05
 (R4L Base)
Cull Cow
(OTM in spec)
 £4.20
 (R4L)
Beef - Stores
 See store cattle report below
Lambs - Finished OSL
£6.30 (R3L Base) 
Lambs - Finished NSL 

 (R3L Base)

N.B. Prices serve as a guide only and are averaged from information collected from key producers and traders.
Market Summaries
Courtesy of OLMC. For further information on the marketing of finished stock, please call: 01763 250313 / 07850 366404 www.olmc.co.uk
Please note prices accurate when report was written but due to the volatility currently prices may alter.
Prime Cattle
The trade for prime organic cattle has been steady in the past month or so, little change in price and finished cattle numbers coming forward meeting current abattoir demand. Early turned out cattle didn't have the best of starts, but will move quicker now with the turn in the weather to help grass growing conditions.
Cull cow
The cull cow price has reached record heights, demand remains very good and the volumes of cows coming forward still remains low. With these factors determining pricing levels, it is likely we will see high prices for a while although perhaps they have reached the extent for the time being.
Lamb
Old season lamb prices have remained static for some weeks now. Abattoirs requirements have been met by a constant volume of lambs which has ironed out the volatility we have seen in the past. Supply was greatly helped by a very kind winter and early spring with plenty of feed for lambs. Lambs have finished well and reached good weights and levels of finish.
New season organic lambs will be starting soon which will help fill the gap of the inevitable dwindling supply of old seasons.
 (18th May)

Store Cattle Report

Courtesy of Peter Jones (working in conjunction with OLMC). For further information on the marketing of organic store cattle, please contact Peter Jones or Rachel Cooke: 01829 730580 / 07720 892922 www.peterjoneslivestock.com
The cattle and sheep trade continue to be very strong after over 12 months of rising prices.
Russia's invasion of Ukraine signifies a huge political shock to markets in a long time. The consequences for world agricultural markets is significant. Looking ahead the immediate effect on trade is the rising cost of fuel and grain prices – wheat is already up 50%. Amidst the world of uncertainty beef and lamb prices and demand remain strong with organic producers continuing to enjoy good returns.
Dairy cow and heifer prices have eased over the last few weeks as producers react to increased input costs. Organic store cattle continue to be in very strong demand from graziers who seem to have started their spring buying earlier than most years with still plentiful supplies of winter feed available. Finishing cattle, again are in strong demand from finishers.
We are short of organic store cattle and will be for the next 2 months. Please do not hesitate to contact us. We are quite happy to discuss your options with no obligation or commitment.
(17th March)
For store cattle contact:                           
Peter Jones:     07720 892 922                       
Manon Parry: 07500 747 886                       
Office:             01829 730 580
For Dairy and TB restricted cattle contact:
David Bostock:               07734 808 050
Office:               01829 730 580          See also: OLMC Organic Market Trends During Covid
 
Scotland
Market information can be found at:
http://farmstock.org.uk/market-report/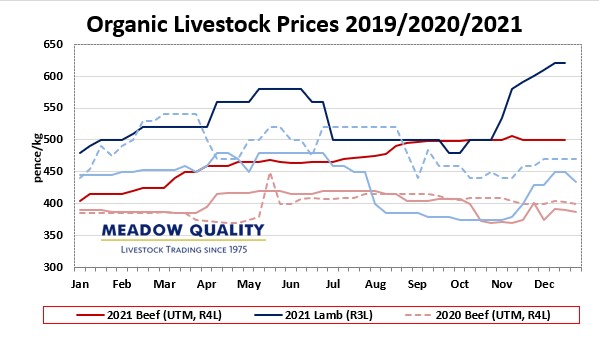 Planning a strong future as a beef or sheep farmer
Herbal leys and forage crops