Organic Served Here Award

Organic Served Here Award
The UK's only organic award for restaurants and cafes
Soil Association Certification is the UK's leading organic certification body, and you'll see our logo on 70% of all organic products.
Organic food sales are increasing as more and more diners want to know about the origins of their food. Organic Served Here offers clarity and assurance for today's more ethically-minded consumers - with our stamp of trust and credibility, the scheme is a high-profile, affordable way to:
Raise the profile of eateries that source sustainable organic food and drink
Help ethically-minded diners to find organic restaurants and cafes near them
Reassure your customers that the organic menu options are certified organic. This signals that your business sources fully traceable and high-quality organic ingredients that are produced to the highest standards of care and animal welfare, with minimum impact on the environment.
In addition, you will receive our promotional support including a place on our growing organic cafe and restaurant listings.
How does the award work?
Soil Association Certification awards businesses one to five stars, depending on organic expenditure. The higher the spend on organic vs non-organic, the more stars the business will receive:
Five stars: 95 - 100% organic spend
Four stars: 75- 95%

organic spend

Three stars: 50 - 75%

organic spend

Two stars: 25 - 50%

organic spend

One star: 15 - 25% 

organic spend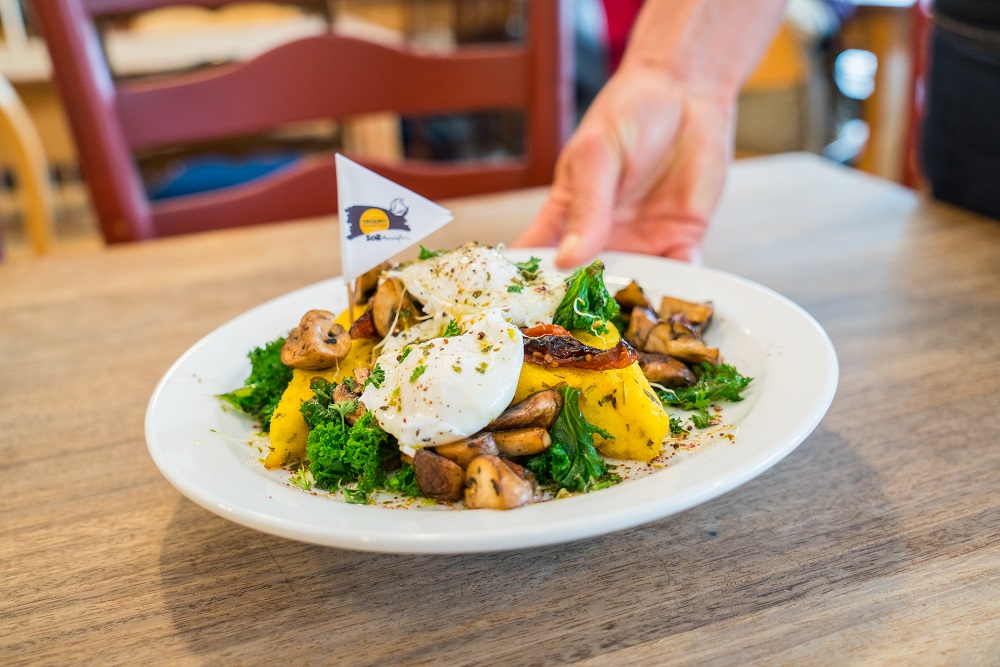 Why apply?
Organic is bigger than ever
According to our 2020 Organic Market Report, the organic market is bigger than ever before (£2.45bn) and organic food and drink in foodservice has risen over 8% over the last year.
Paul Collins, Yeo Valley Canteen

"We should pay more attention, with uncertain times ahead, to what is growing in the ground now in the UK both organically and locally - focus on supporting British farming and cooking seasonally for your customers."
There is an unmet need for eating out sustainably
Given that 1.5% of the UK food and drink market is organic, our recent Eating Out Sustainably survey clearly demonstrates that organic is overwhelmingly on the brain when eating out:
50% agreed that they would be more likely to choose a restaurant that highlights ethical or sustainable credentials
67% believe that it is not easy to tell if a restaurant or cafe sells organic food or drink
47% agreed that there aren't enough restaurants that serve ethically or sustainably sourced dishes
41% agreed that seeing a dish in a restaurant described as organic makes it more appealing
Trust and Provenance
The nature of the certification process means that any organic produce can always be traced and trusted.
Neil Forbes, Café St Honoré

"I feel I have a duty of care and I see buying organic as the best you can do with your hard-earned pennies... It's good to give the public a sign, or a mark of quality, as a place they can trust."

Find out why Neil opted for the OSH Award
How do I apply?
Applying is easy and we will guide you at every step:
Email osh@soilassociation.org for your Organic Served Here application pack.
We will send you an application form and a spend calculator, which you fill out with a typical month's food invoices. You'll find out your star rating straight away.
If you're a few percentage points off your desired rating, we can help you source more organic in your area.
Return your application form, calculator and payment. Once we verify your spend, that's it! We issue your award!
What Support Will You Receive?
Use of our logo on your front door, menus and website.
Free marketing materials including: your certificate, door sticker, Z-cards and poster.
Free marketing toolkit to help you communicate your organic credentials.
Free updates on the organic market and insights into the organic consumer (Organic Market Report RRP £100+VAT).
An online restaurant and cafe finder, hosted by The Soil Association, so that consumers can find you.
Advice on finding certified organic suppliers.
Promotional opportunities through the Soil Association including our annual Organic September campaign.
see our certified RESTAURANTS and cafes
Check out the full list of our nationwide award holders on our organic restaurant listings.
Take a look
Phil Haughton, Better Food
"The award ticked some very practical boxes and allowed us to easily communicate something integral about our cafes. Displaying and talking about it means we can demonstrate our 'organicity' easily, clearly and robustly."
Hear more from Phil