Winter Facial Serum Recipe
This DIY facial serum is perfect 
for everyday use on cold winter mornings.
It's hydrating, revitalising and high in antioxidants, while uplifting your mind and body on stressful days or when you are feeling tense or sluggish.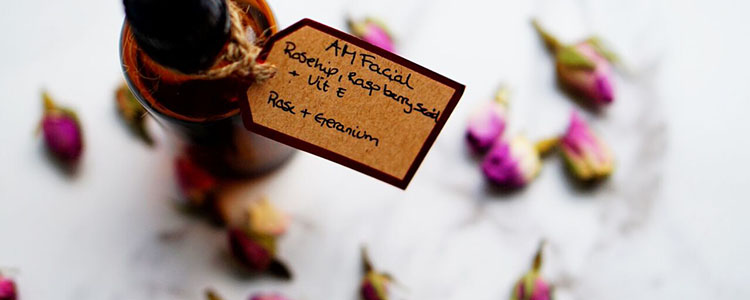 Ingredients
25ml Organic rosehip oil
20ml Raspberry seed oil
5ml Vitamin E
4 drops Organic geranium rose
4 drops Organic rose absolute
50ml amber glass bottle with dropper pipette
Stuck for where to find these? Check out our certified brands. 
Method
Add the rosehip, raspberry seed and vitamin E to a jug and stir well to mix.
Carefully pour the mixture into a 50ml glass amber bottle with a dropper pipette.
Next, add the essential oils geranium rose and rose absolute - using no more than 8 drops in total.
Although this recipe has been developed with your skin in mind, there's a small chance you may have an adverse reaction to one of the ingredients. Please make sure you always do a patch test before use. If you experience irritation or feel unwell after the patch test, we strongly advise you do not use the product.
How to use your serum
After your morning bath/shower or facial cleanse, pat your face dry with a towel. Add 3-4 drops serum onto your hand and rub between palms.
Apply it to your face and neck, avoiding your eyes. Et voila! 
Want more? Sign up for updates with news, offers and practical tips

Sign Up
This recipe was contributed by Lilo from Honey & Roots. Health Consultant & Eco Blogger Lilo is the founder of Honey&Roots, a platform allowing the integration of knowledge and action in the synergetic approach of food, health, agriculture and sustainability.
Find out more about them here: http://www.honeyandroots.com/
In this section...
Related
Related