5 Sustainable Gift Wrapping Ideas

Sustainable Gift Wrapping and Christmas Decoration Ideas
From the gifts we buy, to the way we wrap them, and how we choose to decorate our homes, opting for less wasteful choices over Christmas can have a big impact for the planet.
Don't doubt the power our individual choices can have! It's estimated that each year, us Britons throw away enough wrapping paper to circle the globe 9 times! Imagine the impact we could all make if, together, we took small steps to reduce our waste at Christmas time.
Read on for our environmentally friendly Christmas wrapping ideas, and a brilliant guide from Organic Blooms on how to make your own wreath at home: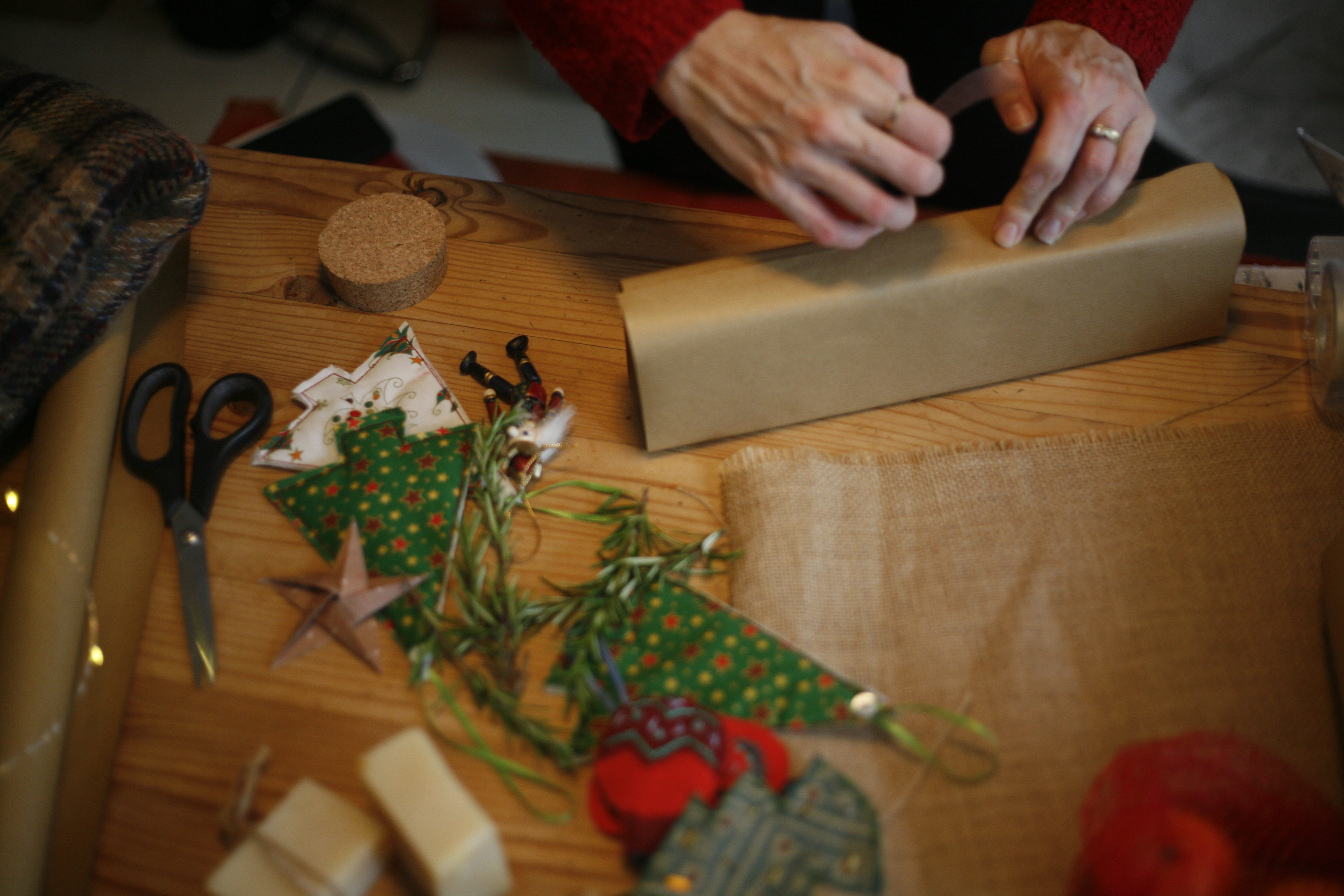 1. Go for gift bags 
Gift bags are a great alternative to wrapping paper and can easily be re-used and re-purposed time and time again.
You could also try giving plain paper shopping bags a Christmas makeover by decorating them with stamps and pens.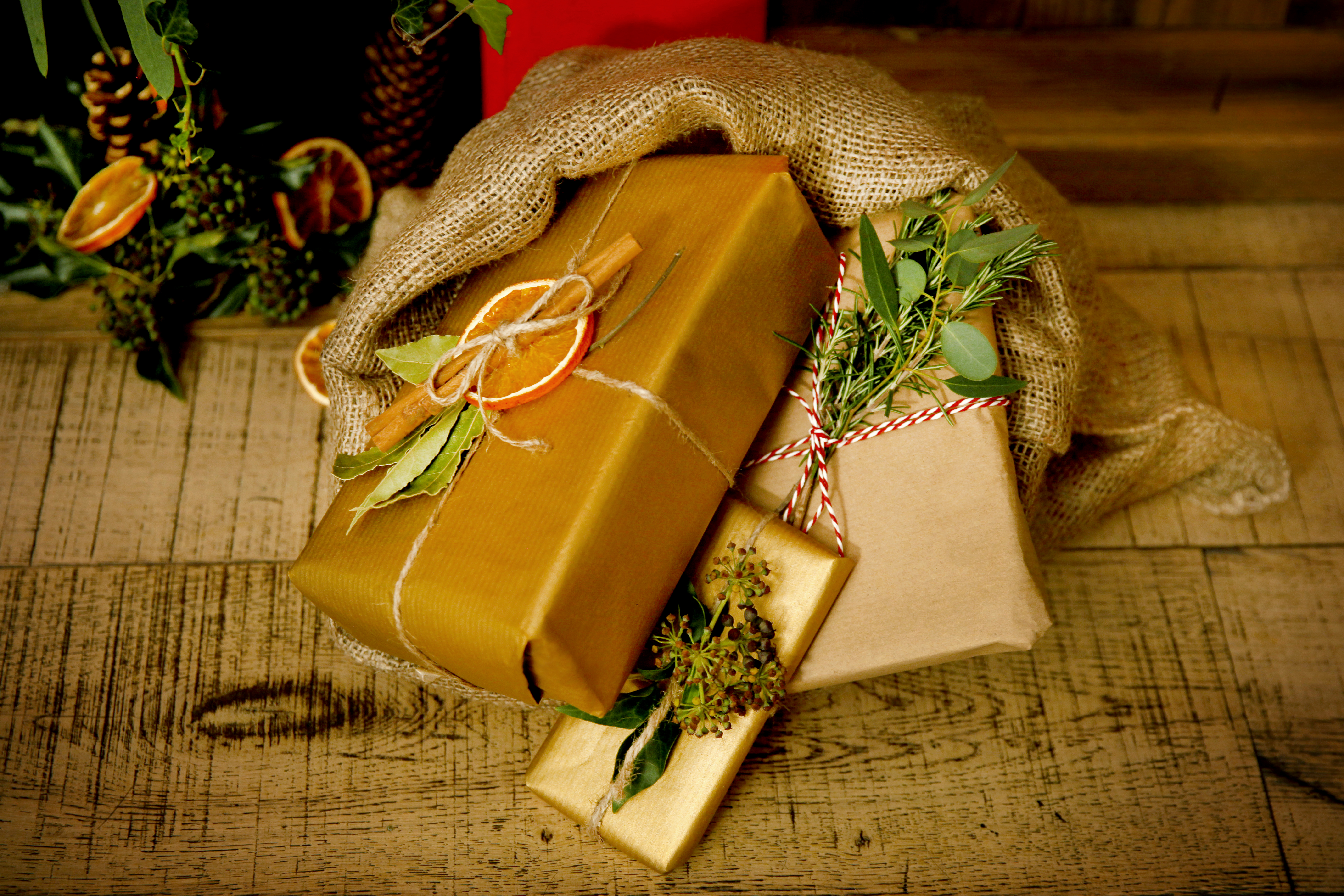 2. Reduce, reuse, recycle 
Got a friend who loves fashion, a nephew who likes comics, or a spouse who enjoys sports?
Why not try adding a little personal flair to your gifts this year and re-use an old magazine, comic book or newspaper to wrap up your presents.
This recyclable gift wrapping is a great way to save some money as well as use up old paper you would have otherwise thrown away.
Just remember to double-check the headlines so you don't send the wrong message!
3. Stockings
Forget wrapping paper altogether, and start using a good old fashioned stocking!
There is nothing more exciting than a filled stocking at the end of the bed or under the Christmas tree.
A personalised stocking for each member of the family will last for years and becomes a lovely memory for years to come.
4. Brown paper packages tied up with string
Ditch the Sellotape (other adhesive brands are available) this year and opt for a string to tie up those loose paper ends.
Not only will this eco-friendly gift wrapping give your presents a classic look, but it will mean you can re-use your wrapping paper without it getting torn and ruined. 
Top Tip: Using your string, tie a small branch from your Christmas tree or cinnamon stick to make your gifts extra festive.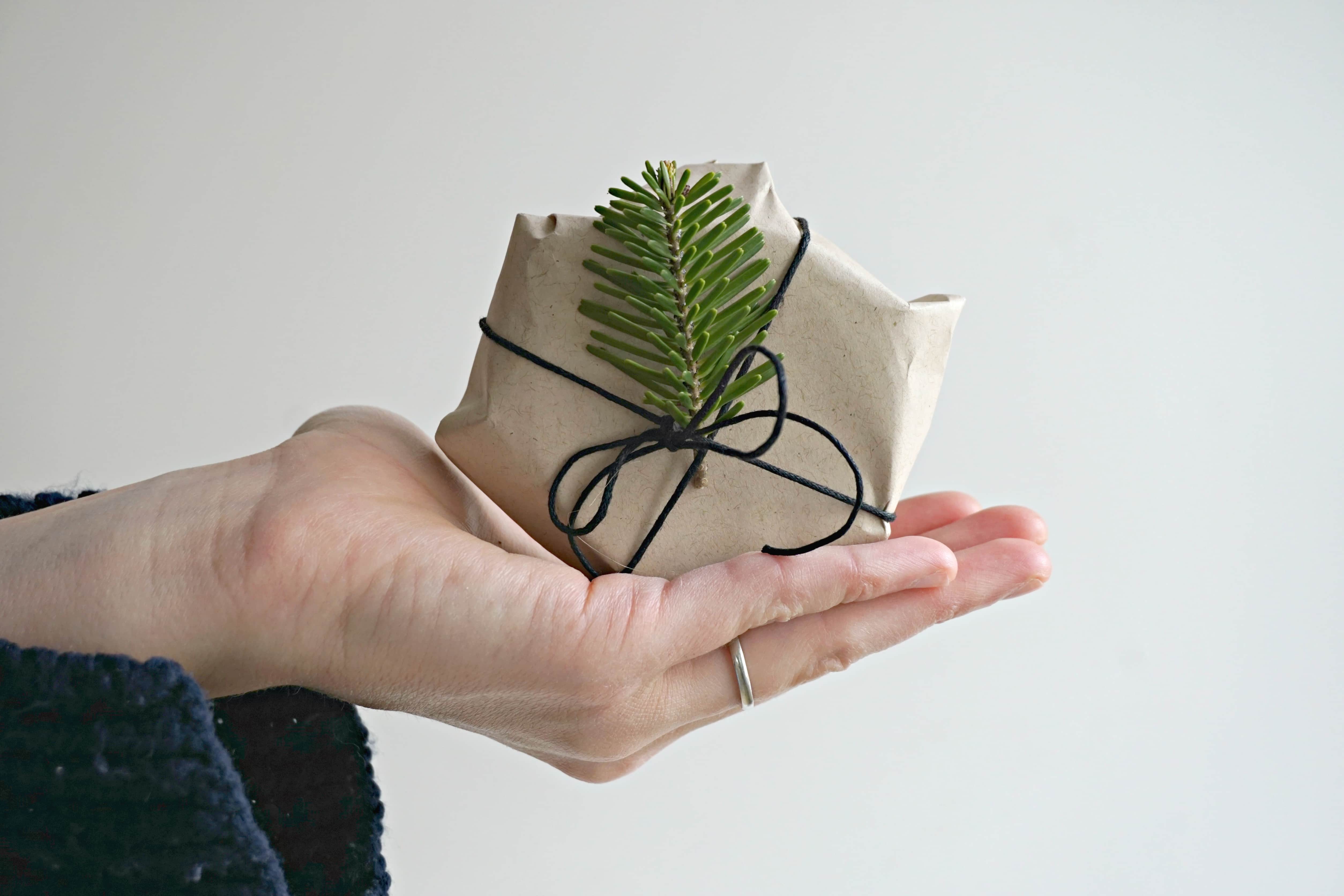 5. Use FSC or PEFC approved wrapping paper
If you do opt for wrapping paper, looking for the FSC or PEFC logos is a great way to be sure that the paper comes from responsible sources.
These logos guarantee that the labelled wood or paper doesn't come from illegal logging or damaging forestry practices - learn more about the benefits of sustainable forestry.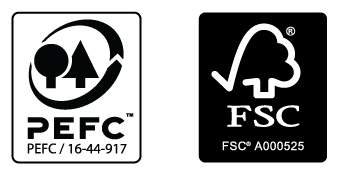 Have a sustainable Christmas

Looking to have a more eco-friendly Christmas this year? Read our top ten tips today.

Get the hints
6. Make your own wreath
A stunning natural wreath, finished with a hessian bow, can transform your front door into a scene worthy of a Christmas card.  
If you fancy having a go at making your own, Organic Blooms offer a kit complete with a certified organic willow wreath ring, grown and woven at Organic Blooms along with jute twine, a hessian bow and a selection of dried flowers and seed heads, all grown in their organic cutting fields. You could also make a wreath from your own materials. Here's how: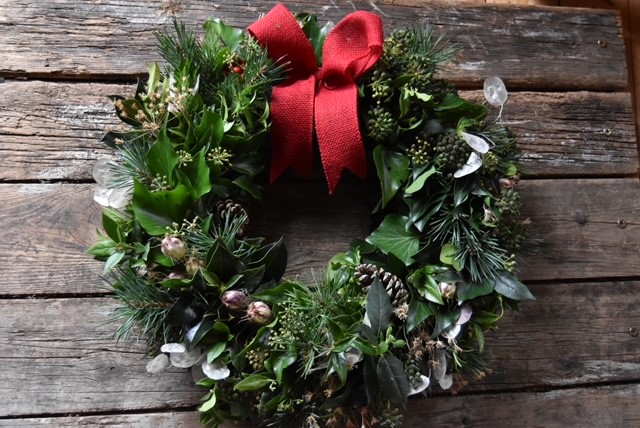 Instructions:
First you need a ball of twine and a wreath base (

10-inch

diameter is

a good size

). Copper wire bases are available from floristry and craft suppliers or online; if you choose a willow base make sure it is woven from British-grown certified organic willow for maximum sustainability

.  

 

Next raid your garden for plenty of evergreen foliage that is hardy,

healthy

and hydrated. If you

don't

have a garden

, ask a friend or relative if you can cut from theirs – please

don't

take foliage from parks, nature reserves, woodland, hedgerows or from any other wild or public place. Medium and small leaved shrubs in a variety of textures and colours work best: try blue spruce, yew, box, holly,

garrya

, holm oak,

euo

n

ymous

,

hebe

, mature ivy with berries and bay. Cut 12-15cm lengths, stripping the leaves from the bottom 2

cm.  

 

Tie the end of your twine securely onto your wreath base. Gather your foliage in bundles of three stems. It could be three pieces of one type of foliage, or three

different types

. Lay your first bundle on your base with one stem angled to the left, one central to the base, and one slightly to the right. Bind the bundle to the base by winding the twine around a couple of times, pulling it tight to hold in place. Leave the twine attached ready to wrap around your next bundle

.  

 

Continue adding more bundles of foliage, wrapping the twine around tightly each time. Overlap each new bundle with the cut ends of the

previous

one – this will hide them nicely and aiming for an overlap of at least a third of each bundle creates a nice full look. Repeating patterns of bundles gives a very pleasing effect. Once your base is completely covered, tie off the twine. If

you're

using a willow base, you could just cover a section – it looks equally as effective. 

 

Now

it's

time to add decorations.

Again

you can use natural materials from your or a friend's garden.

Pine cones

, red crab apples, seed heads, twigs of contorted willow or hazel and feathers all look lovely. If

you're

using dried flowers, either dry them from your own garden (tip for next year!) or source certified organic, British grown dried flowers. Attach your decorations to florists' stub wires, singly or in small bunches, leaving a long end of wire free. Choose three or five of each type of decoration and place in groups around the wreath, pushing the wire through the base and wrapping around to secure

. 

 

Decide which is the top of your wreath and fix a stub wire or twine loop on the back to hang – then finish with a bow of hessian ribbon, fixed to the top or bottom of your wreath with wire

.  

 

After Christmas carefully take your wreath apart and compost the components, saving the base and twine for next year. 
Join our online community this Christmas

If you've enjoyed learning more about how you can live in more sustainable ways over Christmas, why not register for our email community? You'll be the first to hear more top tips, and about opportunities to get involved in our campaigning work

Sign Up