Coronavirus: Corrie Mains sees demand for their free range eggs increase during lockdown

Coronavirus: Corrie Mains sees demand for their free range eggs increase during lockdown
"We're supplying more for the community food parcels than we normally would for the schools. The Council has basically saved our bacon."
With schools and hospitality businesses closed during lockdown, Jim and Anne Smillie's family business supplying free range eggs from Corrie Mains Farm was thrown into doubt.
But with some local authorities including East Ayrshire Council and North Ayrshire Council choosing to provide food packages to their communities, demand continued - and even increased.
As a poultry farm, Corrie Mains already had the PPE they needed to work safely. Anne is proud of how her team has risen to the challenge.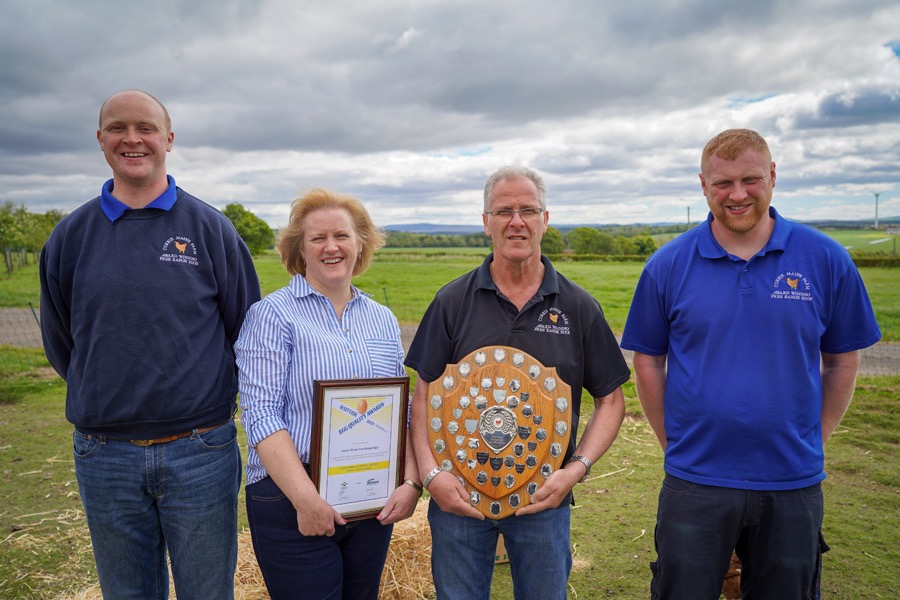 Image: The Smillie family, Corrie Mains Farm.
At Corrie Mains Farm, Jim and Anne Smillie's family business supplies free range eggs from their 20,000 happy hens to customers including Food for Life Served Here Gold award holders East Ayrshire Council and North Ayrshire Council. But with schools closed because of the coronavirus crisis and lockdown in Scotland – and other clients in the hospitality industry also shutting up shop – the team at Corrie Mains have seen some significant changes in how they get eggs to their customers.
"A lot of our eggs go into Food for Life school meals. When the schools closed, we thought it was really going to affect us," says Anne. "But in the first week, East Ayrshire were talking about doing hampers. They've ended up doing packed lunches lunch for primary years one, two and three who are entitled to a free school meal and they're also doing a lot of meals for people in need in the community.
"North Ayrshire Council is sending out about 2,500 food parcels a week to the community, and North Ayrshire's Housing Association is providing a similar amount. We're supplying the eggs for those parcels; half a dozen eggs go into each one. So we're supplying more for the community food parcels than we normally would for the schools. The Council has basically saved our bacon."
Keeping the supply chain going during lockdown
The Smillies have had a full house during the lockdown. Anne and Jim's sons both work at the farm and have stayed on site. Two staff members, including Anne and Jim's nephew, travel to the farm to work in socially distanced conditions, looking after the chickens and packing the eggs. One of their sons, plus another driver, deliver all the produce.
"We asked them what they'd prefer – to keep working or to be furloughed. There's an element of risk, but they both wanted to keep working," says Anne. "As a poultry farm we already had the PPE – masks, suits and everything. We already use that under normal circumstances. We use sterile boiler suits, gloves, steriliser gel for your hands. Our delivery drivers are using latex gloves, hand sanitiser and masks because they are coming into contact with lots of people on their deliveries. But we've stayed open, we're staying busy. We've got to keep feeding the hens, and they're going to keep laying eggs, so we have to keep the chain going."
There's plenty to do. Around 70 percent of Corrie Mains' customers have been closed during the lockdown, but the ones that have stayed open are selling more. They've also gained new customers among businesses that would usually buy through a wholesaler but are now choosing to buy directly from the supplier. It's good news for Anne and Jim; while things have changed, the number of eggs they're selling remains the same.
Adapting to supply chain challenges
One big challenge is packaging the eggs. The hospitality industry bought flat 30-egg tray packs. For community food parcels and for public sales through butchers and other stockists, the eggs need to be packed into half dozen pre-packs. But as manufacturing has also slowed under lockdown conditions, getting hold of the appropriate packaging is tough.
"We've got the product, but we've got nothing to pack it in," says Jim. "We have packaging ordered from two different places now. It's a 10-week run in, so we're just hoping we can get something. We've come up with the option that if we run out of prepacks, we'll supply on trays to butchers, who'll ask their customers to bring their empty boxes back to refill them. Or we'll sell them in bags, like we used to do about 25 years ago."
Despite the challenges, Anne and Jim and proud of how their staff have adapted and pulled together to get their produce out to customers. "I think of it in cruise liner terms; the smaller you are, the quicker you can turn in the ocean," says Anne. "We've had to turn quickly to adapt to what the customer needs. We are lucky; we've got product that's in demand. Food producers and farmers have raised their game and they're working hard. But I don't think the food producers have had as much credit. They're essential workers too."