Coronavirus: North Ayrshire Council prioritises local supply chains
Coronavirus: North Ayrshire Council prioritises local supply chains
"One of the things we really didn't want was for local business to suffer"
Food for Life Served Here Gold award-holders North Ayrshire Council already had a long-standing commitment to procuring from local suppliers.
When the Covid-19 crisis hit, they worried how their usual suppliers would cope with changes in demand. But their concerns were quickly laid to rest as businesses rose to the challenge.
Working out of six hubs, the Council has delivered the equivalent of more than 500,000 meals during lockdown, via their free school meal and community food packs.
Their new Community Wealth Building Strategy locks in support for local businesses through public sector procurement going forward.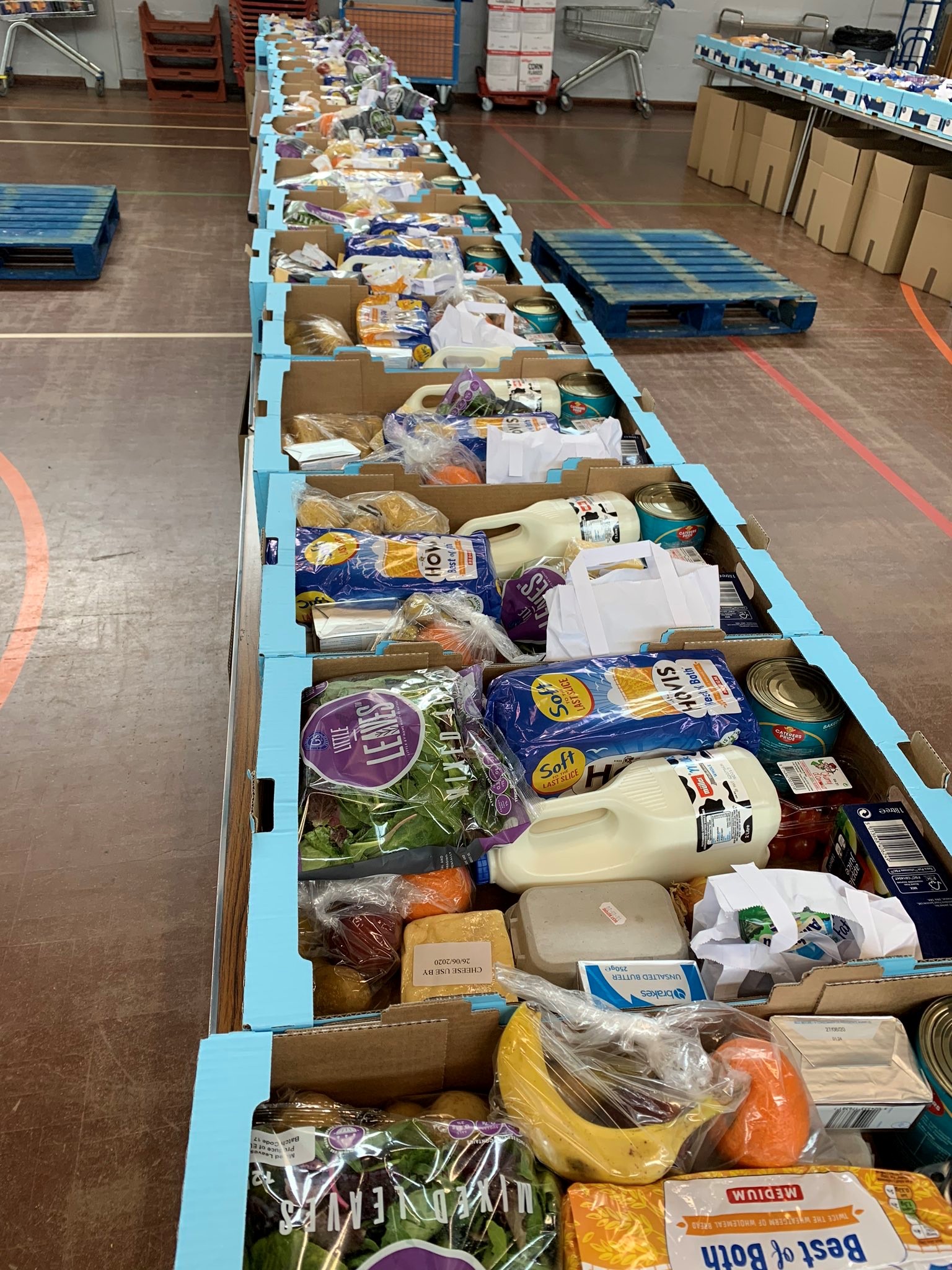 Image: North Ayrshire Council has delivered the equivalent of over half a million meals during lockdown.
As Food for Life Served Here Gold award-holders for their primary school meals since 2013, North Ayrshire Council have a long-standing commitment to supporting local food suppliers when it comes to procurement. But when Scotland's schools were closed on 20th March in response to the coronavirus pandemic, usual supply chains were thrown into doubt.
Carolyn Hope, Senior Facilities Manager at North Ayrshire Council, was initially worried about how they would adapt to such extraordinary circumstances. But as her team worked quickly to put in place new provision for their community, she found that local suppliers were ready to rise to the challenge too.
"Quick off the mark"
Anticipating the potential for sudden school closures, discussions had already begun within North Ayrshire Council on how to respond. "Initially we thought we would do an individual meal provision as a direct replacement for free school meals, but very quickly we started to think more widely", Carolyn explains. "North Ayrshire has some of the most deprived areas in Scotland, so we thought – if there's a need in a household for a child to have free school meals, then there's a need in the household for everybody to have food."
The Council's strategy quickly shifted from providing individual meals to a household food pack. "We wanted to have a healthy box with fresh food and local produce in it. Schools closed on the 20th March and our first food packs went out on the 25th.
"It's an opt-in scheme, and we started off with about 1,000 people signed up. Very quickly we were up to 1,500 and then 2,000. We're now sending out about 2,300 packs weekly for the free school meals provision, which is roughly 85% uptake."
But the Council didn't stop there. As Carolyn points out, "it was quickly obvious that there was a need for food support in the community beyond those who were eligible for free school meals. The Council set up a community food pack as well, and they're at similar levels, about 2,300 a week. So altogether we're now delivering about 4,600 food packs a week across North Ayrshire."
Local suppliers stepped up to the plate
From the beginning, Carolyn and her colleagues were concerned about the potential impact on their local food suppliers if the Council didn't continue to order from them. "One of the things we really didn't want was for local business to suffer. So, a key part of our strategy was to make sure where possible that we were maintaining their cash flows as well."
But she was worried that their usual suppliers might not have the capacity to fulfil demands that were rapidly changing. As the plans for household food packs came together, the team reached out to their suppliers. And, as Carolyn says, the response could not have been more positive.
"The suppliers came back very quickly and said they could supply us with whatever we needed, despite their own staffing challenges with people shielding or in self-isolation. They basically said to us: "just tell us the numbers that you need, and we'll get them out."
"We're working out of six hubs across the mainland with minimal staff, but it's been a really slick operation. Suppliers have been so accommodating about delivering to the hubs – they're in and out in no time. We've tried to vary the content of the boxes across the weeks as well, and again they've been very responsive, coming back with suggestions of different products."
"Initially I thought, "how are we going to manage this?" but all those worries were taken away almost immediately when we started to speak to our suppliers. They filled us with confidence from the outset and it's made everything a lot easier."
Overcoming Challenges – Together
The new system has brought challenges, but Carolyn and her team worked with suppliers to find solutions as issues arose. One difference has been the shift in demand from the bulk deliveries of ingredients that would be used to make up school meals to household-sized portions suitable for the packs.
"Instead of big sacks of potatoes we're now getting one-kilogram bags. Fruit and veg is coming in smaller bags so we can just lift it out and put it into packs for a household. Same with meat – it's now coming as packs of four burgers and 500g packs of mince.
"Because it's more work for the supplier to make these smaller packs, they didn't have time to put the labels on. So, they sent the labels with the packs and we stuck the labels on ourselves. It's teamwork – working together, finding work-arounds."
A Community Wealth Building approach
As holders of the Food for Life Served Here Gold award for their school meals since 2013, North Ayrshire Council have a long-standing commitment to supporting local suppliers. With the launch of their new Community Wealth Building (CWB) strategy, which sets out how the council and other 'anchor' organisations will support more local business across all sectors to bid for public sector contracts, this is more important than ever.
"It's brilliant," says Carolyn. "It's all about prioritising local supply chains. As a council we absolutely see the value in low mileage supply of fresh food – it's a no brainer."
There are environmental benefits to the new strategy, too. Carolyn points to the island of Arran, where social enterprise Woodside Farm have been supplying the local schools with fresh, seasonal produce. They also take away food waste from the high school to use as fertilizer on the farm.
"Those are the kind of things we want to build on as a council with our new CWB approach. There are exciting times ahead for North Ayrshire on the back of that strategy."
Looking forward
Whatever the future holds for school meals in North Ayrshire, Carolyn is confident that both her team and local suppliers will rise to the challenge.
"We are starting to look at a recovery plan. We're thinking about numbers, whether we'll have a hybrid model – we're working on different scenarios. I don't foresee any issues though, because our suppliers have been able to respond to whatever we need.
"We worked out recently that across all of our food packs and meals served at childcare hubs, we've delivered the equivalent of half a million meals during lockdown. It's just been phenomenal.
"We have really good relationships with our local suppliers already, but I think they've actually been strengthened by this situation. We'll definitely be looking to build on that even more going forward."