FSC® Accredited Courses
Our FSC®
 t

raining courses have been approved by Assurance Services International (ASI), so we now are an approved provider of FSC training courses in line with FSC PRO 20-004 (General Requirements for an FSC Training Programme).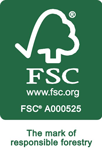 Those who select and successfully complete the full FSC Auditing to ISO 19011, Forest Management or Chain of Custody courses will receive a valid training certificate as a crucial step towards becoming a qualified FSC auditor. These courses will also be of interest to certificate holders, non-governmental organisations involved in forest certification and other providers of certification services.
2020 Course Schedule
- 21st April - 24th April: Bristol, UK (Forest Management)
- 27th April - 1st May: Bristol, UK (ISO 19011 & Chain of Custody)
- 15th June - 19th June: Mombasa, Kenya (ISO 19011 & Chain of Custody)
- August: Ireland (ISO 19011 & Forest Management)
- September: UK - location and courses based on demand  
- November: Asia - location and course based on demand  
All dates and locations are provisional and subject to change. 
For details of the individual courses including fees and cancellation policy, please choose one of the links below.
To register your interest for one of our courses or if you'd like any further information, please contact us.
If you'd like information on applying for course discounts, please email our Training Team - ForestryTraining@soilassociation.org  
Contact Us
For more info on our FSC® and PEFC™ accredited courses, please complete our enquiry form and we'll be able to provide you with more detailed information.
Get in touch