Belmont Estate Beef, Pork & Lamb Farm
We caught up with the director of Belmont Estate Farm, Henry Rossiter, to ask him about his experience of converting, and why he chose to be certified by the Soil Association. 
Situated in Failand, North Somerset, the farm was created following the division of the Belmont Estate by the National Trust in 2012. The 100 hectare farm is currently split between pasture and woodland; selling organic and free-range rare breed meats directly to customers.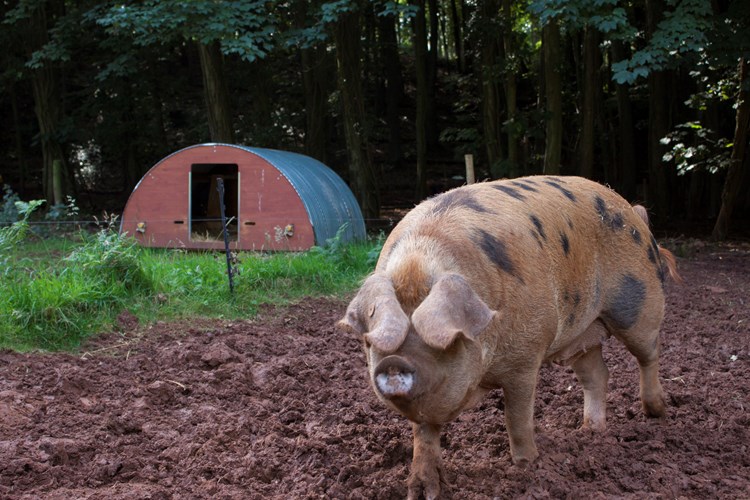 Did you convert your land and livestock at the same time?
Our pork was first to be certified organic, with beef and lamb following in 2018. At the moment we manage 150 acres of woodland organically, restoring it after 100 years of neglect.
To make as much use of the wooded land as possible we practice a bit of agroforestry, letting our pigs run through the trees, which helps in our regeneration of the woodland. They are useful in other areas too, for clearing land of shrub, bramble and weeds.
Have you found the standards easy to follow?
Some standards are more difficult than others, but if you have any problems you can contact the team at the Soil Association. We did have a problem with combating pests, however after consulting with our certification officer we were able to come to a good resolution.
How has converting to organic affected the farm?
We started by fighting thistle and aggressive weed populations using mechanised techniques, but using the pigs is far more effective. We plan to introduce chickens and turkeys in a similar role.
"I think by having to look at alternative methods, that don't involve chemicals, we have learned much more about our own livestock."
How have you found the transition to organic?
My mother has been a passionate member of the Soil Association more or less since it began, and she ensured our animals were onto organic feed from day one. After finishing school, I had the fortunate opportunity of working with Helen Browning – Chief Executive of the Soil Association - and she helped give me a good grounding in pig farming.
As well as this we are in contact with the helpful certification team who are always at the end of a phone when we need advice. All in all far more support and encouragement than we could ever have expected!
Have you found challenges in selling your produce?
Finding the right retail and wholesale market for organic meat can be a challenge. Currently we sell meat boxes (sausages, ham and bacon) both in Bristol and beyond. We also supply selected butchers. We have rejected supermarkets in favour of dealing directly with those that seek value over price. By doing this we can show people our product, our farm, our faces; talking directly with our customers makes all the difference. We hope this will inspire people to learn about food and where it comes from.
Why did you choose to be certified by the Soil Association?
Based just down the road in Bristol, the Soil Association was very local to our farm. But it was based primarily on the Soil Association's place in the market and on its wider educational and campaigning role. "At the end of the day the Soil Association is the most-recognised organic certifier, world-wide, and its strict rules on animal welfare are important for our customers."
What are your plans for the future?
Post-Brexit we hope that people will start to value food and farming. We hope our heritage will help attract foreign interest too. It will be interesting to see what happens with meat prices but I am confident our emphasis on provenance, ethics, welfare and transparency will help Belmont build a future even longer and stronger than its past. 
Interested in organic conversion?

Interested in exploring organic conversion for your own business? Our expert certification team can help you with this every step of the way.

Find out more
In this section...
Related