Pasture-fed organic Livestock: Fowlescombe Farm & Balcaskie Estate
The Pasture-Fed Livestock Association (PFLA) is a diverse community of farmers, butchers,

academics

and consumers, which champions the regenerative role of ruminant grazing animals.
Their Pasture for Life mark certifies meat and dairy that comes from animals raised only on grass and pasture and are not fed any type of grain or manufactured feed. Their standards also encourage farmers to improve wildlife benefits through effective grazing management. 
Pasture for Life Certification allows organic farmers who manage cows, sheep and goats, many of whom will be at, or near 100% pasture-fed practices, to differentiate their products to the wider public, who are becoming more aware of the environmental, animal welfare and human health benefits of 100% pasture-fed meat and milk. 
Fowlescombe Farm
Rosie Ball manages Soil Association Organic and PFLA certified Fowlescombe Farm in South Devon, with beef and sheep enterprises and smaller numbers of pigs and goats.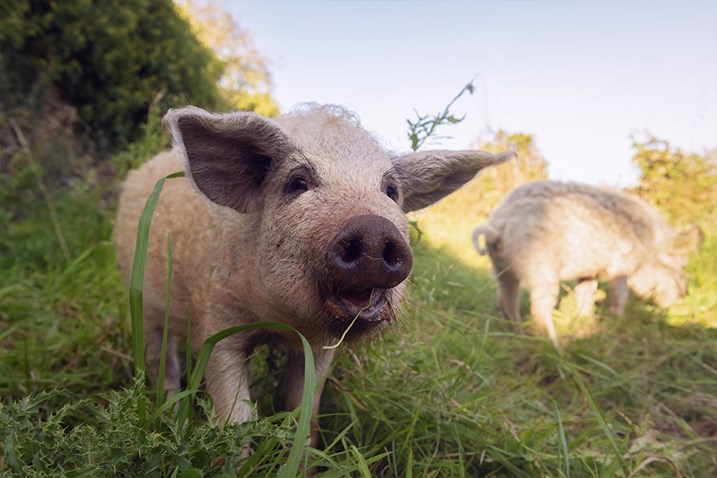 Based over nearly 400 acres, Fowlescombe farm specialises in rare, native breeds alongside commercial stock, including pedigree English longhorn and one of the UK mainland's largest flocks of pedigree Manx Loaghtan sheep; a slow growing breed which is sold as hogget. Livestock is finished onsite and predominantly supplied to the farm's sister company, Rare and Pasture, a charcuterie specialising in organic and pasture fed meat.
Rosie has a degree in Conservation Biology and brings this knowledge to farm management, working towards a full regenerative system with no external inputs. She certified their livestock enterprises with the Pasture-Fed Livestock Association (PFLA) in 2020. Previously very little grain was used anyway, and it was a logical step in ensuring the quality of their meat products was recognised and endorsed.
Growing forage and feed
Rosie explains that the farm can't outwinter cattle on their land, but growing their own forage and feed is important: "Hay is mainly used for winter feed for our dry cows whilst silage and herbal ley grazing is used for our young stock. We cut excellent silage from our herbal leys in the summer and we then can use the regrowth to graze our sheep during Autumn and winter."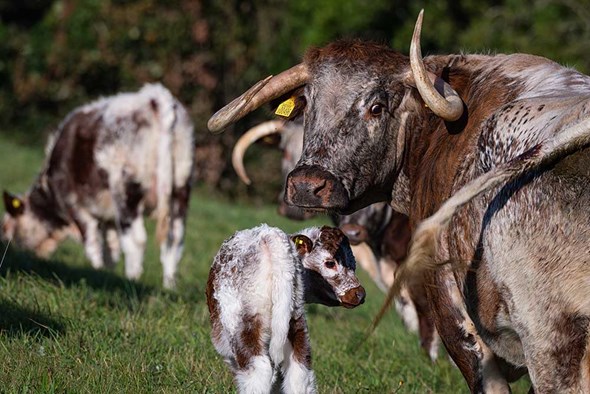 "We've found that grazing lamb on herbal leys in Autumn is excellent for their growth rates and also provides anthelmintic benefits. We aim to house our stock for as short as time as possible, but this is dependent on growth rates and the weather! We aim to buy in as little feed as possible. While we are refining our herbal ley mixes, we find lucerne is helpful to maintain calf weaning weights, but all our stock is finished on grass alone."
Balcaskie Estate
Sam Parsons, farm manager at 1300 hectare Balcaskie Estate in Scotland converted the farm to organic in 2016 in a bid to improve soil health and natural biodiversity. As part of this transition, he focused on the development of their red meat enterprises, taking out some of the land in permanent arable rotation and putting into grass for fertility building and grazing. He explored ways to produce meat in the most natural way possible and moved to a 100 per cent pasture fed system becoming Pasture for Life Certified alongside organic.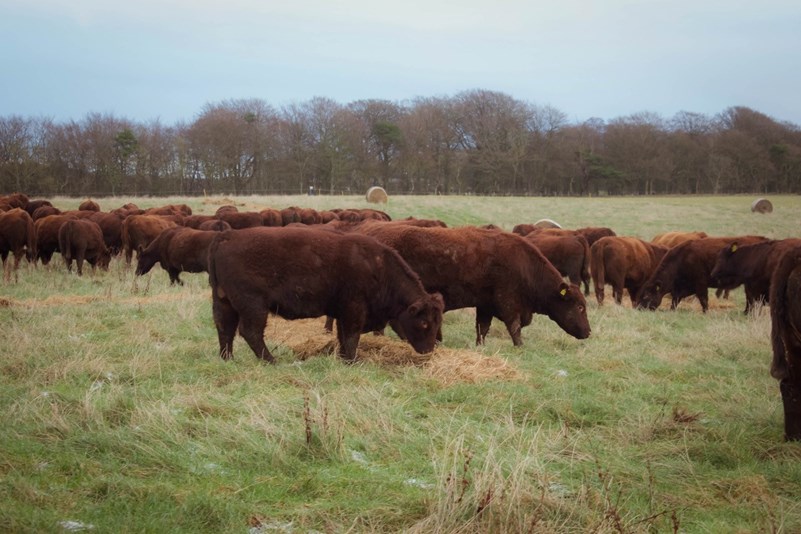 "We had to make some changes to better suit our organic system, which completed pasture-fed practices naturally. Typical native and continental cattle breeds are not suited to finishing on grass outside, so we moved to native cattle breeds, such as Lincoln Reds, which are more suited to grazing outside all year." 
Switching from grass to herbal leys
Sam switched their grass mixes to diverse herbal leys to provide nutritional benefits for their cattle, improve the soil structure and increase resilience against extreme weather events, explaining: "Long rooting herbal leys reach the water table in times of drought and support good water infiltration in wet periods, increasing soil health and farm resilience. We also introduced mob grazing which means that we are able to rest large areas of land, enabling us to extend our grazing season and have our cattle out all year round as there is enough grass to eat. We also outwinter by bale grazing which simply means leaving several bales of nutrient-rich hay out in the fields over winter for the cattle to graze on."
These measures have helped him to significantly reduce his winter housing costs plus cut expensive inputs and feeds. Sam sells the most of his beef and lamb to major retailers and the remaining is processed by the farms own butchery and sold online direct to customers.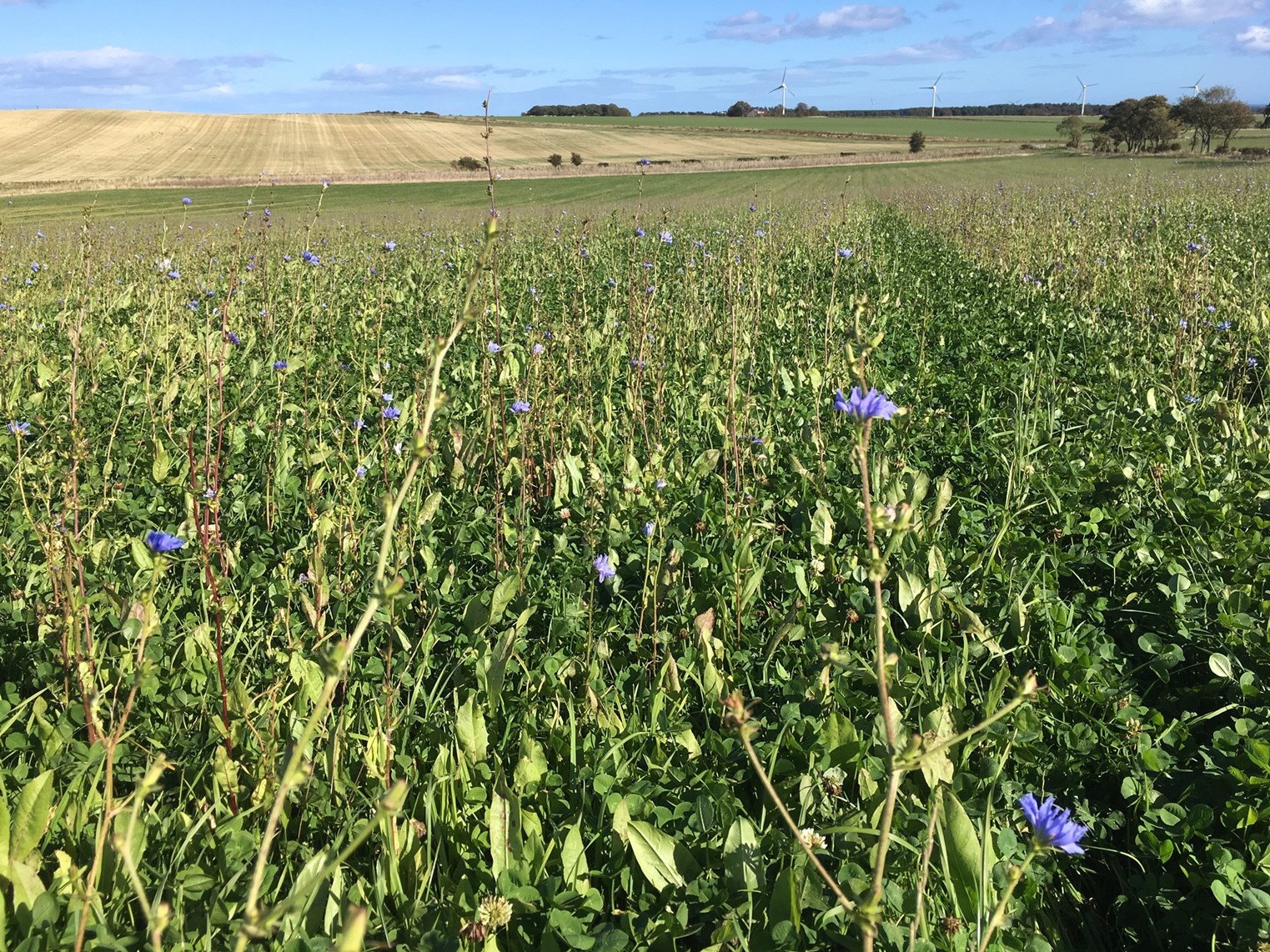 Combined inspections
Combined organic and PFLA inspections is beneficial to Rosie: "Soil Association Certification is providing our joint organic, PFLA and Red Tractor inspection in April. With Pasture for Life being a natural fit with organic certification, it makes absolute sense to have them done together.
"It reduces time and costs to have joint inspections and recogises our work to support pasture-fed grazing in the process."
Sam believes that both Pasture for Life and organic certification helps to convey trust to the customer: "PFLA and Soil Association process robust and thorough annual audits, which is great, because by having the stamp of approval it goes to show that we are achieving those high levels of food standards set by both." 
If you are already certified with both PFLA and Soil Association Certification, Pasture for Life Certification will be automatically added to your inspection on a tri–annual basis but please get in touch with your certification officer for more information.
Want to apply for PFLA Certification?

If you're Soil Association certified and want to explore whether the aligned PFLA certification is for you, contact Phillipa Stag, PFLA for more information.

Email PFLA
Hear from more organic farmers