Rhug Wild Beauty
Rhug Wild Beauty is the latest project from the owner of the Rhug Estate in North Wales, Lord Newborough.
Newborough is an organic farming pioneer who wanted to bring the benefits of his sustainably grown and wild harvested produce into the skincare and bodycare realm. Here he discusses how his brand is uniquely positioned to "Listen to Nature".
We know certified organic beauty and wellbeing is better for people and the planet- but what, in particular, lead you to originally certifying with Soil Association Certification?
By encapsulating the wild beauty of the Rhug Estate in a bottle, we are essentially offering customers the opportunity to use the most natural and organic skincare products in their homes, whether they are in the countryside or the city. Our team has harnessed natural, wild foraged and organic ingredients with the benefits of proven actives for the collection. By using natural products found on the estate we are creating skincare by the most sustainable means with minimal carbon footprint.
It was essential to us that our products carry Soil Association Organic Certification – we wanted customers to be assured that Wild Beauty offers a unique story of organic security and provenance. The Soil Association COSMOS mark is an instantly recognisable and globally trusted organic endorsement. In order to carry the mark, the process is incredibly rigorous, ensuring that only truly organic brands are validated.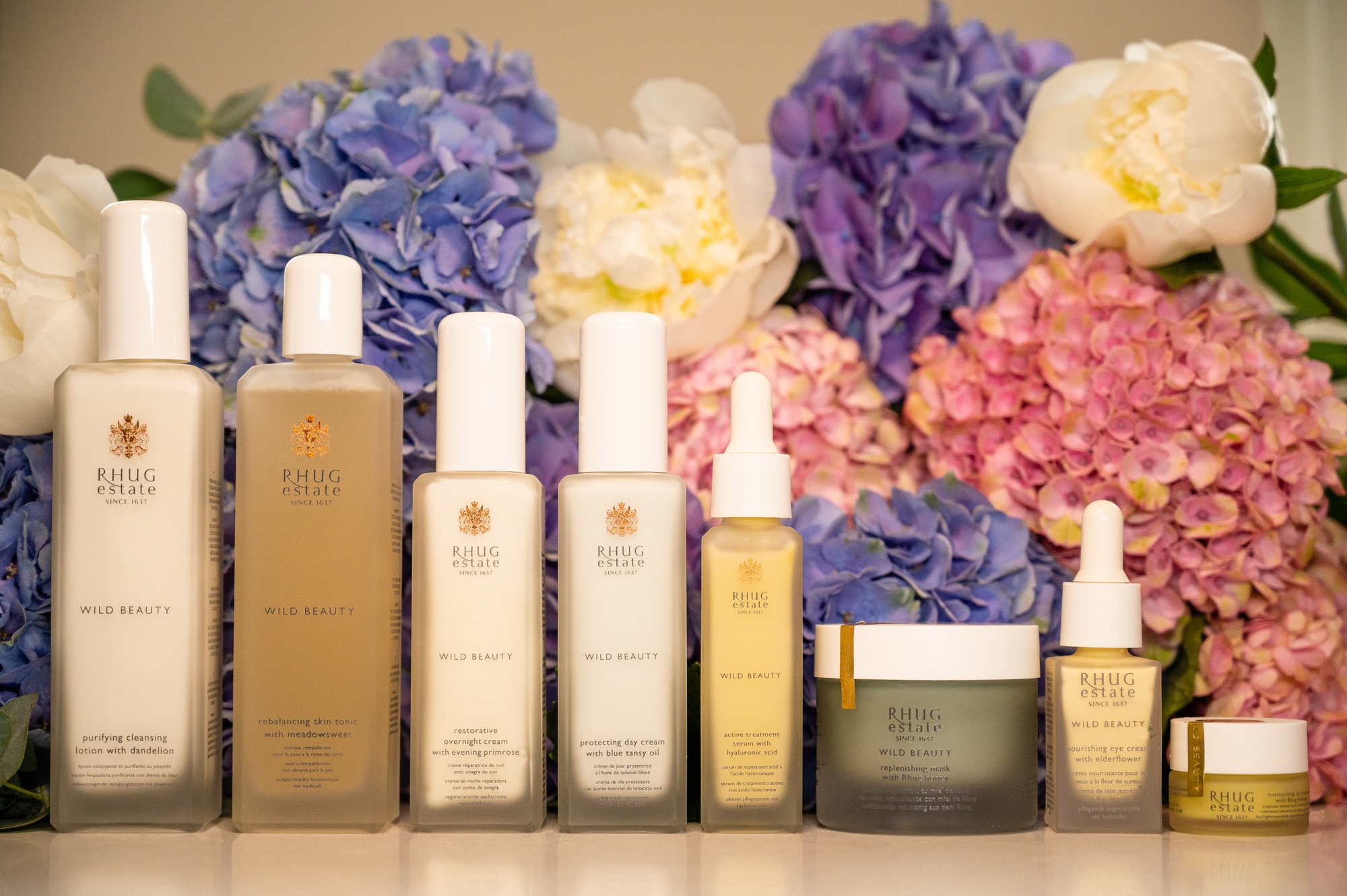 How does your brand "Listen to Nature", and how will you be doing so this Organic Beauty & Wellbeing Week?
Listening to nature is at the heart of what we do at Rhug – both at the farm and in Wild Beauty. We have championed the highest standards of organic and sustainable farming for many years, thereby enhancing and protecting the environment.  It is no coincidence that there is therefore a much greater diversity of wildlife and naturally occurring plants on the estate. These plants are clean, natural, and free from toxins.  With such a wide array of them growing all around us at Rhug we set about understanding which plants had the right qualities and could be applied to our skincare collection. It's been fascinating to see the development of our collection, blending some of the most precious skincare ingredients, with our own plants, to create a range of organic, natural, and effective products. 
We wild forage for heather, meadowsweet, gorse, elderflower, dandelion, lemon balm, nettle leaf, hawthorn, yarrow, and herb robert, waiting for particular plants to flower and mature and for the optimum time to pick different parts of the plants. Each ingredient has been chosen for its specific actions on the skin. We also use other ingredients from the Estate, including our own organic oats and spring water in our skincare collection.
During Organic Beauty & Wellbeing Week our plan, as with every year is to put greater emphasis on all the organic products we stock and sell in the farm shop and to promote this important week with our customers throughout the world.
How do you think we can get more consumers to "listen to nature" by opting for certified organic beauty and wellbeing products?
We are seeing a definite shift towards more and more consumers choosing organic products. The consumer is however understanding that not all organic products are created equal. By looking out for Soil Association certified organic products they can rest assured that they are not being greenwashed by brands and the brand is producing a more honest, sustainable yet efficacious luxury way of maintaining their skin.
Meet our other Organic Licensees
Want to certify your beauty or wellbeing business as Organic?
Click to find out how
Find out more