Hemsworth Farm - 400 hectare arable farm

Hemsworth Farm - 400 hectare arable farm
Sophie Alexander converted her arable farm fully to organic in 2014 after comparing her organic and conventional systems side by side and getting consistently higher margins on her organic crops. She tells us how she came to make this decision and the importance of the financials, trade routes and innovation in making a success of an organic farm.
Hemsworth Farm near Wimborne in Dorset extends to 410 hectares. It's focused on arable, with a rotation of three years grass and clover leys, followed by spring wheat, winter oats, spring barley and sometimes spring beans. The farm has reintroduced livestock as part of the rotations. There are around 500 young dairy heifers on the farm on a grazing licence, while the overwintering cover crops are grazed by sheep. 
Sophie Alexander took over the management of Hemsworth Farm in 2011. At the time, the farm was partly organic and partly conventional, giving Sophie the opportunity to benchmark the two systems. Over the three years of comparison, the organic crops consistently gave higher margins. While many conventional farmers focus on yield and net returns, Sophie analysed her margins. The organic fields were giving a consistently higher margins and this helped to mitigate risk.  As she explains her decision to convert the whole farm to organic was financial and made good business sense: "I would have needed to find three times the sum of working capital to revert the whole farm back to conventional methods. Instead, I was able to allocate funds for diversification and asset enhancement, rather than buying inputs in order to grow non-organic commodities and sell into the vagaries of global markets."
Certifying the farm with Soil Association Certification since 2011 she appreciates the support she receives , "The thing that I like about Soil Association Certification is that I can pick up the phone and there is always somebody to help. I really appreciate the wider work they do for the whole organic sector."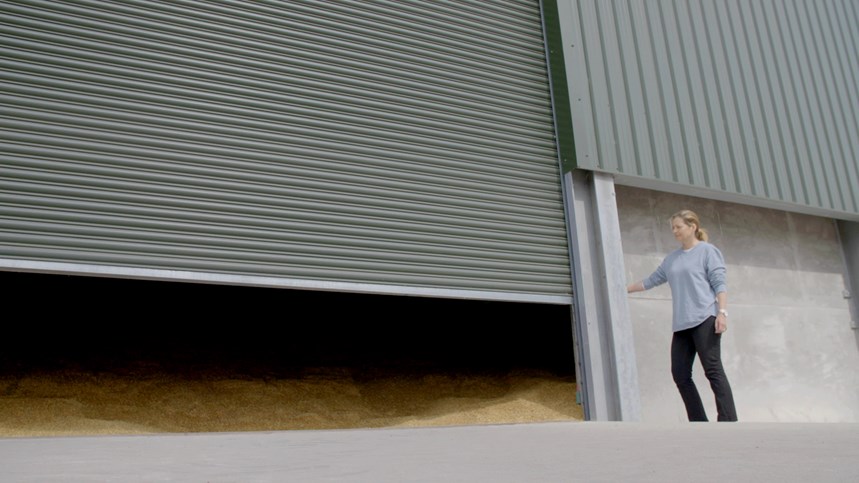 "I would have needed to find three times the sum of working capital to revert the whole farm back to conventional methods." Sophie Alexander - Hemsworth Farm
Trading options
Converting to organic is not just about growing the crop but finding a market. Sophie explored a wide range of trading options when she first started at Hemsworth. The option that has proved to be the best for the farm is Organic Arable, a company owned and managed by organic farmers with the express purpose of maximising price and developing markets for their members. Sophie likes the fact that they charge a fixed, transparent commission and have the interest of the organic sector at heart.
Improving soils
A healthy soil is at the heart of a successful farming enterprise. Hemsworth had very poor soils and rebuilding soil organic matter and improving soil microbiology has been key to the farm's success. Cover crops are used across the farm to ensure the soils are not bare in winter and to help build fertility.
Trialing innovation
Sophie is the first to look to innovation to improve her soils. Hemsworth Farm took part in the first large scale arable trials of using compost teas, a field lab that investigated whether the application of compost tea could increase yield and suppress disease. Compost teas are made from compost, molasses and water. The brew is aerated and then sprayed onto crops to smother the leaves with good microbes.  Although the findings were mixed, it was clear that the soils at Hemsworth benefitted from improved fungal diversity. 
However, compost tea uses a lot of water and needs contractors to spray it, so Sophie has switched to making her own compost. Once again, she joined a field lab. She is using an open windrow method, composting inside barns so she can control moisture levels and has no need of covers. The composting materials come from the farm and the final compost is spread on second year herbal leys in autumn. 
A good business decision
Going organic can be challenging. There is much to learn, but it is also very rewarding as Sophie discovered: "Over the three years of benchmarking, I realised how much I was enjoying the learning curve of managing an organic system. It was interesting, challenging and very rewarding. I agonised over the decision, but I was very pleased and relieved that in the end the financial arguments correlated with my own preferences and instincts".
Explore organic conversion

Interested in exploring organic conversion for your own business? Our expert farming certification team can help you with this every step of the way.

Find out more